Order of Ethan Jones Books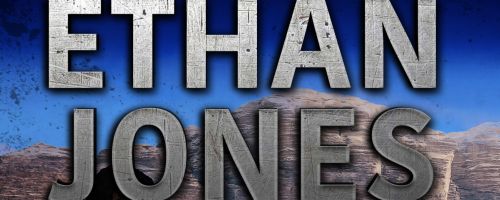 Ethan Jones is an author of spy thriller novels. He writes the Justin Hall series and the Javin Pierce series. Ethan has lived in Europe and Canada. He's worked for the American Embassy, and done missionary work in Albania. He also has his Master's degree in law. However, his passion is writing, and has travelled the world in order to research his novels. When he isn't writing, Ethan is outdoors, going to event, spending time with his family, or plotting his next novel. He lives in Canada with his wife and son.
Ethan Jones made his debut as a published author in 2012 with the novel Arctic Wargame, which introduced readers to his Justin Hall character. Below is a list of Ethan Jones' books in order of when they were originally released:
Publication Order of Carrie Chronicles Books
Publication Order of Jack Storm Books
Publication Order of Javin Pierce Books
Publication Order of Jennifer Morgan Books
Publication Order of Justin Hall Books
Publication Order of Max Thorne Books
Publication Order of Anthologies
If You Like Ethan Jones Books, You'll Love…
Ethan Jones Synopsis: Birthright is a standalone title by Ethan Jones. In 1074, the King of Munster musters his army, determined to end Viking rule in Dublin. As Kings prepare for war young warriors see opportunity, and Gruffudd son of Cynan is no different. Born in exile, the son of a Briton Prince and last of an ancient royal line, he is the true heir to Gwynedd's throne. Now at last the time has come for Gruffudd to make a name for himself and claim what should be his. Raised by his Viking uncle, Gruffudd is no stranger to the shield wall. But these are different times. Released from his uncle's warband to raise his own, Gruffudd is now a leader of men and must prove his worth to King Muirchertach Ui Briain of Munster. Gruffudd will stop at nothing to win the King's support and return to his ancestral lands. From the misty and bloody battlefield of Sord Cholmcille to the heart of Snowdonia, Gruffudd must stay true to his beliefs and trust in God – but at what cost? Only heartache, mayhem, violence and betrayal await as Gruffudd embarks upon the cruel and testing road with one aim – to claim his birthright, or die trying.
The first book in the Justin Hall series is called Arctic Wargame. This book sees Justin Hall, Canadian Intelligence Service agent, who has recently been demoted and is serving his time in the freezing Canadian Arctic waters. When two foreign icebreakers appear, Justin is sent on a field mission to do reconnaissance. What he finds is a cache of weapons and a treasonous plan against his home country. Justin and his team are faced with the impossible task of surviving in the arctic cold as well as save their country from these treasonous terrorists.
Another series by Jones is the Javin Pierce series and the first book is called The Corrector. Javin is known as the Corrector because he is the one that is sent in after another operative fails to complete the mission. This one sees Javin sent in to fix a botched mission, but before he can he has to deal with a treasonous terror plot. He's working wiiht a partner he doesn't quite trust, Claudia, and they need to retrieve a flash drive that contains scandals that would send Europe into complete chaos. The corrector definitely has his work cut out for him in this first novel.
Order of Books » Authors » Order of Ethan Jones Books