Order of Julia Kelly Books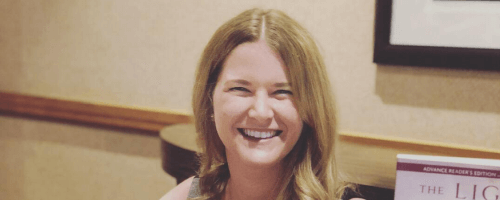 Julia Kelly is an author of historical fiction and historical mystery novels. Aside from being a writer, Julia has had a diverse career path that includes being an Emmy-nominated producer, journalist, marketing professional, and even working as a tea waitress for one summer. Julia has lived in Los Angeles, Iowa and New York City before ultimately settling down in London.
Julia Kelly made her debut as an author in 2014, when she co-authored One Week in Wyoming alongside Alexis Anne, Alexandra Haughton and Audra North. Her solo debut was 2015's Seduction in the Snow as Julia Blake. Below is a list of Julia Kelly's books in order of when they were first released:
Publication Order of Game Changer Books
(as Julia Blake)
Publication Order of Governess Books
Publication Order of Evelyne Redfern Books
Publication Order of The Matchmaker Of Edinburgh Books
Publication Order of One Week In Love Books
(with Audra North, Alexis Anne, Alexandra Haughton)
Publication Order of Ticket To Love Books
(as Julia Blake)
Chronological Order of Ticket To Love Books (as Julia Blake)
Publication Order of Standalone Novels
If You Like Julia Kelly Books, You'll Love…
Julia Kelly Synopses: The Look of Love is the first Matchmaker of Edinburgh book by Julia Kelly. Ina Duncan, a talented sculptor with secret aspirations, has managed to avoid getting married for years. However, a chance encounter at a party leaves her in dire need of a husband. Edinburgh's most powerful matchmaker, Moira Sullivan, is determined to find a willing spouse for Ina, and she soon realizes that the perfect candidate might be right in front of her.
Gavin Barrett, Ina's closest friend, has been secretly in love with her for years. However, as the second son of a baronet, he knows that he stands little chance with his brilliant and beautiful friend. Nevertheless, everything changes when Moira suggests that Ina proposes a marriage of convenience to Gavin to save her from ruin. In exchange, Ina only asks for two things: the freedom to continue sculpting and a promise to remain in Edinburgh.
Despite a rocky start, the newlyweds seem to be on the path to happiness and perhaps even passion. However, when a twist of fate bestows the title of Sir Barrett on Gavin, he must assume responsibilities that he never wanted. Ina, now forced to transform herself into the ideal baronet's wife, must choose between her aspirations and the man she is beginning to love.
The Light Over London is a standalone novel by Julia Kelly. Cara Hargraves finds it easier to escape into the past than to deal with her present, which is why her job working for a grumpy yet brilliant antiques dealer is perfect for her. While clearing out an estate, she discovers an old tin filled with the remnants of a lost love story: an incomplete diary from World War II and a photograph of a young woman in uniform. Mesmerized by the poignant diary, Cara embarks on a quest to find the author, unaware that it may expose her own family's wartime secrets.
In 1941, nineteen-year-old Louise Keene feels trapped in her Cornish village, waiting for a wealthy suitor chosen by her mother to return from the war. However, everything changes when she meets Flight Lieutenant Paul Bolton, a handsome RAF pilot stationed at a local base. When Paul's unit is unexpectedly deployed, Louise is desperate for a more exciting life, so she joins the women's auxiliary branch of the British Army in the anti-aircraft gun unit as a gunner girl. During the devastating air raids on London, she and her fellow gunner girls exhibit bravery and resilience while carrying out their duties. The only thing that keeps Louise going through the long, dangerous nights is the hope that she and Paul will be reunited when the war ends. However, when a stack of her letters to him are returned unopened, she realizes that wartime romance can have a much darker side.
The Whispers of War is a standalone title by Julia Kelly. In August 1939, with Britain on the brink of another devastating war with Germany, three childhood friends are faced with a difficult choice between their loyalty to each other and their love for their country. Nora, once a privileged socialite, is determined to find her place in the Home Office's Air Raid Precautions Department. Hazel, a skilled matchmaker, uses her irrepressible optimism to conceal two closely guarded secrets. Meanwhile, German expat Marie fears that she and her family may be interned in a camp if war is declared.
As tensions mount on the home front following Germany's invasion of Poland, Marie is accused of being an enemy alien, and the three friends unite to ensure her freedom at any cost. Together, they fight against the odds to keep Marie from being interned in a camp, and to preserve their friendship amidst the turmoil of war.
Order of Books » Authors »