Order of Maria DiRico Books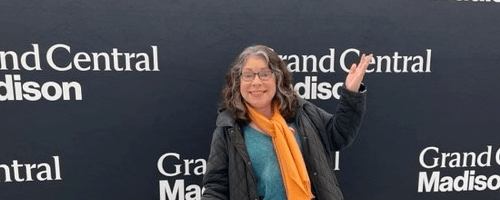 Maria DiRico is an American author of cozy mystery novels. She writes the Catering Hall Mysteries series. Maria was born and raised in Queens and Westchester County, New York. She is Italian-American on her mother's side. Her paternal grandfather was a Jewish mobster who disappeared – his fate still unknown. Maria also writes mysteries as Ellen Byron.
Maria DiRico made her debut under this pen name in 2020 with Here Comes the Body. Below is a list of Maria DiRico's books in order of when they were originally published:
Publication Order of Catering Hall Mystery Books
| | | |
| --- | --- | --- |
| Here Comes the Body | (2020) | |
| Long Island Iced Tina | (2021) | |
| It's Beginning to Look a Lot Like Murder | (2021) | |
| Four Parties and a Funeral | (2023) | |
| The Witless Protection Program | (2024) | |
If You Like Maria DiRico Books, You'll Love…
Maria DiRico Synopses: Here Comes the Body by Maria DiRico is the first book in the Catering Hall Mysteries series. Mia Carina's life takes an unexpected turn when her cheating husband's boat sinks, leaving her newly single. Returning to her childhood neighborhood of Astoria, Queens, Mia finds solace living with her nonna and her lovable, oversized cat, Doorstop. Embracing her new life, she also discovers a talent for amateur sleuthing.
Taking on a role at Belle View, her father's bustling catering hall known for hosting weddings and office parties, Mia is ready to embark on a fresh start. Though the planes flying overhead to LaGuardia airport can be disruptive, she's determined to make the venue a success. However, her plans go awry when a bachelor party she's organizing takes a deadly turn with a shocking surprise hidden within a gigantic cake.
With her family having connections to some unsavory characters, the NYPD quickly puts Mia's father under suspicion for the unfortunate event. Now, Mia must rely on her street smarts and resourcefulness to clear her father's name and keep him out of the notorious Rikers Island.
In this engaging tale of family ties, love, and intrigue, Mia Carina takes on the role of an amateur sleuth, using her wit and determination to navigate through a web of secrets and lies. With the NYPD breathing down their necks, Mia's quest for the truth will lead her through the bustling streets of Astoria, uncovering hidden truths about her family's past and the events that have brought her back to her roots.
Long Island Iced Tina is the second book in Maria DiRico's Catering Hall Mysteries series. Mia Carina finds herself in the midst of a tangled web of mysteries when her pregnant friend Nicole plans to hold a baby shower at Belle View, her father's catering hall. However, Nicole is also expected to attend a lavish shower hosted by her mysteriously wealthy stepmother, Tina, at the fanciest place in Queens. Seizing the opportunity to snoop on her competition, Mia decides to tag along at the opulent party.
As the celebrations unfold at Belle View, the ambiance is shattered when a fight erupts, and to everyone's surprise, a valuable stolen painting that had been missing for a long time is unveiled by the expectant mother herself. The revelation visibly shocks Tina, raising Mia's suspicions even further.
But the shocking events don't end there. Soon after the Belle View shower, Mia stumbles upon a lifeless body floating in the marina. The party guest's untimely demise sends shockwaves through the community and leaves Mia reeling with questions. As she delves deeper into the mysteries surrounding the stolen painting and the death of the party guest, she realizes that there is more at stake than she initially thought.
In this thrilling tale of intrigue and deception, Mia must use her wit and resourcefulness to navigate through a maze of secrets and lies. As the mystery unravels, she uncovers unexpected connections and hidden motives that shed light on the dark truths surrounding the lavish parties and the mysterious stolen painting.
Order of Books » Authors »