Order of Robin Paige Books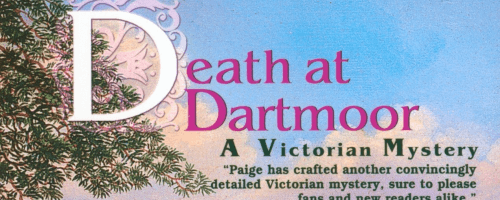 Robin Paige is the author of the Victorian Mysteries series. The name of Robin Paige is a pen name shared by the author Susan Wittig Albert and her husband, Bill Albert.
Susan is the author of the China Herbal Mysteries series and the Cottage Tales of Beatrix Potter series. While Bill is a formerly military man who is also a private pilot. He had spent time in England in the past which is where the Victorian Mysteries series is set. The two enjoy researching the travel in England for the books. The couple make their home in Texas. When not writing, Susan enjoys gardening and practicing fiber art.
Publication Order of Victorian Mysteries Books
| | | |
| --- | --- | --- |
| Death at Bishop's Keep | (1994) | |
| Death at Gallows Green | (1995) | |
| Death at Daisy's Folly | (1997) | |
| Death at Devil's Bridge | (1998) | |
| Death at Rottingdean | (1999) | |
| Death at Whitechapel | (2000) | |
| Death at Epsom Downs | (2001) | |
| Death at Dartmoor | (2002) | |
| Death at Glamis Castle | (2003) | |
| Death in Hyde Park | (2004) | |
| Death at Blenheim Palace | (2005) | |
| Death on the Lizard | (2006) | |
If You Like Robin Paige Books, You'll Love…
Death at Bishop's Keep is the first book in the Victorian Mystery series. The book introduces Kate Adrleigh who has just arrived in Essex, England. She is author of "penny-dreadfuls" and is unlike any Victorian English gentlewoman as she is outspoken, a free-thinker, and an American. Shortly after coming to town, a body is found at an archaeological dig. She finds this to be the perfect opportunity to research her latest story and also work with an amateur detective named Sir Charles Sheridan in order to find out the truth about what happened here.
The Victorian Mystery series continues with Death at Gallows Green. The book picks up after Kate Ardleigh and Sir Charles Sheridan worked together on a case in the first book. They will end up working together again after the demise of a constable and the disappearance of a child. The case will lead the couple into a world of greed and criminal mischief. They'll get help from a woman named Beatrix Potter as they seek to uncover the dark secrets of Gallows Green.
Order of Books » Authors » Order of Robin Paige Books