Order of DCI Andy Gilchrist Books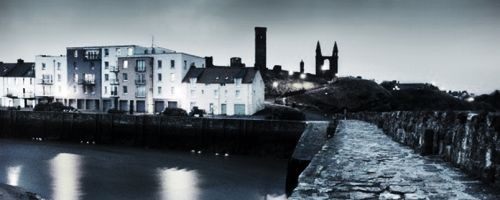 DCI Andy Gilchrist is the protagonist in a series of crime thriller novels by Scottish novelist T. Frank Muir (aka T.F. Muir). Detective Inspector Andy Gilchrist is part of the constabulary of St. Andrews, Scotland, where he tracks down brutal killers.
T. Frank Muir began his DCI Andy Gilchrist series in 2007 with the novel Eye for an Eye. The series is currently ongoing. Below is a list of T. Frank Muir's DCI Andy Gilchrist's books in order of when they were originally published (which is the same as their chronological order):
Publication Order of DCI Andy Gilchrist Books
| | | |
| --- | --- | --- |
| Eye for an Eye | (2007) | |
| Hand for a Hand | (2009) | |
| Tooth for a Tooth | (2012) | |
| Life for a Life | (2013) | |
| The Meating Room | (2014) | |
| Blood Torment | (2016) | |
| The Killing Connection | (2018) | |
| Dead Catch | (2019) | |
| Dead Still | (2020) | |
| The Murder List | (2021) | |
If You Like DCI Andy Gilchrist Books, You'll Love…
DCI Andy Gilchrist Synopsis: Hand for a Hand is the second book in the DCI Andy Gilchrist Investigation series by T. Frank Muir. Murder. It's the only word in a note clutched by the dismembered hand found on the lush green of a golf course in St. Andrews, Scotland. When DCI Andy Gilchrist learns the note is addressed to him, he realizes the thing he feared most has come to pass: a killer is deliberately targeting him. Though Gilchrist is no new hand at solving murders, this time he is overwhelmed by the flood of seemingly unconnected crises – the note clutched in the hand, his son's missing girlfriend, his ex-wife's failing health, and his boss's decision to pair Gilchrist up with a scumbag detective from his past, who in turn is hiding evidence. Worse, the hand turns out to be just the beginning, and soon he's faced with relentless parade of body parts.
Order of Books » Characters » Order of DCI Andy Gilchrist Books