Order of Demon Slayers Books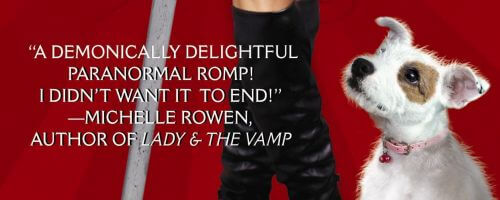 Demon Slayers is a series of paranormal romance/mystery novels by American novelist Angie Fox. The series follows Lizzie Brown, a preschool teacher who discovers that she has powers to fight demons. She also has a biker witch for a grandmother. The series is also known as the Biker Witches series.
Angie Fox began her Demon Slayers series in 2008 with the novel The Accidental Demon Slayer. Below is a list of Angie Fox's Demon Slayers books in order of when they were originally published (which is also their chronological order):
Publication Order of Demon Slayer Books
| | | |
| --- | --- | --- |
| The Accidental Demon Slayer | (2008) | |
| The Dangerous Book for Demon Slayers | (2009) | |
| A Tale of Two Demon Slayers | (2010) | |
| The Last of the Demon Slayers | (2010) | |
| My Big Fat Demon Slayer Wedding | (2013) | |
| I Brake for Biker Witches | (2014) | |
| Beverly Hills Demon Slayer | (2014) | |
| Night of the Living Demon Slayer | (2015) | |
| Date with a Demon Slayer | (2015) | |
| Some Like It Hexed | (2015) | |
| What to Expect When Your Demon Slayer Is Expecting | (2018) | |
If You Like Demon Slayers Books, You'll Love…
Demon Slayer Synopsis: The Accidental Demon Slayer is the first book in Angie Fox's Demon Slayer series. You're not in for a good day when an ancient demon shows up on your toilet bowl. For Lizzie Brown, that's just the start. Soon her hyperactive terrier starts talking, and her long-lost biker witch grandmother is hurling jam jars filled with magic. Just when she thinks she's seen everything, Lizzie finds out she's a demon slayer – and all hell is out to get her. Of course that's not the only thing after her. Dimitri Kallinikos, a devastatingly handsome shape-shifting griffin, needs Lizzie to slay a demon of his own. But how do you talk a girl you've never met into going straight to the underworld? Lie. And if that doesn't work how dangerous could a little seduction be…?
Order of Books » Characters » Order of Demon Slayers Books