Order of Galaxy Unknown Books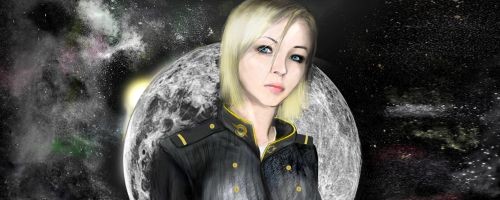 A Galaxy Unknown is a universe of science fiction/space opera novels by author Thomas DePrima. The universe includes the main series, which follows the adventures of Jenetta Carver in Space Command, as well as the two spin-offs Border Patrol and Space Command Intelligence.
Thomas DePrima began his original A Galaxy Unknown series in 2010 with the title novel of the series. Border Patrol began in 2012 with Citizen X. Space Command Intelligence launched in 2013 with The Star Brotherhood. The series is currently ongoing. Below is a list of Thomas DePrima's A Galaxy Unknown books in order of when they were first released:
Publication Order of A Galaxy Unknown Books
| | | |
| --- | --- | --- |
| A Galaxy Unknown | (2008) | |
| Milor! | (2010) | |
| The Clones of Mawcett | (2010) | |
| Valor at Vauzlee | (2010) | |
| Trader Vyx | (2010) | |
| Castle Vroman | (2011) | |
| Against All Odds | (2011) | |
| Return to Dakistee | (2011) | |
| Retreat And Adapt | (2013) | |
| Azula Carver | (2015) | |
| Changing of the Guard | (2017) | |
| The Invasion Begins | (2018) | |
Publication Order of AGU: Border Patrol Books
Publication Order of AGU: Space Command Intelligence Books
If You Like Galaxy Unknown Books, You'll Love…
Galaxy Unknown Synopsis: A Galaxy Unknown by Thomas DePrima is the start of a new series. It is the year 2267. A life pod, missed by rescuers following the mysterious explosion of a Space Command vessel a decade earlier, is discovered by a passing freighter in deep space. A young officer, still cocooned in stasis sleep, is found inside. When revived, Ensign Jenetta Carver learns of the lawlessness that now suffuses interstellar space. Pirates and slavers seem able to attack and pillage with impunity. Space Command has committed its full resources to stopping the anarchy, but criminal groups have grown immensely powerful. Although determined to rejoin SC as soon as possible, Jenetta is captured by pirates before that can happen. At first she fears for her life, but when she's indelibly marked as a pleasure slave, she gets mad; fighting mad. And when they tamper with her DNA to make her appear sexier, she gets even madder; killing mad. Can a petite blonde, cut off from Space Command, create more mayhem among the criminal elements than a full decade of SC effort?
Order of Books » Characters » Order of Galaxy Unknown Books