Order of Jesse Stone Books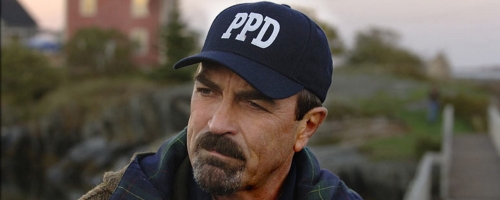 Jesse Stone is a fictional character created by detective novelist Robert B. Parker and later written by other authors. Jesse is an ex-LAPD copper who is forced to leave his job and moves to the small town of Paradise, Massachusetts. Unlike Parker's most well-known character, Spenser, Stone is a man with many personal problems.
Jesse Stone debuted in September 1997 with the book Night Passage. Since then, he has appeared in many of his own novels and a few of Robert B. Parker's other novels as well. The Jesse Stone character was portrayed by Tom Selleck in a series of CBS TV movies. Following Parker's death, the Jesse Stone series was taken over by Michael Brandman.
Below is a list of the Jesse Stone series in order of when they were originally published:
Publication Order of Jesse Stone Books
| | | |
| --- | --- | --- |
| Night Passage | (1997) | |
| Trouble in Paradise | (1998) | |
| Death in Paradise | (2001) | |
| Stone Cold | (2003) | |
| Sea Change | (2005) | |
| High Profile | (2007) | |
| Stranger in Paradise | (2008) | |
| Night and Day | (2009) | |
| Split Image | (2010) | |
| Killing The Blues | (2011) | |
| Fool Me Twice | (2012) | |
| Damned If You Do | (2013) | |
| Blind Spot | (2014) | |
| The Devil Wins | (2015) | |
| Debt to Pay | (2016) | |
| The Hangman's Sonnet | (2018) | |
| Colorblind | (2018) | |
| The Bitterest Pill | (2019) | |
| Fool's Paradise | (2020) | |
| Stone's Throw | (2021) | |
| Fallout | (2022) | |
Note: Robert B. Parker's characters exist in a shared universe. Jesse Stone has appeared in the Spenser novel Back Story as well as the Sunny Randall novels Blue Screen and Spare Change.
If You Like Jesse Stone Books, You'll Love…
Jesse Stone Synopsis: Night Passage is the first novel of the Jesse Stone series. Stone is 34 years old and has just lost his job with the LAPD along with his marriage all due to his drinking problem. Stone picks up and moves for a new job in the Massachusetts town of Paradise. Paradise isn't quite as peaceful as it sounds, however. It's full of corruption, scandal, and just plain old bad guys. Night Passage was adapted into a made-for-TV movie by CBS in 2005 with Tom Selleck playing the main character. Although Night Passage is chronologically the first in the Jesse Stone series, Stone Cold was the first novel adapted into the TV movie series. The Jesse Stone: Night Passage TV movie is considered a prequel to the Stone Cold TV movie.
Trouble in Paradise is the second book in the Jesse Stone series by Robert B. Parker. Stiles Island is a wealthy and exclusive enclave separated by a bridge from Paradise on the coast of Massachusetts. James Macklin sees the island as the ultimate investment opportunity: all he needs to do is invade it, blow the bridge, and loot the island. To enact this scheme, Macklin, along with his devoted girlfriend, Faye, assembles a crew of fellow ex-cons – all experts in their fields – including Wilson Cromartie, a fearsome Apache. James Macklin is a bad man, a very bad man. And Wilson Cromartie, known as Crow, is even worse.
As Macklin plots his crime, Paradise police chief Jesse Stone has enough going on. He faces romantic entanglements in triplicate: his ex-wife, Jenn, is in the Paradise jail for assault, he's started a new relationship with a Stiles Island realtor named Marcy Campbell, and he's still sorting out his feelings for attorney Abby Taylor. When Macklin's attack on Stiles Island hits, both Marcy and Abby are in danger. As the body count rises, Jesse will have to keep both women from harm.
Order of Books » Characters » Order of Jesse Stone Books
11 Responses to "Order of Jesse Stone Books"