Order of Robert Hunter Books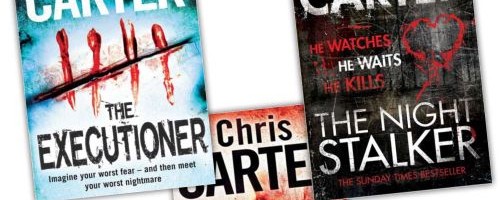 Robert Hunter is the central character in a series of thriller novels by Brazilian novelist Chris Carter. Robert Hunter is an LAPD homicide detective.
Chris Carter began his Robert Hunter series with the novel The Crucifix Killer in 2009. The series is currently ongoing. Below is a list of Chris Carter's Robert Hunter books in order of when they were originally published (which is also their chronological order):
Publication Order of Robert Hunter Books
The Crucifix Killer
(2009)
The Executioner
(2010)
The Night Stalker
(2011)
The Death Sculptor
(2012)
The Hunter
(2013)
One by One
(2013)
An Evil Mind
(2014)
I am Death
(2015)
The Caller
(2017)
The Gallery of the Dead
(2018)
Hunting Evil
(2019)
Written in Blood
(2020)
Genesis
(2022)
The Hunter is a prequel to the Robert Hunter series.
If You Like Chris Carter Books, You'll Love…
Robert Hunter Synopsis: The Executioner is Chris Carter's second novel, as well as the second installment in his series featuring LAPD Homicide Detective Robert Hunter. A decapitated body of a priest lay inside a church in Los Angeles. His body has been carefully positioned with the legs stretched out and the arms have been crossed over his chest… and the head has been replaced by a dog's. Later, the forensic team discovers that the number 3 has been painted on his chest – in blood. Detective Robert Hunter believes it to be a ritualistic killing, but when more similar murders occur, Hunter re-thinks the theory. Each victim's worst nightmare has come true… but how did the killer know his victims' nightmares? How are the victims linked together, if at all? Or are these killings random?
Shop Worldwide: Amazon.com | Amazon.co.uk | Amazon.ca
Order of Books » Characters »