Order of Thomas Chaloner Books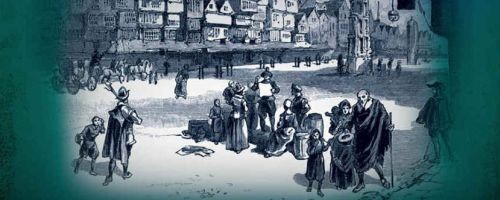 Thomas Chaloner is the protagonist in a series of historical mystery novels by English author Susanna Gregory. Set following the Restoration of Charles II in London, Chaloner is a detective and (reluctant) spy. Although the character is fictional, he comes from a real-life historical family.
Susanna Gregory debuted her Thomas Chaloner character in 2006 with the novel A Conspiracy of Violence. The series is currently ongoing. Below is a list of Susanna Gregory's Thomas Chaloner books in order of when they were first released (which is the same as their chronological order):
Publication Order of Thomas Chaloner Books
| | | |
| --- | --- | --- |
| A Conspiracy of Violence | (2006) | |
| Blood on the Strand | (2007) | |
| The Butcher of Smithfield | (2008) | |
| The Westminster Poisoner | (2009) | |
| A Murder on London Bridge | (2009) | |
| The Body in the Thames | (2010) | |
| The Piccadilly Plot | (2012) | |
| Death in St James's Park | (2013) | |
| Murder on High Holborn | (2014) | |
| The Cheapside Corpse | (2015) | |
| The Chelsea Strangler | (2016) | |
| The Executioner of St Paul's | (2017) | |
| Intrigue in Covent Garden | (2019) | |
| The Clerkenwell Affair | (2020) | |
| The Pudding Lane Plot | (2022) | |
If You Like Thomas Chaloner Books, You'll Love…
Thomas Chalinor Synopsis: A Conspiracy Of Violence is the first book in the Thomas Chalinor series by Susanna Gregory. The dour days of Cromwell are over. Charles II is well established at White Hall Palace, his mistress at hand in rooms over the Holbein bridge, the heads of some of the regicides on public display. London seethes with new energy, freed from the strictures of the Protectorate, but many of its inhabitants have lost their livelihoods. One is Thomas Chaloner, a reluctant spy for the feared Secretary of State, John Thurloe, and now returned from Holland in desperate need of employment. His erstwhile boss, knowing he has many enemies at court, recommends Thomas to Lord Clarendon, but in return demands that Thomas keep him informed of any plot against him. But what Thomas discovers is that Thurloe had sent another ex-employee to White Hall and he is dead, supposedly murdered by footpads near the Thames. Chaloner volunteers to investigate his killing: instead he is despatched to the Tower to unearth the gold buried by the last Governor. He discovers not treasure, but evidence that greed and self-interest are uppermost in men's minds whoever is in power, and that his life has no value to either side.
Order of Books » Characters »