Order of Wingfeather Saga Books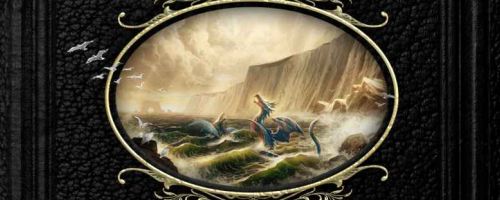 The Wingfeather Saga is a series of Christian children's fantasy novels by American author Andrew Peterson. The Wingfeather Saga follows the Igiby siblings – Janner, Tink and Leeli. Along with their dog Nugget, they must protect the legend and jewels of the King Wingfeather from the Fangs of Dang.
Andrew Peterson began his Wingfeather Saga series in 2008 with his debut novel, On the Edge of the Dark Sea of Darkness. The series concluded with the fourth novel of the series, The Warden and the Wolf King, which was published in 2014. Below is a list of Andrew Peterson's Wingfeather Saga books in order of when they were originally published (which is the same as their chronological order):
Publication Order of Wingfeather Saga Books
| | | |
| --- | --- | --- |
| On the Edge of the Dark Sea of Darkness | (2008) | |
| North! or Be Eaten | (2009) | |
| The Monster in the Hollows | (2011) | |
| Pembrick's Creaturepedia (Companion Novel) | (2014) | |
| The Warden and the Wolf King | (2014) | |
If You Like Wingfeather Saga Books, You'll Love…
Wingfeather Saga Synopsis: In North! Or Be Eaten by Andrew Peterson (book 2 in the Wingfeather Saga series), the Igibys thought they were normal. But they have discovered that they are the Lost Jewels of Anniera, making them the heirs to a legendary kingdom across the sea, and now they're very much wanted dead. To survive, they must flee to the Ice Prairies, a place where the Fangs of Dang cannot go. But before they get there, they will have to escape the monsters of Glipwood Forest, the thieving Stranders of the East Bend, and the dreaded Fork Factory. But even more dangerous is the in-fighting between the three of them that threatens to tear them apart.
Shop Worldwide: Amazon.com | Amazon.co.uk | Amazon.ca
Order of Books » Characters » Order of Wingfeather Saga Books