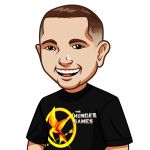 Hi everyone and welcome to March!
I was hoping to send this out last night after working on it during the day but ran out of time. It did remind me of a few years ago when I sent one out late at night and received a hilarious complaint.
It wasn't too late – around 9:30 pm EST which is where they were located. But I had someone e-mail me furious, stating that I sent the e-mail too late and "woke them up". It's not like I call everyone on the telephone to let them know the newsletter is in their inbox. It's an e-mail! Is this the first ever e-mail they have received after bedtime?
Always makes me laugh. (more…)