Order of Arnaldur Indridason Books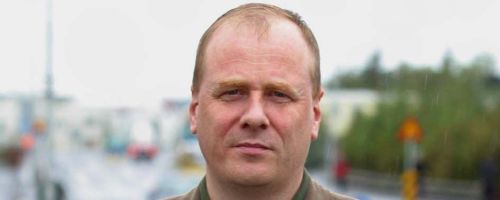 Arnaldur Indridason is an Icelandic novelist of crime fiction. He is best known for his Inspector Erlendur series. He is the son of author Indridi G. Thorsteinsson. Arnaldur received his degree in history from the University of Iceland, then worked as a journalist, freelance writer and film critic. At one point, his novels were seven of the top ten books at the Reykjavik City Library. His novels have been published in 26 countries and into many different languages, including English, French, Spanish, German, Italian, Portuguese, Swedish, Norwegian, Finnish, Russian, Dutch, Polish, Greek, Danish, Catalan, Czech, Hungarian, Chinese, Croatian, Romanian and Bulgarian.
Arnaldur Indridason became a published author with the novel Sons of Dust, which was published in 1997 in Icelandic and has yet to see an English translation. His first book to be published in English was Jar City (aka Tainted Blood). He is the winner of the Glass Key Award in 2002 and 2003 and has also won the 2005 CWA Gold Dagger Award for Silence of the Grave. Below is a list of Arnaldur Indridason's books in order of when they were originally published:
Publication Order of Inspector Erlendur Books
Chronological Order of Inspector Erlendur Books
Publication Order of Detective Konrad Books
Publication Order of Reykjavik Wartime Mystery/Flovent and Thorson Thrillers Books
Publication Order of Standalone Novels
Publication Order of Young Inspector Erlendur (German) Books
Note: Jar City was also published under the title Tainted Blood.
If You Like Arnaldur Indridason Books, You'll Love…
Arnaldur Indridason Synopses: Operation Napoleon is a standalone thriller novel by Arnaldur Indridason and translated by Victoria Cribb. The novel starts out during World War II, when a German bomber crashes in Iceland during a blizzard. Interestingly, both German and U.S. officers are onboard. A German senior officer says that it would be best to walk to a nearby farm, and then disappears into the blizzard. In present day Iceland, the U.S. Army is attempting to remove the wreck of an airplane from a glacier in a clandestine operation. A young man named Elias stumbles upon the operation and then disappears. But before he disappears, he contacts his sister, Kristin, who now goes on an adventure in order to find out what happened to her brother. The novel is recommended to readers of Clive Cussler and Alistair MacLean.
In The Shadow District by Arnaldur Indridason (book 1 in the Flovent and Thorson series), a 90-year-old man is discovered suffocated to death in his bed with his own pillow. The police find newspaper articles about a murder case from the Second World War in which a young woman was found strangled behind the National Theatre of Reykjavik on his desk.
Former detective Konrád remembers the crime because he is bored with retirement. He spent his childhood in "the shadow district," a rough neighborhood bounded by an abattoir and the National Theatre. What could possibly pique someone's interest in that crime now? He initiates his own unofficial investigation.
We learn that two girls had been attacked in strangely similar circumstances by switching between Konrád's investigation and the initial police inquiry. Did the wrong man get arrested by police? How are these cases connected over time? Who is the elderly man, then?
In The Shadow Killer by Arnaldur Indridason (book 2 in the Flovent and Thorson series), a man who was shot in the head is found dead in a small apartment in Reykjavik. In the summer of 1941, foreign soldiers are on every street corner, attracting the immediate attention of the police. So begins the investigation by officers Flóvent and Thorson, which will force them to confront their own demons and take them down a darker path than either of them anticipated.
Order of Books » Authors »
3 Responses to "Order of Arnaldur Indridason Books"