Order of P.D. James Books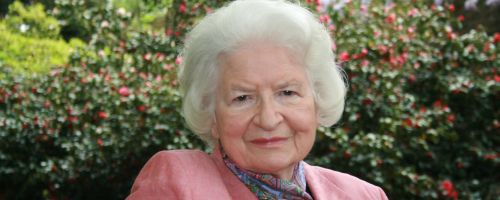 P.D. James was the pen name of Phyllis Dorothy James, Baroness James of Holland Park. P.D. James was an English novelist of crime fiction, thrillers and dystopian fiction. She was best known for her detective fiction novels featuring Adam Dalgliesh, a policeman and poet. She has also written a couple of novels featuring Cordelia Gray and a few standalone novels.
P.D. James had been writing since 1962, when her first Adam Dalgliesh mystery entitled Cover Her Face was published.
P.D. James passed away on November 27th, 2014.
Below is a list of all of P.D. James' books in order of publication and in chronological order (when necessary):
Publication Order of Adam Dalgliesh Books
(by)
Publication Order of Cordelia Gray Books
Publication Order of Standalone Novels
Publication Order of Short Stories/Novellas
Publication Order of Short Story Collections
Publication Order of Non-Fiction Books
Publication Order of Pocket Penguin 70's Books
Publication Order of Anthologies
If You Like P.D. James Books, You'll Love…
P.D. James Synopses: In Innocent Blood by P.D. James, Philippa Palfrey, an adopted teenager, believes she is an illegitimate, motherless child of an aristocratic father. She is shocked to learn that her birth mother is still alive and about to be released from prison when she exercises her right to know the truth. Philippa quickly discovers that she is not the only one interested in where her parents are as she enters a brand-new, terrifying world.
The Children of Men is a standalone title by P.D. James. The last generation to be born are now adults, and the human race is now infertile. Suicide and despair are becoming commonplace, and civilization itself is deteriorating. Theodore Faron, an Oxford historian who has no hope for the future, spends most of his time thinking back. After that, Julian, a brilliant and attractive woman, approaches him and asks him to assist her in securing an appointment with his cousin, the powerful Warden of England. She and her group of unlikely revolutionaries might just rekindle his desire to live, and they might also hold the key to human survival.
Death Comes to Pemberley by P.D. James is a standalone novel. It has been six years since Elizabeth and Darcy began their relationship at Darcy's magnificent Pemberley estate. Their orderly, peaceful world seems almost insurmountable. As the chatelaine of the great house, Elizabeth has settled into her new role. Charles and Fitzwilliam, their adored sons, are theirs. Bingley, the husband of Elizabeth's sister Jane, lives nearby; her father frequently visits; Darcy's sister Georgiana's marriage prospects are discussed with optimism. Additionally, the much-anticipated annual autumn ball is undergoing preparations.
The patrician idyll is then shattered on the ball's eve. Lydia, Elizabeth's disgraced sister, and her husband, the extremely dubious Wickham, have been banned from Pemberley, so a coach careens up the drive. She stutters, hysterical, from the carriage, yelling that Wickham has been killed. Shockingly, Pemberley is thrown into a terrifying mystery all of a sudden.
In The Part-Time Job by P.D. James, she takes us inside the mind of a man who has been patiently waiting decades to exact clever revenge on a school bully. The Part-Time Job is a 15-page short story.
In Talking About Detective Fiction, the undisputed queen of mystery, P.D. James, offers an intriguing, enthralling, and unique look at the genre that she has spent her entire life perfecting. P.D. James gets right to the heart of mystery by going through it from top to bottom, starting with classics like Bleak House by Charles Dickens and The Woman in White by Wilkie Collins and moving on to contemporary masters like Colin Dexter and Henning Mankell. She follows the lives and writing styles of many authors, including Dashiell Hammett, Agatha Christie, and Arthur Conan Doyle. P.D. James discusses detective fiction as social history, the stylistic aspects of the genre, her own writing process, and the recent resurgence of the genre in contemporary culture.
Order of Books » Authors »
6 Responses to "Order of P.D. James Books"