Order of Rachel Wesson Books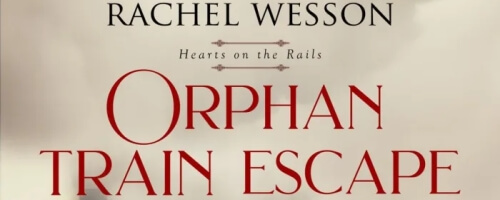 Rachel Wesson is an Irish author best known for writing the Heart of the Rails book series.
Wesson was born in Kilkenny, Ireland, but she considers Dublin to be her home because that is where she has spent most of her life. She grew up with a love of books and has always been interested in history so she managed to combine two of her loves to create this series. Her original entry into writing came when her Granny told her to write down her stories which has lead to a great career for her.
Publication Order of Clover Springs Mail Order Brides Books
Publication Order of Clover Springs East Books
Publication Order of Hearts on the Rails Books
Publication Order of The Irish Billionaires Books
Publication Order of Orphans of Hope House Books
Publication Order of Trails of the Heart Books
Publication Order of The 12 Days of Christmas Mail-Order Brides Books
Publication Order of Standalone Novels
If You Like Rachel Wesson Books, You'll Love…
Orphan Train Escape is the story of Bridget Collins who is going through a rough time right now. She has two young siblings under her wing and she needs to get out of New York, but her options are limited. She gets the opportunity when a priest sends her as an outplacement agent on the orphan train that runs from New York out west. She works alongside Carl Watson with almost forty orphans under their care. The orphans are all dealing with their own pain, as is Carl, and through helping them – Bridges finds a new calling in life to help these children find happy homes.
Wesson also wrote A Baby on the Doorstep. This book takes place in 1934 in Virginia when Lauren is running an orphanage during the Great Depression. Every day is a struggle to feed the children during this time, but the kids are never short on love. A baby arrives on the doorstep one day with a note from the parents who promise to return for her, but Lauren decides to give the child all the love that it deserves. The Depression is harsh though and the debt collectors are knocking at her door with threats of shutting the whole thing down.
Order of Books » Authors » Order of Rachel Wesson Books