Order of Wayne Simmons Books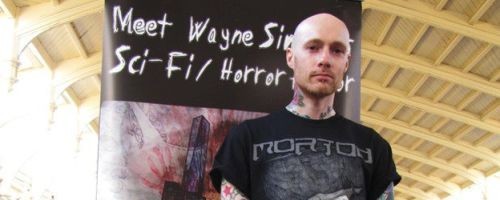 Wayne Simmons is an Irish author of horror novels. The road to becoming a horror novelist was a bit of a winding one for Wayne. He wrote reviews and conducted interviews for various e-zines before his first novel was published. His work has been published in the UK, Austria, Germany, Spain, Turkey and North America. He also contributes to Skin Deep Tattoo Magazine and is the PR/Marketing chief for Infected Books. Wayne lives in Wales with his girlfrend and a Jack Russell Terrier named Dita.
Wayne Simmons made his debut as a published novelist in 2008 with the novel Drop Dead Gorgeous. Below is a list of Wayne Simmons' books in order of when they were originally released:
Publication Order of Drop Dead Gorgeous Books
Publication Order of Flu Books
Publication Order of Standalone Novels
Publication Order of Short Stories/Novellas
Publication Order of Bushy Tales Books
Publication Order of Anthologies
Notes: The Jake Conlan series is written with Mark Graham. Voodoo Child was written with Andre Duza. Holiday of the Dead also has stories by Tony Burgess, David Dunwoody, Thomas Emson, Shaun Jeffrey, Remy Porter and John Russo.
If You Like Wayne Simmons Books, You'll Love…
Wayne Simmons Synopsis: Plastic Jesus is a standalone title by Wayne Simmons. Welcome to Lark City. It is the near future, following a devastating Holy War. Once part of the US colonies, Maalside, the New Republic, now stands alone in the Pacific, separated from the heartland by 200 miles of salty ocean. Lark City is its capital, watched over by a 50 foot, pouting, stiletto-heeled and garter-belted 'Miss Liberty', a crude parody of the famous landmark across the water. In this brutal neon jungle, Code Guy Johnny Lyon writes a Jesus social networking AI, to rebrand religion following the war. But something goes wrong; a virtual hell breaks on the streets of Lark – a violent, surreal and uncontrollable social breakdown. Caught in this terrifying web of danger are Sarah Lee, Johnny's co-worker, drug lord Paul McBride who is determined to exploit the chaos to wipe out his enemies, and McBride's junkie daughter, a prostitute called Kitty. Now, only Johnny can save Sarah, Kitty and the city.
Order of Books » Authors » Order of Wayne Simmons Books