Order of Forward Collection Books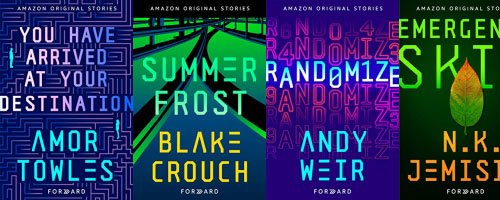 The Forward Collection is a series of short stories, individually written by different authors. The concept of this was created by Blake Crouch, who writes one of the stories.
Blake credits the creation of this series with a discussion with his partner on emerging technologically. While there have been a lot of great advancements, there are also some things we would like to roll back.
That is what inspired him to write his story in the collection – Summer Frost. He then brought in the following writers to write additional stories along the same thought process: N.K. Jemisin, Paul Tremblay, Veronica Roth, Andy Weir, Amor Towles.
All were published on the same day and can be read in any order.
Here is the book listing:
Publication Order of Forward Books
| | | |
| --- | --- | --- |
| Randomize | (2019) | |
| Summer Frost | (2019) | |
| Ark | (2019) | |
| You Have Arrived at Your Destination | (2019) | |
| Emergency Skin | (2019) | |
| The Last Conversation | (2019) | |
Summer Frost Synopsis: A video game character was meant to do one thing – die. However in one particular simulation they realized that this NPC didn't die – instead they left the scene of their inevitable death, and instead started exploring the virtual game world up to the boundaries set. Rather than attempt to fix this "glitch" in the code, one of the programmers behind the game decides to get the AI character out of the video game world and into the real world.
Order of Books » Characters » Order of Forward Collection Books