Order of Songs Of Magic Books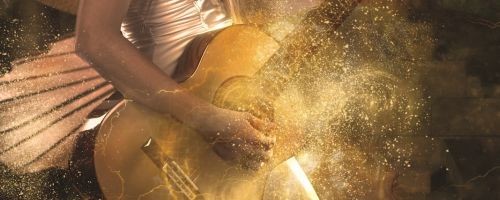 Songs of Magic is a series of YA fantasy novels by American author J.L. Bryan. The Songs of Magic series follows the Assorted Zebras, a teenage garage who become rock stars after swiping enchanted instruments from the fairy world.
J.L. Bryan began his Songs of Magic series in 2011 with the novel Fairy Metal Thunder. The series concluded in 2014 with the novel Fairy Luck. Below is a list of J.L. Bryan's Songs of Magic books in order of when they were originally released (which is the same as their chronlogical order):
Publication Order of Songs of Magic Books
| | | |
| --- | --- | --- |
| Fairy Metal Thunder | (2011) | |
| Fairy Blues | (2012) | |
| Fairystruck | (2012) | |
| Fairyland | (2012) | |
| Fairyvision | (2013) | |
| Fairy Luck | (2014) | |
If You Like Songs Of Magic Books, You'll Love…
Songs of Magic Synopsis: Fairy Metal Thunder by J.L. Bryan is the first book in the Songs of Magic series. Jason plays guitar in a teenage garage band called the Assorted Zebras, but they have no fans, no gigs, and they're going nowhere. Even worse, Jason has a crush on their lead singer, but it doesn't seem to be reciprocated. Then Jason steals instruments from the fairy world. Soon the band is enchanting crowds, and Jason is a step closer to the girl of his dreams, but the new gear is brimming with dangerous and destructive magic they can't control. Their shortcut to success has cost a troupe of innocent fairies their livelihood and turned Jason and his band into enemies of the powerful Queen Mab, who sends hunters to track them down, including one of the most dangerous creatures in Faerie… a small unicorn named Buttercake.
Order of Books » Characters » Order of Songs Of Magic Books