December 2017 Newsletter
This is the December 2017 newsletter. If you aren't subscribed you can do so in the right sidebar, or if you are on mobile or tablet, scroll down and you'll see the "Monthly Newsletter" box to subscribe that awy.
Hi all,
Welcome to December! I had a great trip to Wisconsin, which I mentioned I was doing in last months newsletter. Packers vs Lions was the first NFL game I've been to and I have to say that despite it being a disappointing game overall, NFL is probably my favourite sport to watch.
I think I'm going to make that a yearly thing – just travel to a different city/state every year to take in an NFL game. It was a lot of fun.
Also fun was the flight home where I got to start the latest Jack Reacher novel, the Midnight Line. It wasn't the best Reacher book by any means however I still thoroughly enjoyed it. I love Childs style of writing and you can tell he has so much fun writing the Jack Reacher character.
I won't say too much due to spoilers but I felt it started really well with an intriguing plot and I found myself taking it slow as I didn't want to finish it too fast! Then it started to fizzle out and led to what I felt was a disappointing ending. Oh well – regardless of that I still love the character and Child writes well enough that I enjoyed the book.
I started a new series last month too which is the Jericho Quinn series by Marc Cameron. Quinn is an Air Force vet and trained assassin who answers to just two people – the Director of National Intelligence and the President. The first book in particular, National Security, is fantastic. It starts off with the terrorists blowing up an entire shopping mall and has you hooked right from the beginning. They seem to be different in that there is a LOT more terrorist attacks taking place compared to other books where they usually build to just one terrorist attack. It really keeps you on your toes.
Speaking of Rapp – I watched the American Assassin movie based on the Mitch Rapp series lately. Very disappointing to be honest. There was a great story to be told and they botched it big time. There was no flow to the movie and it just got silly at the end.
In saying that – I think Dylan O'Brien could really grow into the Rapp role. He did a decent job. And Keaton was excellent at Hurley. For most of the movie he was just Keaton acting but – spoiler alert – the torture scene had me loving him in that role. So a very disappointing first outing(after a solid if rushed beginning) but hopefully they get better.
If you're into the whole "spy thriller / badass" style of books like Mitch Rapp etc, then be sure to give the Jericho Quinn series a try. I'm really enjoying them.
Christmas is coming up and I'm looking forward to it. Taking the family to Scotland for Christmas, which is where I'm from originally(moved to Canada at 16, 21 years ago). My parents and sister are all my family are all still there so that should be good. My kids aren't too happy at basically spending 14 hours traveling on Christmas Day(which is when we fly out), but hopefully Santa brings them a Nintendo Switch so they can get distracted with that while I get some prime reading time in!
I love Christmas and love to get into the spirit of it all. Every year we do a family Christmas card based off a movie or TV show poster or scene. This was last years for example: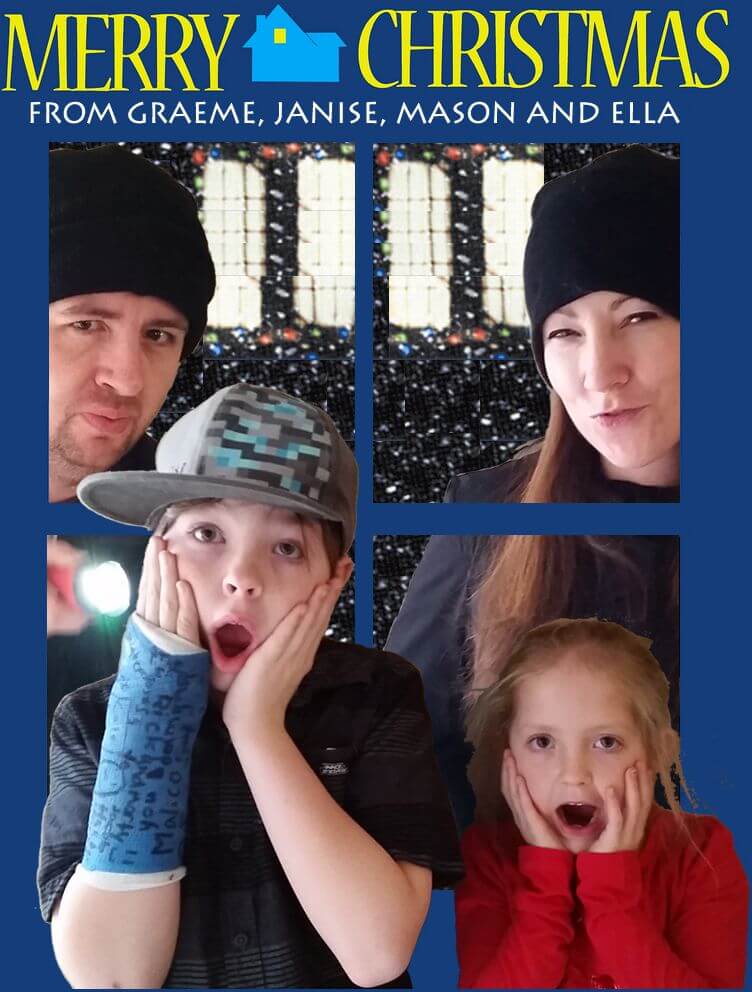 ​​​​​​​
Always fun to do. If you do anything similar, I'd love to see it! Be sure to e-mail it to me.
Each month we give away 2 prizes to 2 random subscribers of $25 each in the form of Amazon gift certificates. To win all you have to do is be a subscriber. Nothing more! When we go to hit "Publish" we take a list of all of our subscribers, throw them into a random draw and those are the winners.
Our winners this month are Jacque from Scottsdale, AZ and Robin B from Lousville, KY. Both of you have been e-mailed. If you don't see anything, check your junk folder or contact me.
Book Recommendations
n this section I give 4-5 random book recommendations. They can be old books, they can be new. But either way – I recommend you read them if the type of genre they are in appeals to you. Feel free to e-mail suggestions to site@orderofbooks.com as many of the suggestions each month are from our readers. If you wish to add a description for the book around the same size as the ones below that'd be great too!
Hercule Poirot's Christmas by Agatha Christie: If you're looking for a Christmas themed book, this is a great one. You know the deal with Christie I'm sure – a family reunion for Christmas, someone is murdered and there's a list of potential suspects. One thing I'd suggest is if you are having your own family reunion for Christmas, get everyone to read it beforehand then you can discuss it over Christmas dinner etc. I've did that the last couple of years and it can really make for some fun Christmas discussion – sitting around discussing a book.
Relic by Douglas Preston and Lincoln Child: If you've never read the Pendergast series by Preston & Child you're really missing out. The newest one comes out in January so I thought I'd recommend it here. Aloysius Pendergast is an FBI agent and this is one of the most popular book series on OrderOfBooks.com. With over 15 books already in the series, this is a great series to start to get you through those upcoming cold winter nights
The Blue Edge of Midnight by Jonathon King: This was the debut novel by King and it's a great story by the thriller writer. The first book in the Max Freeman mystery series, it won an Edgar Award and is very well written. Freeman is a tormented ex-cop who left behind the Philadelphia PD and went to the Florida Everglades, for a life in exile. A grisly murder occurs however and Freeman, who becomes the main suspect, attempts to find the real murderer.
Turtles All The Way Down by John Green: You're going to see this one on a lot of "Best of 2017" lists and for good reason. John Green is a really refreshing author. It took a little while for him to write after the hugely successful The Fault in Our Stars but it was worth the wait. An extremely powerful book about a teenage girl who is living with OCD and anxiety Absolutely captivating and one book that I couldn't put down.
December 2017 Book Of The Month
Nora Roberts has a brand new series which kicks off December 5th, 2017. It's the Chronicles of the One series, and it begins with the book Year One.
It all begins on New Year's Eve when the sickness comes, and spreads fast. More than half of the world is decimated. Law and government collapses. There's chaos. And in this new world, magick rises instead.
Hearing a lot of good things about this one.
Your Thoughts:
Last month I asked you to recommend a short story. The feedback is later in the newsletter.
This month I am asking: what was the best book or series you read all year?
I've read a lot of great books and a lot of great series this year so it's a bit hard to pick
However My personal favourite is the John Wells series by Alex Berenson.
I just couldn't get enough of them, and I read through all 11 of them over the course of a few weeks. The series never got old or tired – it's one of those rare series where the books actually just get better!
Other books I really enjoyed – which I'm giving as gifts to a lot of mystery/thriller fans this are – are Behind Closed Doors and The Breakdown by B.A. Paris and The Couple Next Door and A Stranger in the House by Shari Lapena. If you're looking for gift ideas, check them out.
What are the best books or series YOU have read in 2017?
E-mail us your feedback to site@OrderOfBooks.com or just reply to this e-mail, and we'll pick the best comments and feature it in next months newsletter.
See the reader mailbag for this month here.
Order of Books » Newsletter » December 2017 Newsletter