Order of Joyce Carol Oates Books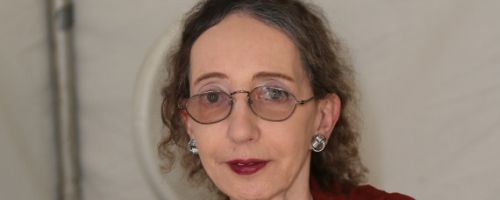 Joyce Carol Oates is an American author, poet, playwright, essayist and editor. She is the author of the Gothic Saga. Oates has won the O. Henry Award (twice), the M.L. Rosenthal Award, National Book Award for Fiction, Brad Stock Award (twice), Chicago Tribute Literary Prize, Norman Mailer Lifetime Achievement Prize, Stone Award for Lifetime Literary Achievement and the National Humanities Medal. She has also been nominated for the Pulitzer Prize three times. As of this writing, Oates has been teaching writing at Princeton University since 1978, but intends on retiring in July 2015. Joyce was married to editor and publisher Raymond J. Smith for 47 years. She is now married to Charles Gross.
Joyce Carol Oates became a published author with the short story collection By the North Gate. She published her first novel the following year, which was entitled With Shuddering Fall. Below is a list of Joyce Carol Oates' books in order of when they were originally published:
Publication Order of Garden Of Earthly Delights Books
Publication Order of The Gothic Saga Books
Publication Order of Dark Corners Books
Publication Order of L.A. Noire: The Collected Stories Books
Publication Order of Standalone Novels
Publication Order of Short Stories Books
Publication Order of Short Story Collections
Publication Order of Standalone Plays
Publication Order of Picture Books
(with Mark Graham)
Publication Order of Non-Fiction Books
Publication Order of Anthologies
Notes: Mother, Missing was also published as Missing Mom. Lives of the Twins is also titled Kindred Passions. The books Take Me, Take Me with You, The Stolen Heart and Blood Mask were written as Lauren Kelly. Lives of the Twins, Soul/Mate, Nemesis, Snake Eyes, You Can't Catch Me, Double Delight, Starr Bright Will Be With You Soon and The Barrens were written under the pen name of Rosamond Smith.
What You Wish For: A Book for Darfur also contains stories by Jeanne DuPrau, Nikki Giovanni, John Green, Karen Hesse, Alexander McCall Smith, Naomi Shihab Nye, Sofia Quintero and Jane Yolen.
The Best American Short Stories 1979 was edited with Shannon Ravenel. Story: Fictions Past and Present was edited with Boyd Litzinger. Reading The Fights and The Sophisticated Cat were edited with Daniel Halpern. The Best American Essays of the Century was edited with Robert Atawan. The Norton Anthology of Contemporary Fiction was edited with R.V. Cassill. Snapshots: 20th Century Mother-Daughter Fiction was edited with Janet Berliner. 21st Century Voices was edited with Christopher R. Beha. Muhammad Ali: Ringside was written with Alex Haley and Norman Mailer.
If You Like Joyce Carol Oates Books, You'll Love…
Joyce Carol Oates Synopsis: Solstice is the story of two women, Monica Jensen and Sheila Trask. These two women are very different, but are extremely drawn towards eachother. Monica is a shy blonde teacher who has been divorced. Sheila is a dark nightbird and an artist. What starts as a simple friendship turns to love and then becomes obsession – a potentially fatal one.
Shop Worldwide: Amazon.com | Amazon.co.uk | Amazon.ca
Order of Books » Authors » Order of Joyce Carol Oates Books