Order of Fifth Millennium Books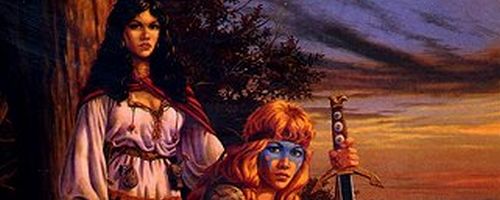 The Fifth Millennium is a series of post-apocalyptic fantasy novels by Canadian-American author S.M. Stirling, often with co-author Shirley Meier. Magic and psionics exist, but are not very powerful, and technology is akin to what would have existed in the Middle Ages.
S.M. Stirling began his Fifth Millennium series with Snowbrother. The final original novel in the series was Shadow's Son by Stirling, Meier and Karen Werhstein (published in 1991). Meier and Wehrstein also wrote spin-off novels in the series in 1991. Below is a list of the Fifth Millennium books in order of when they were first reelased:
Publication Order of Fifth Millenium Books
(By: Shirley Meier, S.M. Stirling, Karen Wehrstein)
| | | |
| --- | --- | --- |
| Snowbrother | (1985) | |
| The Sharpest Edge | (1986) | |
| The Cage | (1989) | |
| Shadow's Son | (1991) | |
| Shadow's Daughter | (1991) | |
| Lion's Heart | (1991) | |
| Lion's Soul | (1991) | |
| Saber and Shadow | (1992) | |
Notes: The Sharpest Edge was re-written and expanded as Saber and Shadow. All novels, other than Snowbrother, were co-authored by Shirley Meier. Shadow's Sun was co-authored by Karen Wehrstein. The novels Shadows Daughter by Shirley Meier, Lion's Heart by Karen Wehrstein and Lion's Soul by Karen Wehrstein are all linked to the Fifth Millennium series.
If You Like Fifth Millennium Books, You'll Love…
Fifth Millennium Synopses: In Snowbrother by S.M. Stirling (book one of the Fifth Millennium series), a 19 year-old named Shkai'ra must enslave a city or she will die. She goes to do what she must, but the village is very resistant to the attempt.
In The Cage by S.M. Stirling and Shirley Meier (book three in the series), Habiku Smoothtongue has corrupted everything around MEgan Thanesdoom. But now Megan returns with Shkai'ra's sword with the plan of regaining what is rightfully hers.
In Saber and Shadow (book 5 in the series), priests, lords, wizards, merchants and thieves will do anything to gain power in the city of Illizbuah, while two vagrants will join forces to change the face of Illizbuah.
Shop Worldwide: Amazon.com | Amazon.co.uk | Amazon.ca
Order of Books » Characters »
One Response to "Order of Fifth Millennium Books"