April 2019 Newsletter
Welcome to the April 2019 newsletter!
Hope everyone had a great reading month.
I read quite a few books this month – good to have the reading bug back. There wasn't a point in the month at all where I didn't have a book on the go so that's always good. Although my reading pace was different depending on the book.
I read the latest "Gray Man" novel by Mark Greaney. This is one of my favourite series but with a new book only once per year, I don't like to finish it too soon. So I took my time with it and would only read a chapter at a time. It was nice to do that – especially with the short chapters – as it'd give me something to think about before picking it up again. It was excellent as they always are.
I couldn't do that pace with the latest standalone thriller by Brad Parks, The Last Act. I've read a lot of standalone thriller authors over the years and I think Parks is my favourite. Right from the get-go he gives you characters that you really care about. I think that's a sign of a good author – creating a character out of thin air, and then having you care about them two chapters in.
I started that one on a Saturday afternoon. Went to bed that night about 8:30pm as I was really tired. Decided to read a chapter or two until I drift off. Anyone reading this NOT know how that one ended? It ended at about 3am when I finished the entire book. Ugh.
Another one I read was Harlan Cobens latest, Run Away. Now I LOVE Coben and this book was pretty solid. However one thing I did feel while reading this book is that he is a bit "out of touch". For example there is a lot of work involving computers, hacking and tracing of IP addresses in the book. Rather than explain it, the private detective just had a "computer guru" that would handle everything. The problem is they were doing things that really weren't possible.
Currently working my way through The Promise by Teresa Driscoll. One of those psychological thrillers where there is a big mystery that is the major plot point, yet the author doesn't tell you what it is. Those can be a bit frustrating as you can get to the end of the book before actually discovering it – with little parts of the story given as you proceed – and then it can end up being disappointing or bad and make the book a waste of time. I've thoroughly enjoyed her last two books though so here's hoping it holds up.
Interesting hearing controversy over Greg Iles latest book. I received so much positive feedback in regards to his Natchez Burning trilogy but this new one, Cemetery Road, isn't going down too well as it apparently gets political and is very anti-Trump.
I've not read it yet – and don't worry I'm not going to talk politics here – but it does bother me when I see writers write with an obvious agenda in mind, whether I agree with it or not. John Grisham was one of those authors for awhile – there was a spurt of 3-4 books where I finished it feeling all he was doing was pushing his political agenda, and unfortunately his bias simply interfered with the story.
That recent Harlan Coben book I read had that same issue early on yet it never added to the story at all. It was more just a case of him wanting to insert his opinion on the current state of the USA, and the political situation. I read books like that to escape from the real world. If I wanted to hear an authors opinion on politics I'd read their blog.
Author Stephen Leather is another. His "Spider Shepherd" series is a Top 5 series for me, but his books are starting to turn me off. He's a UK author and has strong opinions in regard to the immigration situation there. At one point he used to present both sides of the argument but more and more we're starting to see his bias take over the story and it's starting to ruin an excellent series.
I hope more authors start to realize this and refrain from that. It just makes no sense as while you're pandering to one audience, you're alienating another. Worse – rarely does it ever add to the story. It usually just takes you out of it when they try to hammer their point home.
Anyway rant over! To end the month I've started reading The Dirt. I watched the special on Netflix and it was fantastic so now I want to read the book that it's based on.
A few months ago I had a mailbag question asking where was the most distracting place you have ever read. I didn't think there was a place I couldn't read but I discovered it recently – while getting a tattoo! Over February and March I was getting a sleeve done that took over 50 hours. The artist preferred to focus on his work so I would bring my iPad in and just watched TV while he punctured my skin with needles over and over.
During one particularly long session my iPad died so I grabbed my Kindle to read instead. Yep no chance at all. I must have read the same paragraph about 20 times before just giving up ha.
Although I feel a bit ashamed about that as I remember one woman e-mailing me during that mailbag to say she read during childbirth. I just gained a whole new respect for that lady!
Each month we give away 2 prizes to 2 random subscribers of $25 each in the form of Amazon gift certificates. To win all you have to do is be a subscriber. Nothing more! When we go to hit "Publish" we take a list of all of our subscribers, throw them into a random draw and those are the winners.
Our winners this month are Adrienne from Houston, TX and Porter from Newburgh, NY. Both of you have been e-mailed. If you don't see anything, check your junk folder or contact me.
Graeme
OrderOfBooks.com
Book Recommendations:
In this section I give 4-5 random book recommendations. They can be old books, they can be new. But either way – I recommend you read them if the type of genre they are in appeals to you. Feel free to e-mail suggestions to site@orderofbooks.com as many of the suggestions each month are from our readers. If you wish to add a description for the book around the same size as the ones below that'd be great too!
The Rex Graves series by C.S. Challinor
C.S. Challinor is a mystery author who writes the Rex Grave series. The series began with Christmas is Murder with new books released 1-2 times per year.
Rex Graves is a Scottish barrister and in the first book, Graves is stranded in a secluded Victorian hotel with various other guests. Guest keep dying and with no escape possible, Graves takes it upon himself to investigate the mystery and find the murderer.
Say Nothing by Brad Parks
I mentioned Brad Parks is fast becoming one of my favourite standalone thriller authors above. He's also written the Carter Ross series which I am yet to read however Say Nothing is his first standalone thriller and it is excellent.
It's about a judge whose kids have been kidnapped. He then receives a phone call instructing him that he has to rule in one specific manner on a case that he is overseeing.
An excellent book full of twists and turns. The best thing? His latter books are probably even better than this one. However it's a great way to start.
Author Keigo Higashino
If you're looking for something different, how about giving the author Keigo Higashino a try?
Keigo is a Japanese author of mystery novels and is one of the most popular authors in Japan. Similar to the likes of Koontz, Patterson and Clancy in the USA.
He has numerous books to read and I'd advise checking out The Devotion of Suspect X. It was the second highest selling book in Japan in 2011, was a Naoki Prize winner and was adapted to film.
The Timber Creek K-9 Mysteries series by Margaret Mizushima
Margaret published her first ever book, Killing Trail, in 2015 and it was a smash hit. She's followed it up with three more books, all of which win various awards and get great reception.
It features Mattie Cobb and her K-9 police dog partner Robo.
The first book in the series sees Mattie and Robb looking into a case involving a young girl who is found dead in the mountains outside her hometown. However when she investigates, she find her hometown has a lot of secrets. Excellent series
Book of the Month: Redemption by David Baldacci
I know a lot of readers who will be very happy – and busy – in the middle of April!
April 16th is when Redemption by David Baldacci hits bookshelves and Kindles worldwide. It's the latest book in the Amos Decker "Memory Man" series.
Decker is visiting his hometown when he happens to run into the first person he ever arrested – for murder many years ago. The man is terminally ill however tells Decker that he never committed the murders – maintaining his innocence after serving the time.
Decker wonders if he made a mistake and begins digging into this cold case – only to discover a connection to a new crime.
10 Other Notable Books Being Released:
Neon Prey by John Sandford
The latest Womens Murder Club novel by James Patterson
The Red Scrolls of Magic by Cassandra Clare
The Better Sister by Alafair Burke
Metropolis (Bernie Gunther) by Philip Kerr
The A List by J.A. Jance
The Trouble with Vampires by Lynsay Sands
The Mother-In-Law by Sally Hepworth
Murder in the Reading Room by Ellery Adams
Nothing to Hide (Lucy Kincaid) by Allison Brennan
Audiobook Area:
By Sharron S.
   I fell in love with narrator George Guidall many years ago when I put "The Cat Who" mysteries by Lilian Jackson Braun on my Ipod.  I listen while driving and while I work on stained glass projects.  I carry my Ipod while traveling which I do a lot with many overseas flights.  I usually have 100 books on my Ipod (it is the old Classic without wifi, so the books do not get deleted.)  I find myself downloading books Guidall narrates just to hear him read them.  His voice is extremely expressive and he really brings out the characters. 
    Prior to my Ipod I got tapes or CDs from my library to listen to while driving.  I have been an audiobook fan for about 20 years as has my sister in law.  She has found that she can trade many audiobooks at truck stops, as truckers are big fans.  I think you will get a big response to this topic as there are a million of us out here.  You can even download books to your smartphone now.
We have a lot of audiobook fans and invite book listeners to write their own column every month.  Want to discuss audiobooks or a favourite narrator?  Hit reply and write and we'll feature your column in a future newsletter!
Laugh of the Month: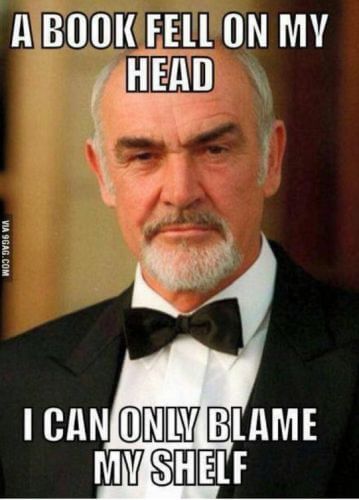 Submitted by Cherie. Send
in your own to site@orderofbooks.com or by replying!
Images, jokes, etc. We'll take it all!
Game of the Month: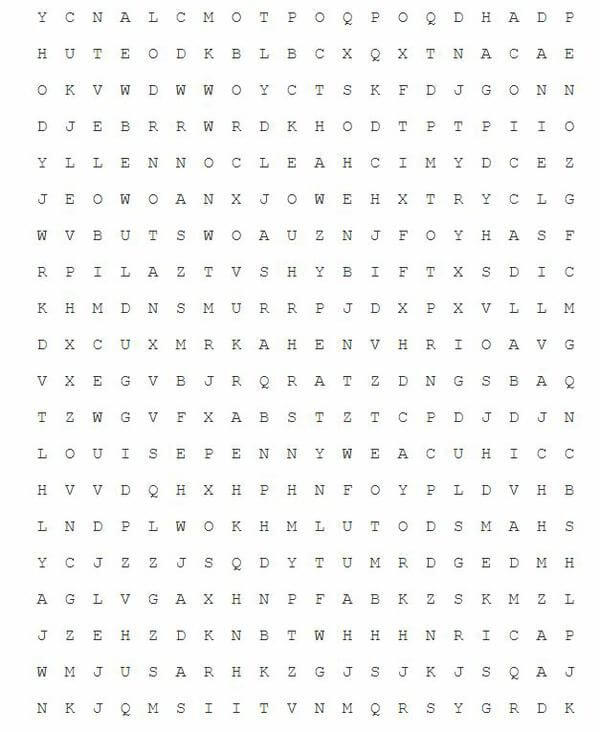 This months game is a word search without the words being listed. I know. I'm evil.
Hidden in the word search above are the 10 most popular authors on OrderOfBooks.com in the last year.
Completing this correctly can win you $25. Everyone who completes it and sends me the top 10 most popular authors will be entered into a random draw. I'll do the draw prior to the May newsletter and one person will win $25!
Click here for a full size printable version
Your Thoughts:
ast month I asked you about books that give a real "feel" of the location. That was a fun one. Your feedback is later in the newsletter.
This months mailbag column was suggested by AJ, who said they would love a series of questions about characters. So here's some questions:
Who is your favourite book character?
What book character are you most invested in?
Who is your favourite supporting character?
What character would you like to meet for real?
What character did you love to hate?
On that note – we can possibly do a follow-up to that later. So if you have any other ideas for character questions let me know too. I'll answer these just now:
Favourite Book Character: Honestly it has to be Jack Reacher. I just thoroughly enjoy the way Lee Child writes him these days and I get excited when people are causing trouble, knowing they are going to get their just desserts! Even when the book is a bad one I still get my jollies out of that.
Most Invested In: Dan "Spider" Shepherd. Something happens in the first book in that series that gets you emotionally invested in the character. It ties you to him and his family forever and even though I know he won't die I still get invested in him and am always worried when he is undercover.
Favourite Supporting Character: Win, in the Myron Bolitar series. Absolutely love Win and he makes that series. Just such a ludicrous and amazing person. Bonus mention of 'Razor' Sharpe in the Spider Shepherd series and Lewis in the Peter Ash series.
Character I'd Like To Meet: The "Gray Man". I always love when Greaney writes about him showing up beside someone who never noticed him till he was sitting right beside them etc. I'd love to be at a bar and see if I could spot him before he's on the stool beside me.
Character I Love To Hate: Pretty much any politician that opposes Mitch Rapp in that series. I can't remember the specific name but there was a senator who was a big problem for him over a couple of the books. Really loved to hate them.
Reader Mailbag:
Order of Books » Newsletter » April 2019 Newsletter