Order of Brian Keene Books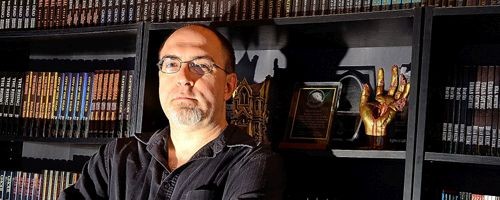 Brian Keene is an American author of horror, dark fantasy, crime and thriller novels, graphic novels and comic books. His novel The Rising is credited with helping to inspire pop culture's fascination with zombies, alongside Robert Kirkman's Walking Dead series and the film 28 Days Later. His films Ghoul, The Ties That Bind and Fast Zombies Suck have been adapted for film (and several others are in development or have been optioned). Keene has written for such franchises as Doctor Who, Hellboy, Masters of the Universe and Superman. He lives in rural Pennsylvania and has two sons.
Brian Keene made his debut as a published author in 2001 with the collection No Rest for the Wicked. Below is a list of Brian Keene's books in order of when they were originally published:
Publication Order of Rising Books
Publication Order of Clickers Books
Publication Order of LeHorn's Hollow Books
Publication Order of Levi Stoltzfus Books
Publication Order of Last Zombie Graphic Novels
Publication Order of Standalone Novels
Publication Order of Short Stories/Novellas
Publication Order of Short Story Collections
Publication Order of Graphic Novels
Publication Order of Anthologies
Publication Order of Non-Fiction Books
Notes: The Clickers series is written with J.F. Gonzales. The Last Zombie was written with Fred Perry. Shades was written with Geoff Cooper. The Damned Highway was written with Nick Mamatas. King of the Bastards was written with Steven L. Shrewksbury. The Conqueror Worms is also known as Earthworm Gods.
4 x 4 also has stories by Geoff Cooper, Michael T. Huyck and Michael Oliveri. The Rise and Fall of Babylon also has stories by John Urbancik. Infernally Yours also has stories by John Everson, Charlee Jacob, Edward Lee, John Shirley and Maynard Sims. Four Rode Out also has stories by Tim Curran, Tim Lebbon and Steve Vernon. Zombies: The Recent Dead also has stories by Max Brooks, Tobias S. Buckell, Neil Gaiman, Joe R. Lansdale, Tim Lebbon, Kelly Link and Kit Reed. Intermusings also includes stories by Brian A. Hopkins, Patricia Lee Macomber, Stephen Mark Rainey, John B. Rosenman, Richard Rowand, Brett Alexander Savory and David Niall Wilson. Sixty-Five Stirrup Iron Road also includes stories by J.F. Gonzalez, Ryan Harding, Jack Ketchum, Edward Lee, Shane McKenzie, Bryan Smith, James Bryan Smith, Nate Southard and Wrath James White.
If You Like Brian Keene Books, You'll Love…
Brian Keene Synopsis: The Rising by Brian Keene is the first book in the Rising series. It is the story of Jim Thurmond, a determined father battling his way across a post-apocalyptic zombie landscape, to find his young son. Accompanied by Martin, a preacher still holding to his faith, and Frankie, a recovering heroin addict with an indomitable will to survive, Jim travels from state to state and town to town, facing an endless onslaught of undead hordes, and the evils perpetrated by his fellow man.
Order of Books » Authors » Order of Brian Keene Books