Order of Ellie Avery Books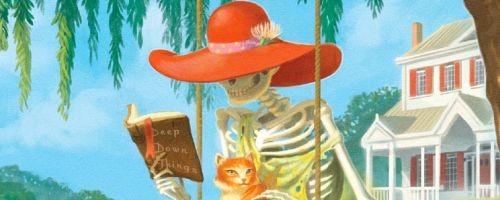 Ellie Avery is the protagonist in a series of cozy mystery novels by American novelist Sara Rosett. An Air Force wife, Ellie Avery is adept at packing and unpacking due to frequent moves. This qualifies her to be a professional organizer, but will it qualify her to be an amateur sleuth?
Sara Rosett began her Ellie Avery series in 2006 with the novel Moving is Murder. The series is currently ongoing. Below is a list of Sara Rosett's Ellie Avery books in order of when they were first released:
Publication Order of Ellie Avery Mystery Books
| | | |
| --- | --- | --- |
| Moving is Murder | (2006) | |
| Staying Home is a Killer | (2007) | |
| Getting Away is Deadly | (2008) | |
| Magnolias, Moonlight, and Murder | (2009) | |
| Mint Juleps, Mayhem, and Murder | (2010) | |
| Mimosas, Mischief, and Murder | (2011) | |
| Mistletoe, Merriment, and Murder | (2012) | |
| Milkshakes, Mermaids, and Murder | (2013) | |
| Marriage, Monsters-In-Law, and Murder | (2016) | |
| Mother's Day, Muffins, and Murder | (2017) | |
If You Like Ellie Avery Books, You'll Love…
Ellie Avery Synopses: Moving is Murder by Sara Rosett is the first book in the Ellie Avery series. Moving four times in five years has caused Air Force wife Ellie Avery to become an excellent packer/unpacker. But moving with a newborn daughter and husband Mitch in tow, during a heat wave, is enough to make her turn to chocolate for comfort. And when Ellie finds a local environmentalist dead on the side of the road, her instincts tell her this was no accident… Ellie snoops into the activist's suspicious demise, only to realize she's getting closer to the killer… maybe too close!
Staying Home is a Killer is the second book in the Ellie Avery mystery series. Air Force wife Ellie Avery is so good at organizing she's turned pro. But when a fellow military wife turns up dead, Ellie tackles a different type of case – murder… Ellie Avery balances motherhood, marriage, and her own business – Everything in Its Place – with cheerful efficiency. A maestro of organization, she sees her life as an easy checklist that does not include the untimely death of Penny Follette. Unlike the police, Ellie isn't convinced Penny's death was suicide. But it's an uphill battle getting the officials to take her seriously. Then another spouse is strangled, and someone tries to poison an outspoken female Air Force pilot. Poking about in closets and peeking through drawers, Ellie hopes to find the common thread tying the crimes together. With her husband Mitch about to be deployed, she wants some quality time with her significant other. As the schedule tightens and the mystery heightens, Ellie's out to prove that home is not for killers!
Order of Books » Characters » Order of Ellie Avery Books