Order of Skulduggery Pleasant Books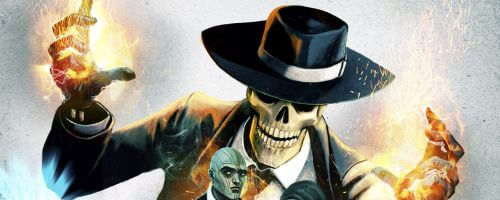 Skulduggery Pleasant is a series of YA fantasy novels by Irish novelist Derek Landy. The title character is a skeleton who works as a detective. The series is about his sidekick Stephanie's battle against evil forces threatening the world, get justice for her uncle's death, and her internal struggle of keeping the darkness within her to stay within.
Derek Landy began his Skulduggery Pleasant series in 2007 with the title novel. The series lasted 12 novels, concluding with The Dying of the Light in 2014. Below is a list of Derek Landy's Skulduggery Pleasant books in order of when they were first released (which is the same as their chronological order):
Publication Order of Skulduggery Pleasant Books
Skulduggery Pleasant
(2007)
Playing with Fire
(2008)
The Faceless Ones
(2008)
Dark Days
(2010)
Mortal Coil
(2010)
Death Bringer
(2011)
The End of the World
(2012)
Kingdom of the Wicked
(2012)
The Maleficent Seven
(2013)
Last Stand of Dead Men
(2013)
Armageddon Outta Here
(2014)
The Dying of the Light
(2014)
Resurrection
(2017)
Midnight
(2018)
Bedlam
(2019)
Seasons of War
(2020)
Apocalypse Kings
(2021)
Dead or Alive
(2021)
The Skulduggery Pleasant Grimoire
(2021)
Until the End
(2022)
Hell Breaks Loose
(2023)
The Skulduggery Pleasant Grimoire is a prequel to the series.
Note: Skulduggery Pleasant is also known as Scepter of the Ancients.
If You Like Skulduggery Pleasant Books, You'll Love…
Skulduggery Pleasant Synopsis: Skulduggery Pleasant by Derek Landy is the first book in the series of the same name. Skulduggery Pleasant is a wise-cracking detective, powerful magician, and master of dirty tricks and burglary (in the name of the greater good, of course). He's also dead. Then there's his sidekick, Stephanie. She's… well, she's a twelve-year-old girl. With a pair like this on the case, evil had better watch out… Stephanie's uncle Gordon is a writer of horror novels. But when he dies and leaves her his estate, Stephanie learns that while he may have written horror, it certainly wasn't fiction. Pursued by evil forces intent on recovering a mysterious key, Stephanie finds help from an unusual source – the wisecracking skeleton of a dead wizard. When all hell breaks loose, it's lucky for Skulduggery that he's already dead. Though he's about to discover that being a skeleton doesn't stop you from being tortured, if the torturer is determined enough. And if there's anything Skulduggery hates, it's torture… Will evil win the day? Will Stephanie and Skulduggery stop bickering long enough to stop it? One thing's for sure: evil won't know what's hit it.
Order of Books » Characters »