June 2020 Newsletter
Hi everyone and welcome to June.
Hope everyone is doing well. Well, as well as anyone can be doing these days. 2020 is the year of the book lover – because I can't think of any better time to tune the real world out and spend hours with a book.
The hot weather has finally hit Canada and I am loving it. Well sort of. Give me that beautiful sunshine but keep the humidity away please. I've lived in Canada for 24 years now and I still cannot handle that humidity.
Reading wise – sorry but I have been boring. I'm fully engorged in the Michael Connelly "Bosch Universe" and I might be in there until I have read it all. Let's see – since the mid-monthly newsletter, I've read The Brass Verdict, Nine Dragons, The Reversal, and The Fifth Witness.
It's funny how my interest has grown with that series over time. When I first started it a few months ago, after attempting to read it years prior, I felt quite neutral about it. The books were okay and had a good little twist at the end that kept me invested, but I wasn't clamoring to read the next book right away or anything.
I think it was Trunk Music that hooked me. There was just something about that book that stuck out. However that didn't mean I abandoned everything to read this series. I'd read a couple of books at a time, then read various other authors before coming back to Connelly.
Now? I'm seriously considering just reading the rest of the books Connelly has written prior to reading any other author. I probably won't – I mean there are 12 books left after this one – but it's very tempting. Such a great series.
I've also started the new Hunger Games book. Only about 25% into that one so far but I'll give my opinion in the mid-month newsletter.
I must admit I'm at that crossroads in a series – excited at the idea of the "achievement" of finishing the series; yet also sad that I will be finished with it. Sure Connelly will release new ones but it won't be the same as losing myself in a 30+ book series.
My daughter turned 13 a couple of days ago. We had a big party planned for her. We had booked a fancy suite at a hotel for her and 10 friends were going to stay overnight. The hotel has a huge swimming area, hot tub etc. This is something we booked way back in November and she had been so excited about it.
Of course with the pandemic I had a feeling that wasn't going to happen. I planted the seed about a month ago – knowing that not only would she not be able to have her birthday party, but that she likely wouldn't even be able to see any friends.
I started telling her as an alternative we could have a "birthday week" for her and every day, we order food from a different restaurant or business in town. She got right on board with it – coming up with additional ideas like putting all the names of her favourite restaurants in a bowl. Then drawing one out every day to see where we'd eat that night etc.
We got the call a week ago Friday to confirm the hotel was canceled, and Ontario also extended the state of emergency meaning she'd be unable to have any friends over. It's funny as I expected her to be disappointed; however instead she was immediately asking "so what date can we start ordering food?" and planning out what she was going to order from each place.
I actually think she was happier with this week of takeout food compared to her planned birthday party. She almost looked relieved when she found out it was canceled. As for me – I'll be relieved when this food week is over! I've been indulging in this week of rich, unhealthy food as well and I'm ready for it to end! My morning runs are getting slower and slower as I'm carrying all this crap inside me!
Let's get on with the newsletter.
Each month we give away 2 $25 Amazon gift certificates to random subscribers. During our current "situation" I'm upping that to 5 gift certificates.
To win all you have to do is be a subscriber. Nothing more! When we go to hit "Publish" we take a list of all of our subscribers, throw them into a random draw and those are the winners.
Our winners this month are
Raley from Koloa, HI
Jeremy from Basingstone, England
Sandie from Johannesburg, South Africa
Mariann from Dover, DE
John from De Soto, IL
All of you have been e-mailed. If you don't see anything, check your junk folder or contact me.
Graeme
OrderOfBooks.com
Book Recommendations
I mentioned this one in the mid-month newsletter and the introduction  and I'm mentioning it again here!  I was recommended this book by a reader and I thoroughly enjoyed it.
It's about Jeff, a 43 year old man who dies.  Then he "awakens" and he is back in his college dorm room.  He's 18 years old, and gets to replay his life all over again.  Except he of course has all that knowledge of the future to help him out – who wins the Kentucky Derby, what stocks to invest in.  Then of course troubling situations such as knowing that JFK is going to be assassinated and that he could stop it.
Just an incredible book.  I should note it has curse words and the author gets a bit…..detailed….with "romantic" scenes at times so it may not be for everyone.
The Smoky Barrett series by Cody McFadyen
This one was sent in by Alexander and this is what they said:
"Hi: First time I am writing you and your fans. I have truly enjoyed author, and series, recommendations I am reading "SHADOW MAN" by Cody McFadyen. This is the author's first novel and it is a winner. The main character is Smokey Barrett an FBI agent who has been raped and scarred physically and emotionally by a serial killer. Her husband and child were killed,while she was allowed to survive. This causes her nightmares. She also questions whether she can function in her profession.
Taunt, haunting, gut wrenching dialogue keeps you on the edge of your seat. Suffice it to say that I can only read this novel in spurts due to how vivid are the descriptions of emotions. I have never had a book that has made me feel that I "know" the killer, while, also feeling Smoky's pain."
Brother Cadfael series by Ellis Peters
This is a series of historical fiction/mystery novels and I know it's very popular with our readers. John had e-mailed recommending it and he described it as "timeless" which I have to agree with.
The series ran from 1977 through 1994. he series follows Brother Cadfael, a monk who joined the cloister in his 40s. The series is set between the years 1135 and 1150 during The Anarchy.
I should also note this isn't a series that is all about religion or anything like that. I know that can be a turn off for some people. As reader Mongoose218 put it – it treats their religion as a part of the fabric of life.
We all know James Patterson of course. Sail was well received when it was first released back in 2008 and is a standalone novel. It's about a dysfunctional family who have set sail on vacation.
The vacation isn't going well right from the beginning and then real disaster hits. This is Patterson at his best. Stay away from reviews on Amazon etc as they seem to be a bit overzealous with spoilers – however key words from the reviews such as "riveting", "gripping", "thrilling" etc should give you an idea of this book.
Thanks to John C. for this one.
Miami Jones Florida Mysteries by A.J. Stewart
his series was recommended by Clark, and what he wrote basically says it all:
"I just finished all of the Miami Jones books (A.J. Stewart) and am still feeling the ocean breeze and the sweat from a bottle of cold beer."
There's just something about that description I love. I love the type of book or book series where you actually feel you are there. Stewart himself lives in Florida and loves the place and you can really feel that passion from the way he writes this series. It began in 2013 with Stiff Arm Steal and is still going strong today.
Book of the Month: Lockdown by Peter May
A little bit of confusion over the release date of this one. It had been released in the UK earlier and wasn't meant to be released in the USA until June 16th. However a quick check and you can apparently get it on Kindle right now.
Either way I'm still listing it here as I've been looking forward to talking about it.
15 years ago, Peter May wrote a book called Lockdown. However the book was never published as it was called "unrealistic" and "this could never happen".
The story of the book? It's about London having to go into quarantine due to a pandemic.
Yep. Totally unrealistic 😉
It might not be the sort of book you want to read at this time however I love the story behind it. Also if you have never read Peter May, you really should check him out as he is an excellent author. The Lewis Trilogy in particular is tremendous. Check out our Peter May page.
More Notable Books Releasing in June:
28 Summers by Elin Hilderbrand
Alpha Night by Nalini Singh
The Persuasion (Eve Duncan) by Iris Johansen
Credible Threat (Ali Reynolds) by J A Jance
Dead Girl Blues by Lawrence Block
The Guest List by Lucy Foley
Devolution by Max Brooks
New Author Spotlight: Leah Franqui
This month we are featuring Leah Franqui.
Leah is Puerto Rican-Jewish Philadelphia native who debuted in 2018 with America for Beginners.
The story is about Pival Sengupta. The recent widow travels from India to the USA to found out the truth about her estranged son.
This book is compassionate and funny, and was very well received.
Leah has her second novel releasing in July called Mother Land. One thing I really respect about Leah is she writes about what she knows and is passionate about.
One review I saw described it as a "fresh new voice" and that was a phrase that really rang true with me when I read this book.
Well worth checking out. Here's our Leah page.
Audiobook Arena
Written by Keith
Hi Graeme,
I listen to a LOT of audiobooks – typically 7 per month (the most I can borrow from the local library). One problem that is common across genres and publishers is that (apparently) none of the voice actors knows how to speak Spanish, or at least how to pronounce Spanish words. Since most of the mysteries and thrillers I listen to are set in California, this means that the pronunciation of each name, terrain feature or food item is butchered. It is really irritating and destroys the illusion when a supposed LA detective can't pronounce "La Cienega" or "Tujunga" or a Santa Barbara beachcomber can't talk to "Jorge" or order a "Dos Equis Cerveza". If you have any contacts in the audiobook producer or voice actor world, please make them aware of this issue. It seems that a few minutes listening to an LA newscast would greatly improve their product.
Written by Dessie
Favorite audio book narrator: SCOTT BRICK (hands down)
Written by Carvergirl
I could not send a picture of my book collection since they are housed on my iPod, audible, hoople, NLS, and Libby accounts. Needless to say I am an audiobook fan. I listen to 2 books a day depending o the length of the books. Retirement and now a suite of my own at my son's house affords me the pleasure of listening as often and as long as I wish. Just got my list of Robert K. Tanenbaum books saved to my hoople digital favorite. Only problem can only get 6 each month. I have experienced eye issues and find that audiobooks are the way to go. Before then I would spend the summer reading 2 books a day. Hope all are well and wishing you a blessed day in your home. You would not want my bone density headphones because you would still hear the outside noise but I love them. I hate those that stick in your ear as well as the ones that completely cover your ear.
We have a lot of audiobook fans and invite book listeners to write their own column every month. Want to discuss audiobooks or a favourite narrator? Hit reply and write and we'll feature your column in a future newsletter!
Picture of the Month: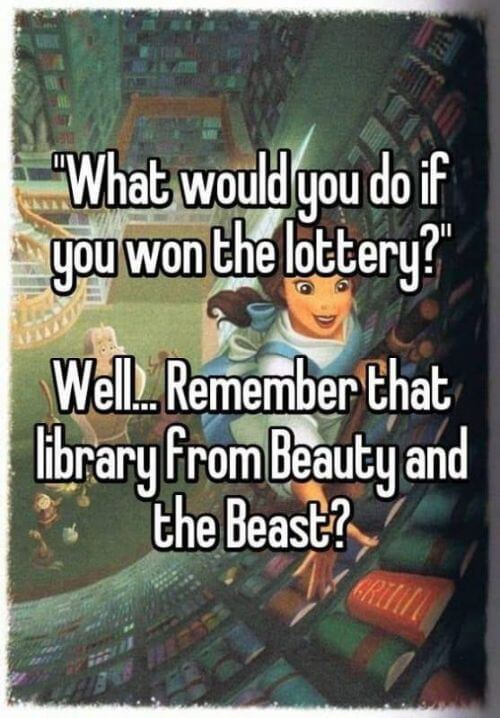 Sent in by Judy.
Send in your own to site@orderofbooks.com or by replying!
Images, jokes, etc. We'll take it all!
Your Thoughts:
Last month I said you were quarantined with the main character of the last book you read, and asked how it was going.. Your feedback is later in the newsletter.
This months question is due to libraries being closed, and many of our readers having to look at other methods for reading.
How do you read? Physical or digital? Ereader or tablet? What apps and resources do you use?
Margaret G. was the reader that recommended this question. As an example she said she uses Overdrive to read ebooks. However her library didn't have a digital copy of a book she wanted, so she tried out Hoopla and cloudlibrary.
She ran into issues with both With Hoopla, she said program kept running if she didn't logout and she woke up to a dead battery on her tablet, plus page turning was glitchy. With cloudlibrary it told her the book was available but then said she had to wait six days.
So how do you read books? I've personally not explored the whole library digital borrowing system yet. I really should as I would save a ton of money ha. I read exclusively on my Kindle, and I purchase my books direct from Amazon. I also use Kindle Unlimited as a few of my favourite authors always release their books on that.
E-mail us your feedback to site@OrderOfBooks.com or just reply to this e-mail, and we'll pick the best comments and feature it in next months newsletter. Five people will also randomly win a $25 gift certificate to Amazon.
Reader Mailbag:
Order of Books » Newsletter » June 2020 Newsletter