July 2020 Newsletter
Hi everyone and welcome to July.
I'm getting to the end of my read-through of every book written by Michael Connelly and I have to ask – why the heck did no-one ever contact me about creating a "Bosch Universe" listing?
If you've read the books you would know that it's all within the same universe and you have to jump from series to series. So you may read Bosch #12 but then you have to jump to Lincoln Lawyer #2 etc.
I was sitting there on my own website trying to figure out what book to read next when I realized that it was fairly difficult, so created a Bosch Universe listing.
If you're new to this series be sure to check that out as it will make life a lot easier.
I haven't finished the series yet but did read the first Renee Ballard book, The Late Show. I'd heard a lot of negatives about the Ballard character so I was really curious to see for myself as no-one ever mentioned any specifics. I was wondering if it was just a hatred at a lack of Bosch or something.
However I think I get it as there was attributes in the character that I didn't like either. While Bosch would bend the rules at times, Ballard is a complete rule breaker. She doesn't even think twice about the rules. It also gets her into trouble quite a few times that leaves the reader frustrated – if she had just followed the rules instead of being so reckless certain problems wouldn't arise.
Connelly also is as subtle as a brick at times as he attempts to get you to root for Renee. Despite all that I still generally enjoyed the book and will continue reading.
The only reason I haven't finished the Connelly series is I have been up at a rented cottage since last Saturday. For some reason when I am at the cottage I stick to standalone thrillers by new authors. Just a random tradition I have picked up over the years. On that note if I take a few days to respond to any e-mails that is why. Not a fan of being stuck on my laptop the entire time I'm here. I have books to read! Oh and I guess family to hang out with. Primarily books to read though.
Since being here I've finished only one book which was The Guest House by Lucy Foley: This one came out early June I believe and I've been hearing about it a lot. I knew this would be the first book I read up at the cottage.
I liked it a lot. The one thing with standalone thrillers I feel is you need to shut your brain off a bit and that's what I had to do here. It's about a wedding taking place on a remote island and it takes the perspective of many of the people involved in the wedding – all of whom have their own mysteries that get unraveled as the story goes on.
Some of it was a tad too convenient in the way relationships tied together and that's where I think if you sit back and analyze it – it may border on preposterous at times. However if you are able to switch your brain off and enjoy a book without thinking too much – this is a good one. I'm able to do that so I really enjoyed it and I immediately started The Hunting Party by Lucy, which is what I am reading now.
I always feel like I read too much. Don't get me wrong I love reading and there's nothing wrong with it – however I find my time off from work is mostly occupied by either reading, or hanging out with my family. I'm always meaning to watch more TV or movies and have a list of shows to go through and movies to watch. I LOVE watching TV shows but usually only watch sports.
The other night I decided to sit down and watch a TV show. I pulled up my list of over 300 TV shows and after a few minutes I ended up….going with The Stranger by Harlan Coben. Which is based on the book. So yeah I was basically "watching" a book. Hey it's progress right?
What's funny is I had read the book years before when it first came out yet for the life of me could not remember a thing about it other than the fact that I felt it was a bit weak compared to most Coben books. I ended up enjoying the TV show a lot, and will be watching the other Coben shows that are on there.
The response to the reader mailbag last month was UNBELIEVABLE. We haven't had a response like that EVER. If you add up all the words people wrote there was over 20,000 words! The average novel is 90k-100k words so congrats – combined you wrote 20% of a novel!
Seriously – thank you to everyone who takes the time to contribute to the mailbag. There are always so many amazing and interesting responses and I love conversing with all of you.
Each month we give away 5 $25 Amazon gift certificates to random subscribers.
To win all you have to do is be a subscriber. Nothing more! When we go to hit "Publish" we take a list of all of our subscribers, throw them into a random draw and those are the winners.
Our winners this month are:
Judy from Naples, FL
Patricia from Prescott Valley, AL
Rosemary from Bolingbrook, IL
Susanne from Irving, TX
Lorayne from Frankfort, IL
All of you have been e-mailed. If you don't see anything, check your junk folder or contact me.
Graeme
OrderOfBooks.com
Book Recommendations
In this section I give 4-5 random book recommendations. They can be old books, they can be new. But either way – I recommend you read them if the type of genre they are in appeals to you. Feel free to e-mail suggestions to site@orderofbooks.com as many of the suggestions each month are from our readers. If you wish to add a description for the book around the same size as the ones below that'd be great too! I should note we also have a huge backlog of recommendations so if you don't see one that you recommended then don't worry – it'll show up eventually!
Leonid McGill Series by Walter Mosley
You may know of the name Walter Mosley from his Easy Rawlins series. However I actually think this series may be better.
The Leonid McGill series began in 2009 with The Long Fall and is still ongoing in present day.
McGill is an old school private investigator working in NYC. This is just a great detective series. I found it a little slow going to begin with however once it gets going you are hooked.
We just added the legendary Octavia E. Butler to the site last month which is great as now I can finally recommend her in here!
I was conflicted in which one to recommend – the standalone Kindred or the Earthseed series. I went with Kindred but if you are a fan of sci-fi or dystopian novels, check out the Earthseed series.
This book may seem a bit "heavy" but it's really not – the primary focus of it is time travel and it's a book you won't be able to stop reading. It's one of those books where even if sc-fi doesn't fully interest you; you end up liking it a lot.
Check out our Octavia page for both Kindred and the Earthseed series.
Bluebird, Bluebird by Attica Locke
Attica has been writing books sparingly over the years as she primarily writes for movies and TV. However she struck gold with Bluebird, Bluebird in 2017, the first book in the Highway 59 series of books.
There are only two books in that series. I wasn't a big fan of the second book however Bluebird, Bluebird is a great novel. It's about a Texas ranger who has to travel up highway 59 to a small town called Lark in Texas to solve two murders.
Legacy of Orisha Books by Tomi Adeyemi
Tomi Adeyemi started the Legacy of Orisha series in 2018 with the award winning novel Children of Blood and Bone.
This is a YA Fantasy series. The soil of Orïsha used to flow with magic, but not anymore. A ruthless king ordered the death of all magic which led to Zélie's mother being killed. The crown is set on destroying all of magic for good, but Zélie and a rogue princess have one chance to save it. They took magic and her mother away from her, but they won't get away with it. Zélie will struggle to control her powers while also struggle with some feelings from the crown prince that is out to destroy her.
Mystery Bookshop Series by V.M. Burns
V.M. Burns is the author of a few cozy mystery series however the Mystery Bookshop series is probably her best.
The Plot is Murder is the first book in the Mystery Bookshop series. The book follows Samantha Washington who has always had dreams of owning her own bookstore and she is on the precipice of that dream coming true.
She's also working towards her other dream of writing her own cozy mystery. As she writes of murder and case solving, a murder happens in her own backyard and she is the top suspect. Samantha decides to take a page from her lead character and start investigating to clear her name with the help of her feisty grandmother and her retired friends.
July 2020 Book Of The Month: The Order by Daniel Silva
If I didn't make the new book by Daniel Silva the book of the month, I'd probably receive a record amount of hate mail!
The Gabriel Allon series is one of the most popular series on our website and the latest book, The Order, hits bookshelves this month.
Allon is on vacation when Pope Paul VII dies suddenly and while they are saying it is a heart attack publicly, privately they believe he was murdered. The Holy Father was also in the middle of writing a letter to Gabriel just before he passed about a book he discovered in the Vatican Secret Archives.
New Author Spotlight: John Vercher
This month we are featuring John Vercher.
John Vercher is an American author who burst onto the scene with his debut novel, Three-Fifths.
The book was the first release on Agora's diversity focused imprint, Polis Books.
Three-Fifths was named one of the best books of the year by the Chicago Tribune. While this was his debut novel, John has published fiction prior to this in Akashic Books' flash fiction features Mondays are Murder and Fri-SciFi.
John lives in Philadelphia with his wife and their children, two sons. He attended the University of Pittsburgh where he earned his Bachelor's degree in English. He would then attend the Mountainview Master of Fine Arts program where he earned his MFA in Creative Writing.
In addition to writing fiction,John is a contributing writer for Cognoscenti which is the thoughts and opinions page of WBUR Boston. He has also written for Entropy Magazine and CrimeReads.
Read more about Johns debut novel. Click here.
Audiobook Arena
Written by Jenny
I listen to audio books in my car, particularly on long trips, so as not to fall asleep. Obviously I need a narrator that keeps me awake, not one that reads like it is a lullaby. I found myself very much enjoying Lee Child's Jack Reacher series. I must confess that though I chose them first because of the narrator, I could not think what his name was. I looked it up and (of course, I knew that) it is Dick Hill. But, also in my research I found that he retired and the narrator will now be Scott Brick. This may have worried me more, but your newsletter reader Dessie just finished listing Scott as a 'hands down' favorite so now I have some hope. I am still on Gone Tomorrow so it may be years before I run out of Dick Hill audios, since I don't know when this virus will let me go for a long state line crossing trip.
Written by Nancy
In response to Andy F. Audiobook Arena.
I get my reading experience almost entirely from audiobooks. I would say the ratio is 9-1.
I will read an e-book if I can't get a book in a series with an audiobook or if there is a particular
author, I want to read and he doesn't use the audiobook format. I liken it to the good old days
when I was growing up and listening to the radio was my Mother and Brother listening to
"The Shadow". This was even after TV became available as we could not afford the new-fangled
form of entertainment.
I agree with Andy about George Guidall, to me, he is Walt Longmire in Craig Johnson's books, as just an example, since Guidall
has narrated over 1200 books.
If you haven't listened to James Lee Burke's, Dave Robicheaux series, Will Patton's narration takes you into Robicheaux's
life as no other reader could. Patton's also a wonderful actor.
Lastly, J.A.Jance's J.P. Beaumont Mystery series narrated by Gene Engene.
Oh wait, Dick Hill is Jack Reacher.
I so agree with Andy and his wife about the importance of delivery.
Audiobooks can be spoiled for me by the narrator. As I wrote to you about James Lee Burke and finding out from his daughter
that the author has no say in the narrator of his books. Narrators are chosen by the book Publisher, so it becomes a matter of
"luck of the draw".
Being a woman it is hard for me to say because I am always wanting to support my fellow female but if I am put off by a
narrator, it is usually a woman. At the beginning of an audiobook, I hold my breath if it is a woman until I hear her read a bit.
I'm sure that the problem is with me and not the narrator.
So happy reading or listening to whichever is your choice, just keep the books flowing!
Written by Patti
Graeme, I thoroughly enjoyed this month's newsletter – and in particular, the article on audiobooks. I confess that, having been an avid reader all of my life, I was not the least bit interested in joining the audio world. That changed when I had a 45 minute one-way trip to work each day, and I was sick and tired of listening to drive time radio commercials. I went out on a limb and checked out Scarlet, the so-called sequel to Gone With the Wind, read by Dixie Carter. The fact is, I was captive in my car, so I figured I didn't have much to lose. As you can imagine, Dixie Carter did not have to work very hard to achieve a southern drawl. She nailed it! And from that book on, I was hooked! All these many years later, my busy life simply doesn't allow me the luxury of sitting down with a good book, so audiobooks have become my go to.
Much like Andy F who wrote the article in this month's newsletter, I have favorite narrators as well. A good narrator can absolutely make a book, but the reverse is also very very true. A bad narrator can destroy a book. I am particularly annoyed if the narrator has not gone to the trouble to learn how to properly pronounce the names of locations in a story. If you can't say the name like the locals do, then that's a black checkmark against your name. Ditto if you commit the unforgivable sin of mispronouncing a word altogether. Proper names are one thing, but there is simply no excuse for mispronouncing a dictionary word. I'm also not keen on "heavy breathers."
I couldn't agree more that George Guidall is absolutely a top-notch narrator. He does "bad guys" very well! I particularly like his performance of the Mitch Rapp series, the Scott Harvath series, and Walt Longmire, as well as the Gabriel Allon series. He is
simply awesome. Another of my favorites is Scott Brick. His credits include the Orphan X series by Gregg Hurwitz, many Clive Cussler novels, the Jonathan Quinn series, and the John Corey series by Nelson DeMille. I actually saw an interview with Mr. DeMille one time where he said that Scott Brick has actually become the persona of John Corey. What a compliment!
Another huge favorite is Davina Porter, who has read all of the Outlander books so far. Those novels run 800-1000 pages each, and she takes great pains to make every one of those pages memorable. She nails every accent – be it British, Irish, male, female, elderly person, or little child. She is an extraordinary narrator, certainly one of my favorites. I could probably go on and on about my favorites, but these three resonate pretty strongly with me, and as a general rule, if I see their name on the book cover, I'm going to get it.
I will add that I don't much care for sound effects. Thankfully not many audio companies go that route. To me, it just distracts from the storyline, and I can simply do without it.
I typically read four or five books simultaneously, depending on where I am: my iPad has one going all the time, as does my iPhone, my car radio, my laptop, and my Kindle beside my bed. I have no difficulty keeping them separate, because each story is so incredibly unique and the narrators do such an incredible job of making the characters come to life. I love reading other peoples' opinions of book series and narrators. It's great to have a first-hand recommendation, and that is one of the things I love about our monthly newsletter. I learn something new every single time. (Based on Mr. Eric's article, I'm going to be checking out the "Cat Who" series – I've never read them, but if George Guidall is the narrator, and there are a whole bunch of them, I'm game!)
Finally, in answer to Mr Eric's question, no, I do not have difficulty transitioning from one series to another that is read by the same narrator. As a matter of fact, I am currently reading both the Joe Pickett (Wyoming game warden) series and the Cork O'Connor (Minnesota sheriff) series, both of which are read by David Chandler. Chandler has the perfect voice for both of these characters, but I don't struggle at all with going between the two.
We have a lot of audiobook fans and invite book listeners to write their own column every month. Want to discuss audiobooks or a favourite narrator? Hit reply and write and we'll feature your column in a future newsletter!
Picture of the Month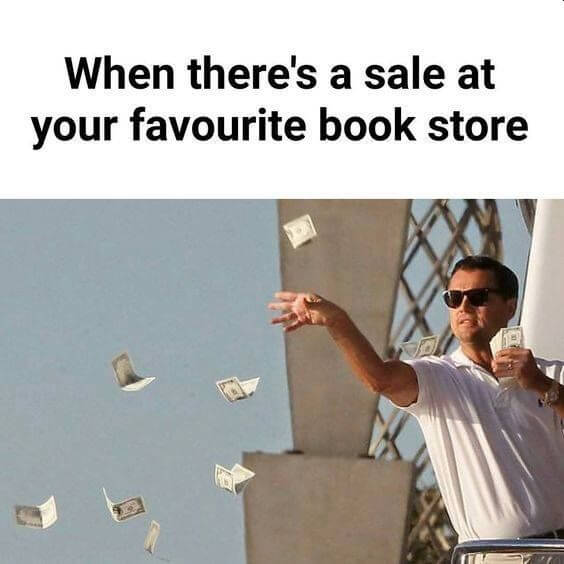 Sent in by Tim.
Send in your own to site@orderofbooks.com or by replying!
Images, jokes, etc. We'll take it all!
Your Thoughts:
Last month I asked how you were currently reading – especially with libraries being closed. The response was absolutely unreal and thanks to everyone for taking the time to respond. The responses are below.
This month's question is a nice and simple one:
How do you decide what book or series to read next?
I mean if you are going through a series and like to read every one in a row then that's easy – you simply read the next one in the series. But what if you don't do that? or what if you have finished a series?
How do you decide what to read next?
I'm sure many of you have massive "to read" lists like I do. There are literally thousands of entries on it. Some of them are just the first book in a series of like 20 or 30 books too!
For me I generally read on an impulse. I don't plan it out. I start browsing my to read list until something jumps out of at me. Or if someone recommends a book that immediately piques my interest (such as Replay by Ken Grimwood last month) then I'll start that book right away.
I generally don't plan out my next book in advance. If I am reading a series and I am enjoying it I may read the next book in the series. However it's just as likely a new book comes out from one of my favourite authors and I drop everything to read that book. For certain authors I'll always do that while for others even though I enjoy them a lot, they will sit on my Kindle unread for months until I am in the mood for that type of book.
Sometimes I just get in the mood for a book. I watch some spy thriller movie or play some sort of video game within a particular genre and that motivates me to read a type of book based on that.
For me it really is all impulsiveness.
What about you?
E-mail us your feedback to site@OrderOfBooks.com or just reply to this e-mail, and we'll pick the best comments and feature it in next months newsletter. Five people will also randomly win a $25 gift certificate to Amazon.
Reader Mailbag
Order of Books » Newsletter »