January 2020 Newsletter
Welcome to 2020!
I hope everyone had a great Christmas and New Year and I hope everyone is able to reflect back on the year that was with some positivity. I have friends who I know have had lots of great things happen to them over the year, yet their Facebook posts yesterday were filled with "good riddance to 2019".
I've had some trying times in 2019 (my dog of 17 years died, my dad died and I once made 3 grammar errors in the same newsletter which caused some peoples worlds to burn down) but instead of dwell on the negativity I think of the positives instead. The great times I had out with friends. The great experiences I've had with my family (marathoning the TV show Lost with my kids was my favourite time of the year and brought us even closer which was nice). My trips to Scotland, Boston, Washington, Milwaukee and Las Vegas. What I've learned or experienced over the past year and how it has made me a better person both physically and mentally.
And of course – all the great books I've read and new authors I've discovered! It has been an excellent year in that regard.
So if you're hunting for a New Years Resolution, as Monty Python would say, why not "Always Look on the Bright Side of Life"? Life's too short to be wrapped up in negativity. I know life just plain sucks at times, but if you need an escape there are about a billion books out there with fictional worlds just waiting for you 🙂
I actually ended the year in what is in my opinion the best way possible – in bed early, with my Kindle in my hand. My wife was at a "girls only" NYE party and my kids were at their friends. My mum had recommended to me an author she was reading called Gillian McAllister earlier in the day and I realized I had one of her books on my kindle. So I ended up hooked on that on New Years Eve. Not sure how it will turn out but it's a standalone thriller that is just piling mystery upon mystery on top of each other and has me intrigued at least.
The highlight of my month was new author discovery. I'm not even sure how I stumbled upon him but the author Grant McKenzie and specifically his book No Cry for Help. I will write about that more in the recommendations section but if you are a thriller fan – get yourself a copy of that book! I read Switch right after it and thoroughly enjoyed that too. The plots alone will get you hooked!
Thanks to all of you who visited my friend Janises website, BestBooks.net. She said she received some lovely e-mails – you guys and girls are amazing! I discovered another new author off her Best Sci-Fi Books in 2019 list in Ted Chiang. Always a fan of short stories – especially when they are related to sci-fi. However while I enjoyed the first one in the list, the next two were very short and disappointing, and the next one is about digital pets that starts out great but just drags on and on.
My Bosch Universe reading continued as I read The Narrows by Michael Connelly where Connelly inexplicably switched from third person to first person for Harry. That was…..odd. I did enjoy it for the most part though.
Each month we give away 2 prizes to 2 random subscribers of $25 each in the form of Amazon gift certificates. To win all you have to do is be a subscriber. Nothing more! When we go to hit "Publish" we take a list of all of our subscribers, throw them into a random draw and those are the winners.
Our winners this month are MaryAnn from San Clemente, CA and Jennifer from West Hollywood, CA Both of you have been e-mailed. If you don't see anything, check your junk folder or contact me.
Book Recommendations:
In this section I give 4-5 random book recommendations. They can be old books, they can be new. But either way – I recommend you read them if the type of genre they are in appeals to you. Feel free to e-mail suggestions to site@orderofbooks.com as many of the suggestions each month are from our readers. If you wish to add a description for the book around the same size as the ones below that'd be great too!
No Cry for Help by Grant McKenzie
The plot for this one is all you really need.
Wallace Carver travels over the border from Canada to the USA with his wife and two kids for a shopping trip. He is waiting for them in the mall food court and they fail to show up.
The police are alerted and come check it out. They go to his van and the wife and kids passports and bags are gone.
Then they check the border security cameras….and see that Wallace was traveling alone. Wallace is adamant that his family were taken and needs to get to the bottom of this by himself.
This one will keep you reading all night long.
IQ by Joe Ide
IQ is the first book in the "IQ" series by Joe Ide. Joe Ide is a Japanese-American author who has been called the "best thing to happen to mystery writing in a long time. IQ won various awards, such as the Anthony, Macavity and Shamus awards books.
IQ is someone who lives in one of the toughest neighbourhoods in LA. The LAPD can't keep up with the high crime rate however there is a man called IQ, who has taken it upon himself to solve these cases.
Thanks to Dave for recommending this series.
In The Bleak Midwinter by Julia Spencer Fleming
This is the first book in the Rev. Clare Fergusson / Rus Van Alstyne series of novels that started back in 2002.
The first book won a variety of awards including an Agatha, Anthony, Barry, Dilys. You name it. Claire Fergusson is the new priest in St Albans and isn't fitting in well. When a new newborn baby is left on the church steps, it brings her and Russ Van Alstyne, the police chief, together. The hunt for the mother leads them into a much bigger mystery.
Great series. Thanks to Claudia for the suggestion.
The Nick Heller Series by Joseph Finder
Joseph Finder is one of my favourite authors. He has been the master of standalone thrillers for years. Like many authors he saw the popularity of Jack Reacher and created a similar character in "Nick Heller". Unlike other authors though, Finder actually did a good job of it!
He created a unique enough character who is an investigator for a private intelligence firm. It's a great mix of action, thriller, mystery and even humour. Finder is an excellent author and the Nick Heller series is a great read for any Reacher fans. Details. He also has a new book in the series coming out this month so a great time to read the series. It's short with only 3 published books currently.
January 2020 Book of the Month:
The Wild One by Nick Petrie (Peter Ash)
In all the years I have been recommending books, I've never came close to the positive reception I've received from recommending the Peter Ash series by Nick Petrie.
Well great news for fans of Peter Ash as the fifth book in the series is out this month. Peter travels to Iceland to help a woman whose daughter has been murdered and grandson is missing.
He arrives only to be met by a man from the US Embassy who tells him he isn't welcome here, and he can spend two days sightseeing then leave.
Of course Peter isn't going to just turn around and leave. He's going to stay until it's mission accomplished. I can't wait! Pre-order now.
More Notable Books Releasing in January
New Author Spotlight: Craig N. Hooper
This month we are featuring Craig N. Hooper who was recommended to us by kat.
Craig is from Canada, and has two novels to his name currently, with a third coming early next year.
He writes the Garrison Chase series of novels. The first book in the series is The Greatest Good. I picked it up via Kindle Unlimited and enjoyed it.
Garrison Chase is an FBI agent who has just finished a years suspension and wants to redeem himself. He's given an easy job of protection detail however it doesn't work out that way. Someone breaks into his house and when the police arrive and discover Chase's collection of weapons, they take him in for questioning.
While in there, the person he was meant to be protecting gets shot. Chase is pulled off that assignment however will not let it go.
Exciting book with a fast pace which I always enjoy. Check it out!
Each month we feature one new author as recommended by you, the readers. If you have suggestions for an author to feature in this section, please reply or e-mail site@orderofbooks.com. Only rule is that their first book can't be more than 18 months old. (Although we may make exceptions!)
Audiobook Arena:
The "Audiobook Arena" mailbox is getting filled up a bit so I'm going to include a few of the shorter ones this month to clean it out.
Written by Judy
I listen to a book in the car all the time. I buy CD's from favorite authors.
Excellent ones are series from: Dana Stabenow, Laurie King, & Margaret Maron Also have some from Dick Francis & Bill Bryson (laugh out loud while driving!)
Written by Leslie
I just finished a great series, but it's an audible book.
Inspector McLevy with Brian Cox reading the main part.
I love the Scottish accent!! (I'm a Texas MickMac).
Written by Charlye
In 2012, I retired from a 40 year career in broadcasting with the last 21 years doing a country music morning show in the Los Angeles area. During those years, doing show prep required my reading tons of books. None for fun. All for work. Now that I'm retired, I read what I want to read. That amounts to 3 or 4 books a week and usually 1 or 2 audio books. I still do a weekend radio show, but it's not work, it's just for the fun of it. I drive 106 miles each weekend and audio books make the trips fly. I would love to submit a monthly audio book column for you to use, or not use as you see fit.
When I started reading for pleasure instead of work, I found I didn't know any current authors. It was Order of Books that opened a wonderful new world of reading for me and introduced me to so many authors and characters I had never heard of. I would have been totally in the dark without you. I love audio books and I would feel so happy if I could turn some folks on to the audio the way you turned me on to the words.
Here is a review of Coming Back Alive. Author Spike Walker and the Narrator is Paul Heitsch.
On a winter night of January, 1998, the fishing vessel La Conte began to sink, throwing her 5 crewmen into the savage sea without a lifeboat. With record breaking waves of 90 feet high and one hundred mile per hour winds, the roped together 5 were tangled and tossed around like socks in a clothes dryer. Their only hope for survival was that the Coast Guard had heard their mayday and was responding to their electronic beacon. The story is a heart wrenching tale of survival, of camaderie, of faith and loss of faith, of life and death. The terror of not being rescued felt by the La Conte crew. The fear the Coast Guard felt at the possibility of not being able to rescue. Book one of Coming Back Alive is more about history of Alaska and the bond between fishermen and the Coast Guard. Paul Heitsch does a very nice job of narrating that history even though it is a little wordy. Book Two is the story of the last days of fishing vessel La Conte, her 5 man crew, the Coast Guard rescue teams, and an angry Mother Nature, determined to let no one escape. Book two is where Heitsch shines. His narration of the life and death struggle that night in Alaska's worst storm in history is breathtaking. It was impossible to stop listening. Heitsch made me feel the terror, despair, anger, hopelessness, trust of the rescued and the rescuer. In Coming Back Alive, Spike Walker and Paul Heitsch took me to the incredibly beautiful State of Alaska and dropped me into the freezing and treacherous waters off her coast and, isn't that what a good book, well narrated, is supposed to do? Take you there?
We have a lot of audiobook fans and invite book listeners to write their own column every month. Want to discuss audiobooks or a favourite narrator? Hit reply and write and we'll feature your column in a future newsletter!
Picture of the Month: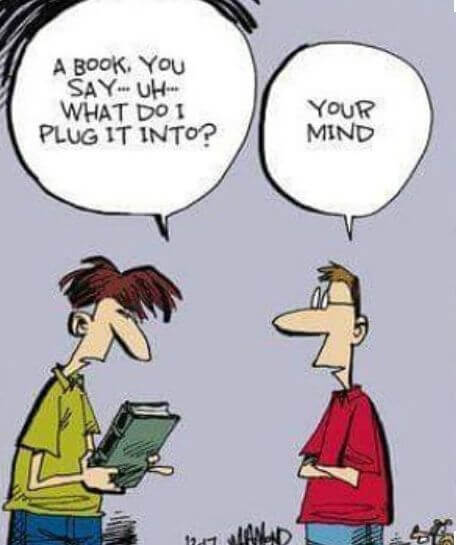 Submitted by Alan.
Send in your own to site@orderofbooks.com or by replying!
Images, jokes, etc. We'll take it all!
Your Thoughts:
Last month I asked you what your favourite book of the year was Your feedback is later in the newsletter.
This month I am asking a rather classic question:
If you were stranded on a desert island with only one book series, what would it be?
I mean it's a tough question. It's not just about the quality of the series. You also need a lot of re-readability from it. I think you'd also want something fun or enjoyable to get you going and keep your spirits up.
It's also about quantity. You want a good amount of books in a particular series. A trilogy probably isn't going to cut it.
I initially thought of the Myron Bolitar series. It has mystery, it has intrigue and it has a lot of humour as well. Problem is 11 books just seems too little.
I also thought about Reacher but there is just too many "misses" in that series for me.
I think I would go with the Mitch Rapp series of novels by Vince Flynn and Kyle Mills. There's just something about that series that I love. I've re-read it twice and I could easily re-read it again. I've been considering that actually and will probably do that this year.
What about you?
E-mail us your feedback to site@OrderOfBooks.com or just reply to this e-mail, and we'll pick the best comments and feature it in next months newsletter. Two people will also randomly win a $25 gift certificate to Amazon.
Reader Mailbag:
Order of Books » Newsletter » January 2020 Newsletter