July 2021 Newsletter
Hi everyone and welcome to July. I'm currently out at a rented cottage for the week working off my laptop; apologies for any mistakes in the newsletter.
I had a lot of work to get done prior to going to the cottage so I really didn't get much reading in since the mid-month newsletter.
I did finish One Second After by William R. Forstchen. Excellent, excellent book and I can see why it was so well-loved. that is the story of an EMP attack that takes out everything electronic in America, and how a small community deals with it.
You know a book is good when you're only at 60% of the book yet you stop everything to order and download the remaining two books in the series. I'm just about finished One Year After and ready to go onto the final one. Really enjoying this one as well.
What I like about this is I will always associate this trip with reading this trilogy. Whenever I think of these books, I'll think back to this wonderful vacation. Or vice versa.
There's something I really enjoy about being able to relate books to a particular event. What immediately pops into my mind is a trip to a cottage a couple of years ago when I discovered the wonderful authors and B.A. Paris – two incredible standalone thriller authors.
There was no wifi or cell signal there and I read one book by each author – and loved their books so much I had to do a 30-minute trek just to be able to get a signal and be able to download the other books they had written. That started a big standalone thriller binge for me that is still going strong today.
I mentioned that I had started Elevator Pitch by Linwood Barclay for my audiobook reading. I was looking forward to nice daily runs out here where I could zone out and listen to all of it, while pretending that the deer and black flies didn't exist. Alas, my headphones – which I bought back in August 2017 – finally packed it in on the second day. Literally just fell apart in my hands. So I've had to put that one on hold as it was just getting good.
They have a new addition to this cottage resort – a sharing shack and it is full of DVDs, board games, and books! As someone who only reads on Kindle now, and also hasn't been able to go to a bookstore or library for over a year due to COVID – man it was cool just entering that little shack and browsing all of the books. It was fun just counting the books I had read, browsing all of them etc. Just a really nice moment.
Last month due to it being Pride month I listed all LGBTQ+ charities. I know even in 2021 that can still be a controversial choice and there are many who disagree with that. If you're one of the people who disagreed with that but didn't send me any e-mails about it then hey – thank you. I appreciate that even if you weren't happy with it you didn't spread any unnecessary negativity or toxicity. The world doesn't need any more of that.
Of course, some did and they weren't very polite. I made sure to have some fun with it though – I looked at the IP address of everyone who sent hate mail to find out where they were located then I donated $100 in tribute to them to their local LGBTQ+ charity.
For example – the woman that sent the absolutely grotesque e-mail and resides in North Carolina – I thought you'd like to know that thanks to you, Equality NC is $100 richer! It felt good turning some negativity into positivity. If you're one of the people who e-mailed in with hate; your local LGBTQ+ charity thanks you for your support!
Let's get on with the newsletter so I can get back to reading! A new feature in the newsletter is Book Quote of the Month. Feel free to submit your own!
Each month we give away 5 $25 Amazon gift certificates to random subscribers.
To win all you have to do is be a subscriber. Nothing more! When we go to hit "Publish" we take a list of all of our subscribers, throw them into a random draw and those are the winners.
Our winners this month are:
Gayle from Salem, OR
Leona M. from Pierrefonds, QC
Linda from Kent, WA
John F. from Laurel, MD
Jennifer G. from Nashville, TN
All of you have been e-mailed. If you don't see anything, check your junk folder or contact me.
Graeme
OrderOfBooks.com
Quote of the Month
"What an astonishing thing a book is. It's a flat object made from a tree with flexible parts on which are imprinted lots of funny dark squiggles. But one glance at it and you're inside the mind of another person, maybe somebody dead for thousands of years. Across the millennia, an author is speaking clearly and silently inside your head, directly to you. Writing is perhaps the greatest of human inventions, binding together people who never knew each other, citizens of distant epochs. Books break the shackles of time. A book is proof that humans are capable of working magic."
 – Carl Sagan, 1980.
Submitted by Joyce.  Feel free to submit your own quotes to site@orderofbooks.com or just hit reply.
Book Recommendations
In this section I give 4-5 random book recommendations. They can be old books, they can be new. But either way – I recommend you read them if the type of genre they are in appeals to you. Feel free to e-mail suggestions to site@orderofbooks.com as many of the suggestions each month are from our readers. If you wish to add a description for the book around the same size as the ones below that'd be great too! I should note we also have a huge backlog of recommendations so if you don't see one that you recommended then don't worry – it'll show up eventually!
Gaslight Mysteries Series by Victoria Thompson
Image
The Gaslight Mysteries is a series of historical mystery novels set in turn-of-the-century New York City. The main character of the series is Sarah Brandt, a midwife, who gets assistance from Detective Sergeant Frank Malloy to solve mysteries that she happens across.
AJ was the one to suggest this series, writing: "I just finished all 24 books of the Gaslight Mystery series in about 3wks. Boy, I really recommend that series to anyone who enjoys mysteries or historical fiction. It follows a society girl who rejects that lifestyle and becomes a midwife and her interactions with a police detective as they investigate murders in NYC at the turn of the 19th century. It really showcases that time period and doesn't shy away from the many problems of the time. Unfortunately, it also shows how little we've progressed in some of the areas and resonates with issues we still deal with today. I feel a book club could really dig into these issues, and there are new issues with every book."
The White Plague by Frank Herbert
I always enjoy recommending books by authors who are mostly famous for another book or book series; you can find some real sleepers that way.
You likely know the name Frank Herbert from Dune however he has many other great novels including The White Plague. An American scientist plots a revenge attack after his family are killed during a car bomb in Dublin – a synthesized plague that will only kill women.
Sherril was the one that wrote in recommending this one stating "I would like to recommend White Plague by Frank Herbert. I read the book years ago and have never been able to get the story out of my mind. I read it about the same time as I read the Dune series and was reading anything by the author.". I have to agree – while I don't think it was the best Frank wrote – the entire idea and everything behind it is something very memorable.
Local Woman Missing by Mary Kubica
This suspense thriller was just released this year.  People start going missing in a small community then for 11 years nothing happens.  Suddenly one of the missing people return.  
Everyone wants to know what happened to her – but they aren't prepared for what happened.
Brenna wrote in recommending this one, stating "I really want to recommend Local Woman Missing by Mary Kubica. I listened to the audiobook and it was riveting! I feel Kubica's books are hit or miss and this one was a hit! She delves into some characters' psyches and the plot turns really kept me on my toes!"
I like seeing that sort of honesty – when someone admits that an author is hit or miss but really liked a book by them.  I find I trust that sort of recommendation a lot more.  I've only read one or two by Mary but will check this one out for sure.
Eddie Flynn Series by Steve Cavanagh
Had a few people recommend this series over the last little while. The most recent was Linda who said that "Each book just gets better". I know that feeling with series. Always fun.
There are currently five books in this series. The first novel is The Defence which introduces us to Eddie Flynn as a lawyer who didn't want to be a lawyer anymore. He had vowed to never step foot in a courtroom again, but when the head of the Russian mafia kidnaps his daughter and forces him to defend him in an impossible trial, he doesn't have a choice. It's up to Eddie to defend his client in order to save his daughter's life and he only has 48 hours to do it.
It's the story of a former con artist turned trial lawyer. For more details, see our Steve Cavanagh page.
If you're an author reading this then please know that I have all the respect in the world for you and what you do and am always happy to provide a recommendation or quick link for your books
I've recommended Larry before. Larry traces back his writing to a dream he had in 2016 that was so vivid that he felt that he had to tell the story of it. Two years later he made that dream a reality.
He recently e-mailed me to tell me about his fifth book, Shine and I wanted to recommend it in here. Here's what Larry wrote:
"Last week my fifth book was released. Shine: A Mountain Family's Survival. New genre for me and a new publisher. If I write a hundred books, Shine will be my best. A heart warming family saga that takes place in the 1950's, with adventure and danger all the way to the last page. The story of John Taylor, a WWII veteran, who had lost his wife giving birth to Julia his youngest of seven children. His oldest child Louise, seventeen helped raise the smaller children. His oldest two sons helped him run the family business. Making and selling illegal moonshine. It was the best shine in the North Carolina mountains.
When John becomes missing and assumed dead, the children take over the moonshine business. When it becomes too dangerous, Louise with a pistol on her side and driving the fast 1949 Ford takes charge. A wonderful ending and filled with emotion and humor. The reader will fall in love with the seven Taylor children."
Book of the Month: The Cellist by Daniel Silva
One of the most popular authors on our site – Daniel Silva – is back for the next adventure in the Gabriel Allon series.
The Cellist is the 21st novel in this series and released in the middle of the month.
Viktor Orlov, a Russian living in London, has been killed. Unfortunately for the people behind it – Gabriel Allon owes his life to Orlov, and is going to find out the truth behind the murder. He doesn't believe the conclusion that MI6 came to.
I mean I'm sure at this point you don't even need a description – Silva is obviously on many of your blind pre-order list.
Pre-Order now
10 More Notable Books Releasing in July
July Charities:
While I appreciate all offers of donations to show your appreciation for the site and newsletter, I'd much rather you do that by supporting some great causes. Each month I pick a few select charities broken down by our most popular countries that you can support instead. Thanks! And please note you're not restricted to the country you reside in of course – pick any you wish to support!
Classic of the Month
This month we are featuring the author John Dickson Carr.
John was born in 1906 and passed in 1977.
John was an American author of detective fiction and mystery novels. He also wrote as Carter Dickson. Carr is the creator of the Dr. Gideon Fell and the Sir Henry Merrivale series.
He is considered one of the greatest Golden Age mystery writers, where his detectives would solve seemingly impossible mysteries. Carr spent a number of years living in England, and is often compared to British mystery authors. Most of his novels had English settings, such as country villages and estates, and featured English characters. Carr won two Edgar Awards and the Grand Master Award from the Mystery Writers of America.
If you are a fan of mystery novels you absolutely have to read some John Dickson Carr. While it's more than halfway through the Gideon Fell series, I'd recommend Till Death Do Us Part if you wish to just dip your toes in and give him a try.
Audiobook Arena:
By Ruth
Hi. I listen to audio books while driving.  Currently I am listening to some of the Flavia de Luce books while reading the rest of the series.  I am not in the car as much as I use to be when working five days a week and driving to another province every few weeks, so the audio books take some time now to finish.  
I have a rule….audio books stay in the car.  The only time I broke it was for Outlander….yes that Outlander, by Diana Gabaldon.  It was Easter weekend, I was alone and I did not want to wait four days for my next instalment.
But the ones I liked the best were the Lord of the Rings trilogy and the Hobbit. The reader is excellent and does all the voices.  The audio books came out before the movie and I think they must have based the movies's voices on the book reader's.  When I saw the movie's everyone sound like the audio book version and looked exactly how I pictured them.
The reader is way more important than the book.  If you do not connect with the reader then forget it.  Does not matter how good you know the book is.  
The Agatha Chrsties that are done as plays with a cast for all the characters are like old time radio shows.  
I enjoy the reader for the Jack Reacher books, and I have read all the books.
Is it better to have read the book? Again it depends on the reader.  I have not read any Lisa Scotoline's but have listened to them all.  Excellent!
I know this is not what you asked for but I was thinking about audio books on my way home tonight when my books ended and I had to finish the trip with CBC.
When I ran and now as I walk 5-10 miles, I listen to Eric Clapton or Kundalini Yoga mantras….I think I would slow up to listen better if I had a book in.
By Jeanne
An audio book that caught my nonreader husbands attention was The Gunslinger by Stephen King.  It's the first book in the Dark Tower series.  Be careful though.  It draws you in and we wouldn't want you to forget what you are doing and possibly trip.
By John
I spent the summer rebuilding our back deck and adding a pergola.
Listened to 3 audio books by Brian Drake. Scott Stilleto character.
Good pace, good character development, excellent narrator.
We have a lot of audiobook fans and invite book listeners to write their own column every month.  Want to discuss audiobooks or a favourite narrator?  Hit reply and write and we'll feature your column in a future newsletter!
Picture of the Month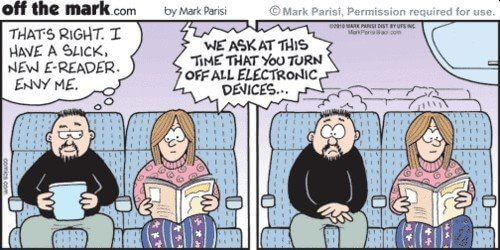 Submitted by Heather.  That's happened to me quite often.  I always give them a thumbs up, close the cover to the Kindle, then just open it as soon as they've left!  Nothings stopping me from reading!
Send in your own to site@orderofbooks.com or by replying!
Images, jokes, etc.  We'll take it all!
Your Thoughts:
Last month I asked for good books to incite discussion.  Ideally for a book club.
The replies are later in the newsletter.
This month I am asking:  
What pet peeves do you have when it comes to books?  What really sticks in your craw?
It's nice to have a little vent session once in awhile.
One of my biggest issues is when authors have two main characters with the same name.  One Second After for example has two main characters called Jen and Jennifer.  Last month I read some Lisa Unger and she had characters like Libby and Lucy, and Joey and Jenna – both female.
There are like a billion potential names – no need to have them so similar!
My other pet peeve is when the author shoehorns the book title into the story.  Don't get me wrong I absolutely loved Relentless by Mark Greaney – but I could do without the Gray Man being told he is relentless about 15 different times.
Also when we get to hear the inner monologue of a book character and they have a big secret to tell but they never actually say what it is.  Sure it's to keep the mystery going but it's a trope that needs to go away.
What about you?  What pet peeves do you have about books you read?
E-mail us your feedback to site@OrderOfBooks.com  or just reply to this e-mail, and we'll pick the best comments and feature it in next months newsletter.  Five people will also randomly win a $25 gift certificate to Amazon.
Reader Mailbag
Order of Books » Newsletter » July 2021 Newsletter
5 Responses to "July 2021 Newsletter"