May 2020 Newsletter
Hi everyone and welcome to May.

Newsletter was slightly delayed this month as it has been a busy last few days. Long story short – a complete overhaul of the book database that will result in 100% accuracy of all of our lists, as well as allow a ton of new features for the website or on a new website.
The entire database switch is an absolute ton of work but will be worth it in the end of terms of accuracy, updating lists etc so I'm looking forward to that. I'm more excited for the new website. Initially it will be a book notification website – notifying you of new books coming out based on authors you have subscribed to.
However the plan is for it to be so much more. Users of the now closed website FictFact will be excited at some of the plans in store such as the ability to track books by an author you have read. There is also a strong focus on a really good recommendation engine to help you find new books based on what you subscribe to etc.
Anyway more about that in a future newsletter. Once we're ready for a beta test I'll let you all know so anyone who wants to check it out will be able to.
I should also note that on OrderOfBooks.com we'll be doing the database overhaul piece by piece. We have about 3500 authors on there right now. This week we will switch about 300 of them to the new system to test everything out and keep doing that periodically. Ideally we'll have everything switched over by June. If you notice anything "off" on the website over the next few weeks, be sure to let me know.
So – how is everyone doing? I work from home all the time and am used to silence during the day. For the last 7 weeks now I've had my wife and two teenage kids at home with me. That's…….something. However the good thing is the kids have switched to "summer" hours so they're up late hanging out online with their friends while I'm an early bird usually up at 5am – so there's a bit of time I have to myself at least.
My noise canceling headphones are really getting a workout though that's for sure!
Plus with no school or work it means the family has a lot more spare time to do stuff together such as play board games. It's always funny the drama that comes from board games. We have been playing that "Box of Lies" game from the Jimmy Fallon show. For some reason, I always have the ability to tell when any member of my family is lying. It completely ruins the game and drives them nuts. Especially when I celebrate like a mad man with every win. Quite fun seeing my teenagers go off in a huff like that.
Many, many thanks to everyone who submitted a picture of their book collections for the reader mailbag this month. I absolutely loved seeing that and it's all linked at the bottom of the newsletter. Here's a little collage of the pics: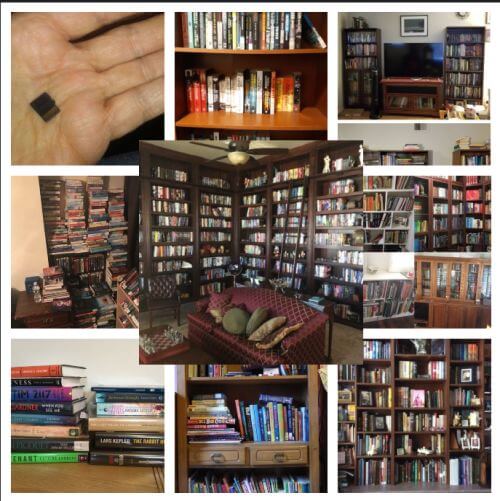 Reading wise I mentioned in the mid-month newsletter I was going to restart the Dewey Andreas series by Ben Coes. I read the first book years ago when it began but never kept reading it. So I went back and started from the beginning with Power Down. It was just like I remembered – slow start and a bit tough to read in terms of the places where the action was taking place. However it got going and I ended up really enjoying it.
I moved onto Coup d'Etat after that. First a heads up – this one is very "Rah rah America is great!". Personally I don't have a problem with it but I know some people do. If you don't like to see lines such as "If this person messes with me they will die the same way; from a bullet stamped 'Made in the USA'" then this won't be the book series for you. Others of course will love that.
I enjoyed the book a lot but one thing that really annoyed me was at the end of Power Down, Dewey simply disappears to Australia right after the action has all ended. Yet in this book it rewrites all that and Dewey spent a couple of months in the USA prior to leaving, and even formed a relationship etc. Things like that bother me when an author rewrites the story like that. There was no need for that as he could have achieved what he was going for without having to recreate the ending of the last book.
I'll keep reading that series though. However I got chatting with Janise from Best Books. She was writing up an article entitled Best Mystery Books in 2019 and she was saying that when she is doing those lists, she attempts to go off the beaten path a bit.
She says it's not on purpose however when there is an award winning book that is universally accepted as one of the best that year in a particular genre – she feels the urge to NOT list it as #1 if possible. She said however that in this particular list, she just felt that the Goodreads award for best mystery/thriller was correct, and that she just had to list The Silent Patient by Alex Michaelides as #1.
I realized that I hadn't read that book yet – probably for the same reasons Janise mentioned. I try not to read books right away that have a lot of hype simply because I go in overhyped and usually look at them from a much more critical perspective.
However I decided enough time has passed and it was time to read that book and wow – I was very impressed. This was an excellent book and well worth reading. In terms of overall mystery I think I would rank Someone We Know by Shari Lapena higher for 2019 – but I can see why this one was so popular and universally loved.
Not sure what I will read next. I'll probably continue with either the Dewey Andreas series or start working my way through more Bosch books. Actually I am pretty sure it will be the Bosch series, as I just happened to glance at the description for the next one, Echo Park, and felt a real wave of excitement.
In saying that it's very tempting to re-read The Hunger Games with the new book coming out….
I'm going to keep the 10 $25 gift certificates going this month. I think from May onwards, I'll split it up. 5 random subscribers will win a $25 gift certificate, and then 5 random reader mailbag contributors will win a $25 gift certificate. Because honestly seeing the amount of people that took the time to take a picture of their book collection for the newsletter really touched me and I wished I could give a gift certificate to everyone.
JUST for this month – I will give out 10 $25 gift certificates to subscribers and 5 gift certificates to reader mailbag contributors. Going forward it will be a 5/5 split (except for the mid-month newsletter which will be 10 randoms).
Clear as mud? Good. Don't worry it all makes sense to me ha. So be sure to answer this months reader mailbag question as it's quite a fun one and you have the chance to be one of five people who win a gift certificate!
That's it for me let's get on with the newsletter.
Each month we give away 2 prizes to 2 random subscribers of $25 each in the form of Amazon gift certificates. During our current "situation" I'm upping that to 10 gift certificates.
To win all you have to do is be a subscriber. Nothing more! When we go to hit "Publish" we take a list of all of our subscribers, throw them into a random draw and those are the winners.
Our winners this month are
Susan from Meridian, ID
Miriam from Carmel, IN
Kathy H from Portland, OR
Dwayne from Paducah, KY
Nancy from Kingman, AZ
Julie A. from Beaufort, SC
Judy S from Parkville, MD
Harriet from Topeka, KS
Rose from High Point, NS
Fran from Humble, TX
All of you have been e-mailed. If you don't see anything, check your junk folder or contact me.
Graeme
OrderOfBooks.com
Book Recommendations:
In this section I give 4-5 random book recommendations. They can be old books, they can be new. But either way – I recommend you read them if the type of genre they are in appeals to you. Feel free to e-mail suggestions to site@orderofbooks.com as many of the suggestions each month are from our readers. If you wish to add a description for the book around the same size as the ones below that'd be great too!
My Grandmother Asked Me To Tell you She's Sorry
This one is by Fredrik Backman, who penned The Man called Ove. One of our readers, Helen, was about to start Britt Marie Was Here and I mentioned that while it's considered a standalone, it's connected to this book and to read this first.
To say she loved it would be an understatement as she was moved to tears by it. I asked her if she was interested in writing a review of it and she said "I don't know how I could do it justice, I could say I highly recommend it if you want a book that you will remember long after you put it down". So follow Helens high recommendation, and check it out.
The Dublin Trilogy by Caimh McDonnell
This "trilogy" actually has four books. If you wanted to read it in chronological order, Angels in the Moonlight is a prequel to the entire series. Jennifer wrote to recommend this series and mentioned they were available on Kindle Unlimited.
These are comedic thrillers. This seems like a time where we all need a bit of comedy in our lvies right? Paul Mulchrone is on the run with nobody he can turn to except a nurse who has read too many books on crime, and a renegade cop.
The Martin Beck series by Maj Sjowall and Per Wahloo
This series is Scandinavian crime fiction and both authors are Swedish. What's different about these is they aren't currently being written during a period where Scandinavian noir as at it's peak – these were actually written last century.
It's a 10 book series that began in 1965 and ran until 1976. Norma e-mailed us with this great recommendation.
Check this series out
The Glasgow Underworld Series by Malcolm MacKay
There are 4 books in this crime fiction series written by Scottish author Malcolm MacKay. The first novel in the series won the Crime Thriller Book Club Best Read Award, and it was also on the shortlist for many other awards.
Reader Zippi wrote in to recommend this month who said "I highly recommend the books of Scottish writer Malcolm Mackay. What makes his setting of the seedy and depressed Glasgow all the more amazing is the fact the author lives on some tiny, remote island off the Scottish coast and has never lived in any city at all".
Check this award winning series out.
This Tender Land by William Kent Kreuger
May 2020 Book Of The Month
Hunger Games #4: The Ballad of Songbirds and Snakes
I mean look at my avatar at the top of this newsletter – I'm wearing a Hunger Games t-shirt. There's no question what my book of the month was going to be!
This is the 4th novel in the Hunger games series, written 10 years after the final book in the then trilogy, Mockingjay.
The book itself, The Ballad of Songbirds and Snakes, is a prequel and it takes place during the 10th annual Hunger Games.
I actually have Rues Whistle as the sound I get when I receive text messages. So yeah I am pretty excited about this one.
More details or pre-order now.
More Notable Books Releasing In May
New Author Spotlight
This month we are featuring Kate Weinberg.
Kate burst into the writing scene last year, with her debut novel The Truants that was extremely popular – particularly in the UK. It's described as Agatha Christie meets The Secret History.
Kate hasn't announced any new books yet, however The Truants was a Times Best New Crime Novel, an Observer Book of the Year, and a USA Today Must-Read Book of Winter.
The book starts with Jess Walker who heads to the concrete campus of East Anglia to be taught by the mesmerizing Dr. Lorna Clay. The seminars that Dr. Lorna Clay teaches are the kind that will transform Jess's thinking on life and love. Jess is taken in by the teach of Lorna and finds herself swept up into a tightly knit group of rule-breakers. The group includes Alec, a courageous South African journalist with a nihilistic streak; Georgie, a seductive, pill-popping aristocrat; and Nick, a handsome geologist with layers of his own.
Jess is doing her best to follow Clay's teachings and trying to live an extraordinary life, but the dynamic between the friends has a dark side as well. A tragedy strikes that shatters their friendships and love affairs while revealing a terrible secret. The story is seductive and unsettling tale of suspense that leads Jess to ask herself some difficult questions including the one she fears the most: what is the cost of living an extraordinary life?
Audiobook Arena
Written by Margaret
two of my favorite narrators are Brendan Fraser and David Tennant.
Written by Lajeanne
my husband subscribes to Audible.com and always has book on….his favorite readers are:
Bill Homewood, George Goodall.
He avoids Nadia May, good stories but shouldn't read.
Written by Janice
I cling to audio reading and probably will continue until the available formats disappear entirely. I worked a large catchment area in the 1990's, and some locations were distant from each other. I took up audiobooks to fill that boring point-to-point travel. There was a relatively brief learning curve to keep focused, but I have loved audiobooks since then. I'll be sad to see CD's fall away.
We have a lot of audiobook fans and invite book listeners to write their own column every month. Want to discuss audiobooks or a favourite narrator? Hit reply and write and we'll feature your column in a future newsletter!
Picture of the Month: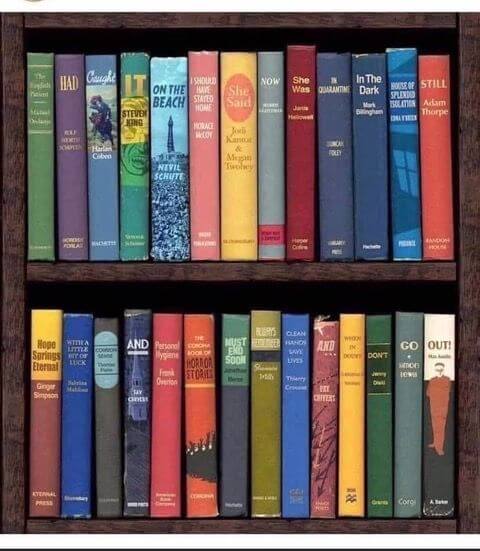 Your Thoughts:
Last month I asked you for pictures of your book colletion. Your feedback is later in the newsletter.
This months question is based off a thread I saw on reddit:
You are now quarantined with the main character(s) of the last book you read. How is it going?
Is everyone coming out alive? Are you learning anything new? Are you bored? Most importantly, are they helping with the cooking and cleaning?
I mentioned at the beginning of the newsletter that I have my wife and two teenage kids at home. I also just finished The Silent Patient, a novel about a woman who murders her husband then becomes mute and is in an institution.
So wait a second…you're telling me I can trade being locked down with my wife and two teenagers, for a WOMAN WHO DOESN'T SPEAK A WORD?
Sign me up.
Sure – she may attack me from time to time. Early in the book it's revealed she attempted to slash a persons throat for example. But hey – isn't it worth that for the silence? I think so.
How about you?
E-mail us your feedback to site@OrderOfBooks.com or just reply to this e-mail, and we'll pick the best comments and feature it in next months newsletter. Five people will also randomly win a $25 gift certificate to Amazon.
Reader Mailbag:
Order of Books » Newsletter »