February 2022 Newsletter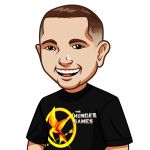 Hi everyone and welcome to February. Apologies for being slightly late this month!
The last few days have just been those days that fly by. I usually work on the newsletter as it gets closer to the end of the month, then wrap it up on the morning of the 1st and send it out. As it is I ended up only getting to it last night – then waited until this morning to send it out in case I made any late-night mistakes!
The good news is the intro will be very short; the bad news is it is because I haven't been doing any reading at all!
Since the mid-month newsletter, I've read absolutely nothing! It's funny as I still carry my Kindle with me upstairs at night and downstairs in the morning.
The only reason I haven't really been reading is I recently acquired every aired episode of The Apprentice UK. I don't watch any reality shows but as someone who runs their own business and do a lot of marketing – The Apprentice is always a show I enjoyed. The non-celebrity ones anyway.
I just love all the challenges they are set, and thinking about how I would go about them.  There was actually a book related one in a recent episode; the teams had to come up with a unique concept people could take to the beach.  One team came up with the idea of a book stand that could dig into the sand and they could put their book in to read without having to hold it.  
I've been binging the UK version from the beginning and am on Season 6 now.  It's sad to admit that reading has taken 2nd place to watching a reality show from 17 years ago!  The nice thing is writing this newsletter has me itching to get back to reading again.
I will of course be taking a break from that to watch the new Jack Reacher TV show which debuts tomorrow! I'm not sure if I ever mentioned it but a large portion of it was filmed here in my hometown. Alas, I didn't get the chance to be an extra! Hopefully, this TV show will FINALLY stop the weekly e-mails I receive from random people complaining about the casting of Tom Cruise!
I've been listening slowly to Survive the Night by Riley Sager. I've had this on the go for a while now and it's a bit of a struggle. I'm determined to finish it but it has been quite frustrating to listen to at times.
The female protagonist keeps making some of the dumbest decisions that leave me shaking my head. If you've read the book I'll say two keywords: the diner and the cop!!! The author is a male too and I'm always iffy about males writing prominent female characters when the characters end up being weak.
Regardless, there's enough quality and interest there to at least keep me listening. I see a lot of negative reviews for this one although his other books appear to be very popular. So even if I end up not liking this one, I'll certainly be giving another one a try. The narrator for this one is Savannah Gilmore and she is doing an excellent job and adds to it as well.
One last thing before I get into the rest of the newsletter – if you're interested in data entry work, I may have a job for you!
I've mentioned in the past that we're working on a new project. It's going to allow you to keep updated on authors, track what you've read and much more.
We're getting close to the public beta launch, but want to fill the author database with a variety of information such as their date of birth, gender, education etc. There may be additional work on top of that as well related to assigning awards to books, etc.
Payment would be $11 USD per hour and ideally made via Paypal. The work would begin later this month I hope, and spill into March. So if interested just reply back to this e-mail. Thanks!
Each month we give away 5 $25 Amazon gift certificates to random subscribers.
To win all you have to do is be a subscriber. Nothing more! When we go to hit "Publish" we take a list of all of our subscribers, throw them into a random draw and those are the winners.
Our winners this month are:
Mary from Champaigne, IL (Email starts with bir)
Dave M. from Orihuela, Spain
Colleen G. from Olathe, KS
Deb J. from Hamilton, ON
Robert B. from Clemmons, NC
All of you have been e-mailed. If you don't see anything, check your junk folder or contact me.
Graeme
OrderOfBooks.com
Quote of the Month:
"I have sometimes dreamt that when the Day of Judgment dawns and the great conquerors and lawyers and statesmen come to receive their rewards – their crowns, their laurels, their names carved indelibly upon imperishable marble – the Almighty will turn to Peter and will say, not without a certain envy when He sees us coming with our books under our arms, "Look, these need no reward. We have nothing to give them here. They have loved reading."
– Virginia Woolf.
Submitted by Rosemary. Submit your own quotes; just hit reply.
Book Recommendations
In this section I give 5 random book recommendations. They can be old books, they can be new. But either way – I recommend you read them if the type of genre they are in appeals to you. Feel free to e-mail suggestions to site@orderofbooks.com as many of the suggestions each month are from our readers. If you wish to add a description for the book around the same size as the ones below that'd be great too! I should note we also have a huge backlog of recommendations so if you don't see one that you recommended then don't worry – it'll show up eventually!
Jack Lennon Series by Stuart Neville
The Jack Lennon series is a 4 book series by award winning Irish author Stuart Neville. I should note that following reading that, you should read the DCI Serena Flanagan series.
This one was recommended by Martha, who wrote:
"Not sure if you have read this one or if it is on your radar but just finished "The Ghosts of Belfast / The Twelve" by Stuart Neville. Excellent read about a former killer for the IRA and how he responds to having the ghosts of the innocent who he killed follow him. I could not put it down. The violence may be offsetting to some (there is a scene of dog fighting that I had to quickly read through. If it had been a movie, I would have had my eyes shut.) but I found this one to be worth a recommendation. "
Charlie Waldo Series by Howard Michael Gould
The first book in this series has been made into a movie, which is releasing this month so it's the perfect time to recommend it.
Ed was the one that wrote in to recommend this satirical crime fiction series. Here's what he wrote:
"I am writing this message to recommend that you read the 3 books in this trilogy. In order they are Last Looks, Below the Line and Pay or Play. A friend recommended this to me and I enjoyed all 3."
"The backstory is Charlie Waldo is an ex LAPD Detective who went from street cop to Det level III faster than anyone ever had. He leaves the force due to finding his breakthrough case perpetrator was in fact innocent and died while in prison. He scorches the earth during his departure from the force and becomes a devout eco follower with only 100 things. Having taken up this lifestyle he is found by his ex lover who is a PI and wants him to help her with a breakthrough case. The rest is an adventure and I hope you enjoy it as much as I did."
Nevernight Chronicles by Jay Kristoff
Jay Kristoff is an Australian author of sci-fi and fantasy novels. He has lots of great series, with the Nevernight Chronicles one of his most popular series.
This fantasy series is a trilogy and was recommended by Cindy. Here is what she wrote:
"I feel the need to write today to celebrate the entrancing Nevernight series by Jay Kristoff. Not only are these books hard to put down (love having a young female protagonist that's not in a youth literature), I have been listening to the audiobook series narrated by Holter Graham at the same time. The books are written in third person which lends itself to being narrated, and Graham brings the characters alive. The fact that I can "read" these twice at the same time tells you the excellence in storytelling!"
Ben Porter Series by Christopher Rosow
Christopher Rosow has written three novels in the Ben Porter series so far. I remember hearing so much positive feedback when his first novel, False Assurances was released and his follow-up novels have also been received well.
Jim wrote in to recommend this series. False Assurances is the first book in the Ben Porter series and starts on the morning of July 12, 2017. The FBI has received a call which appears to be a hoax; a man claiming that his sailboat was hijacked by terrorists. The President is coming to town so many of the top agents are busy. Ben Porter, an FBI administrative staffer, is sent to investigate. He's untrained in field work and the anti-James Bond in stature, but he uncovers a deadly plot and is the only one capable of stopping it.
Ghostwalker Series by Christine Feehan
Christine Feehan is a much-loved author among our readership. Her Dark series in particular is very popular. Today I wanted to highlight another series she has written which is Ghostwalker.
The 18th book in it, Phantom Game, releases on March 1st. This is a very popular series that this paranormal romance author started back in 2003 with Shadow Game.
Captain Ryland Miller has psychic abilities and is being kept in a secure area. He meets Lily, the daughter of scientist Peter Whitney, who is behind the whole brainchild experiment. The two make a connection and when Peter Whitney is murdered, Ryland knows he has to escape with the help of Lily.
February 2022 Book Of The Month (1st – 15th)
The Orphan X series by Gregg Hurwitz is a very popular series. If you're a fan of the likes of Rapp, Reacher etc you'll love this.
Dark Horse is the 7th book in the series, and releases this month.
Orphan X – aka Evan Smoak – is facing his most difficult mission yet when he has to come to the assistance of a drug-dealing kingpin whose daughter has been kidnapped by a dangerous cartel.
If you've never read this series, now is the time!
10 More Notable Books Releasing Feb 1-15
February Charites:
While I appreciate all offers of donations to show your appreciation for the site and newsletter, I'd much rather you do that by supporting some great causes. Each month I pick a few select charities broken down by our most popular countries that you can support instead. Thanks! And please note you're not restricted to the country you reside in of course – pick any you wish to support!
USA: Shriners Hospitals for Children
UK: Cancer Research UK
Canada: Habitat for Humanity Kingston
International: Heifer International
I listed my local Habitat for Humanity as they recently suffered a theft with many tools being stolen. Feel free to support your own Habitat though!
I rotate this list each month. Feel free to suggest a favourite charity – hit reply.
Audiobook Arena
We have a lot of audiobook fans and invite book listeners to write their own column every month, or just write in a few audiobook thoughts. Want to discuss audiobooks or a favourite narrator? Hit reply and write and we'll feature your column in a future newsletter!
By Gayle
I am currently reading The Murmur of Bees by Sophia Segovia, (translated from Mexican Spanish) but at the same time, listening to the audio version, narrated by Xe Sands and Angelo DLoreto. I am really loving this because all the Spanish names of people and places make them come alive so much better than if I, with very limited Spanish, was just reading them. Also, with the two narrators, it's easier to track who is speaking because the story timeline skips around with flashbacks. Try it, you'll like it!
By Christine
(Replying to the recommendation of the Cat Who series)
Another surprise about "Cat Who…" series – it's one of actor and master narrator George Guidall's best and most popular works. I've returned to these audiobook cozies many times over the years.
I once heard Guidall say that when his publisher gave him the assignment to read books about cats he was unhappy about it, but he was quickly charmed by the world Braun had created. It's wonderful that we can hear the whole saga in what became Jim Qwilleran's own voice.
Guidall made that comment in his answer to an audience question about whether he ever read books he didn't like, and how he felt about that. He said he was sometimes given that kind of assignment, and regretted that a listener might be able to hear in his voice which books he didn't warm to. Then he added the comment about the Cat Who… books. He said his all time favorite author to read was Proust, and showed how he prepared to read a complex Proustian sentence, marking up a long sentence like a musical score to indicate inflections and illuminate the meaning.
Reader Mailbag:
Order of Books » Newsletter » February 2022 Newsletter
2 Responses to "February 2022 Newsletter"