July 2022 Newsletter
Hi everyone and welcome to July!
I really enjoyed the reader mailbag this month asking where you do your reading.  It was really fun reading the responses, and picturing where you all read.  Be sure to check out the mailbag at the bottom of the newsletter!
Unfortunately, reading for me these past two weeks was lacking for quite a few reasons.  
One was it being patio weather.  It seemed every day I had a different friend wanting to hit up the patios with me.   Or there were days when I sat outside to read, only for a friend to stop by and interrupt.  I love my friends and hanging out with them, but it really got in the way of my reading!
Another was that I visited Chicago (I entered the "Forbidden Door", for the 3 people who might know what that means).  It was only a short trip and I did listen to an audiobook while waiting in the long lines at US Customs, and on the plane.  But it certainly interrupted the reading.
The new website that I have mentioned before, was another cause of my lack of reading.  We were actually hoping to launch it today so I could share it with you all, in beta format.  Alas, it is not quite ready.  I think August 1st is when I'll be able to announce it.  You'll be able to track your books read, follow authors' releases, and much more.  Can't wait to officially launch it.
The last, and most important reason I didn't read much over the last two weeks was sadly that I just wasn't enjoying the two books I had on the go.
To be honest that's the main reason.  If I'm into a book, I'll read it no matter what.  I've been yelled at by airport security guards before because I was too busy reading to realize I was up next. 
I just wasn't into the two books I had on the go, and so any downtime I had I'd find myself doing something else.
I was reading Local Gone Missing by Fiona Barton.  I've enjoyed the rest of her books but this one just didn't hook me.  I'm not even finished it yet.  It's a thriller and the type of book I usually binge in a day or two.  
This one – the characters just all seem soulless.  Nothing really to them.  It also seems to jump around a lot and I was losing track of the characters and the story.  I'm at 70% on the Kindle and I'll certainly finish it but if this is the start of a new series by Fiona, I likely won't read the rest.
I also mentioned in the mid-month newsletter that I was starting The Third To Die by Allison Brennan, which was recommended by a reader.
The narrator in that one really put me off.  They just sounded very monotone and if you told me it was a computer narrating it, I'd believe you.  I found it hard to get into.  Then the first 3 hours of the book just seemed to really lack action.  It was more about establishing the characters, romances, relationships and politics all in one.
There were certainly parts of the book I was enjoying, like the investigating, but they were few and far between.  My library loan for it elapsed and I didn't renew it.  I've purchased the ebook instead and will read that as I'm hoping I enjoy it more that way.
I've started listening to Where The Crawdad Sings by Delia Owens.  I'm only about 40 minutes in – but THIS is a narrator.  Excellent.
I did finally start the Bosch TV show though, based on the series by Michael Connelly.
It's funny as I've mentioned before I am not a big TV or movie watcher, although would like to change that.  I was dealing with some stomach problems on Wednesday night, and was struggling to sleep.
I decided to put on a TV show to distract me so I could fall asleep.  I remember watching the intro of Bosch awhile ago and thinking it felt very mundane and cookie-cutter.  "Perfect show to fall asleep to", was my thought.
Yeah that didn't happen.  I was hooked and I binged the first three episodes before finally turning the TV off way too late.  Then on lunch the next day when I normally read, I ended up watching another episode.  
I have a bad memory, so when I looked at the books the first season was based on, I couldn't quite remember much about them at all.  But then things start happening or getting set up in the TV show and I get excited remembering them from the books.
My wife isn't a big audiobook listener (only two in her life), but she had a long drive yesterday and asked me for suggestions, as she was all caught up on the Office Ladies podcast.  Knowing she likes standalone thrillers, I recommended Every Vow You Break by Peter Swanson.
It was pretty cool as she came home in the early evening and immediately told me to cancel any plans I had for her as she had just 2 hours left in the audiobook and was going to go out back and listen to it.  There's something about that sort of addiction to a book that I just love to see.  Hopefully, my next book gets me hooked like she was to Every Vow You Break.
Our question of the month for the mid-month newsletter is what books you are anticipating the most in July, which is a big month for releases!  Answer on our Facebook page.
Each month we give away 5 $25 Amazon gift certificates to random subscribers.  
To win all you have to do is be a subscriber. Nothing more! When we go to hit "Publish" we take a list of all of our subscribers, throw them into a random draw and those are the winners.
Our winners this month are:
Kris G from Willmar, MN
Evelyn R. from Napier, New Zealand
Joanne Sch. from Charlestone, SC
K V from Salinas, CA
Tina H. from New Port Richey, FL
All of you have been e-mailed.  If you don't see anything, check your junk folder or contact me.
Graeme
OrderOfBooks.com
Quote of the Month
"To me, re-reading my favorite books is like spending time with my best friends. I'd never be satisfied to limit myself to just one experience each with my favorite people." 
Submitted by Chris.   I love re-reading books and usually get the same enjoyment from when I first read them.  There's just something nice about visiting those pleasant memories again.  Submit your own quotes; just hit reply.
Book Recommendations
For something different this month, I thought it would be  fun to pick a few book recommendations from newsletters written a few years ago.
(July 2017) The first in a new series by Mark Lawrence.  If you're looking for a fantasy novel featuring a strong female protagonist which is NOT a Young Adult book then this is for you.  
It features a world where young girls are raised to be killers at a Convent.  Some of the girls have rare talents – none moreso than Nona Grey.  
Trained as a killer since she was 9 years old, this is essentially a coming of age fantasy about this mysterious girl.  From all accounts it's an excellent book – dark, violent and with terrific writing.
(March 2017) The first book in Clavell's Asian Saga series in chronological order although the 3rd in publication order. 
Just an incredible novel set in Japan in 1600.  
One thing Clavell does best is develop characters and he creates amazing characters here.  An absolutely beautiful book, extremely well written and one I'd highly recommend checking out.
State of Mind by John Katzenbach
(May 2016) John Katzenbach is an amazing author and is one of the best in the psychological thriller genre.  
It was hard to pick which one I'd recommend most but I have a personal preference for this one which I've read multiple times.
It's about a brother and sister who escaped from their awful father 25 years ago.  
But now, 25 years later, it's all catching up with them.
Ellie Haskell Series by Dorothy Cannell
(August 2019) This one is for cozy mystery fans!  The Ellie Haskell series is a great cozy mystery/romance series written by Dorothy Cannell. 
The series began back in 1984 with the book The Thin Woman and Dorothy wrote 13 books in the series, ending in 2009.
It's a great series and the 2nd book in the series, The Widows Club, was nominated for "Best Novel" at both the Anthony Awards and Agatha Awards. 
(June 2018) I was a big fan of the Pines trilogy by Crouch and I can't believe I put off reading this one for so long. 
I'm not a huge sci-fan but I loved this book and have recommended it to many people.  Jason heads to the pub, leaving his wife and son at home.  He gets abducted by someone and is asked if he is happy with his life, before being knocked unconscious. 
Jason wakes up only to realize his life has now completely changed.  His wife isn't his wife, and his son was never born.  This is a great book and if you're in a book club it's also perfect for that, as it's one that will really get you talking about it.
July 2022 Book Of The Month (1st-15th)
I am so excited for this month.  There are so many books from my "blindly buy" authors lists being released.
I'm going to go with Upgrade from Blake Crouch as our book of the month.  One of my top 5 authors and I am literally counting the days.
Blake has been killing it in the sci-fi genre with Dark Matter and Recursion.  In his latest novel, Upgrade – well, I'm going to be light on description as I like to go into his novels knowing very little.
It's about Logan Ramsay who is the next step in evolution, I believe based on some science upgrade.  At first he doesn't feel anything but after awhile he can't deny it.  His genome has been hacked?  Yeah that's as far I'm reading.  I'm going in cold!
10 More Notable Books Releasing July 1-15
July Charities
While I appreciate all offers of donations to show your appreciation for the site and newsletter, I'd much rather you do that by supporting some great causes.  Each month I pick a few select charities broken down by our most popular countries or topics that you can support instead.   Thanks! 
Meals in wake of Natural Disasters: World Central Kitchen
Animals: Purrfect Cat Rescue
Homeless Children: The Birthday Party Project
Cancer: Bowelbabe Fund
I rotate this list each month.  Feel free to suggest a favourite charity – hit reply.
Audiobook Arena
We have a lot of audiobook fans and invite book listeners to write their own column every month, or just write in a few audiobook thoughts.  Want to discuss audiobooks or a favourite narrator?  Hit reply and write and we'll feature your column in a future newsletter!
By Patti
Oh Graeme – you simply MUST move this audible to the top of your list. To be sure, it is 17 hours long, but I promise you it is the best 17 hours you will spend in quite a while. "Based on the thrilling real life story of socialite Nancy Wake, comes the newest feat of historical fiction … featuring the astonishing woman who killed a Nazi with her bare hands and went on to become one of the most decorated women in WWII." Nancy is a leader of the French Resistance famous for her wit and her signature red lipstick. 
Writer Ariel Lawhon delivered a literary marvel, beautifully performed by Barrie Kreinik and Peter Ganim. Honestly one of the best books I have EVER read.
Picture of the Month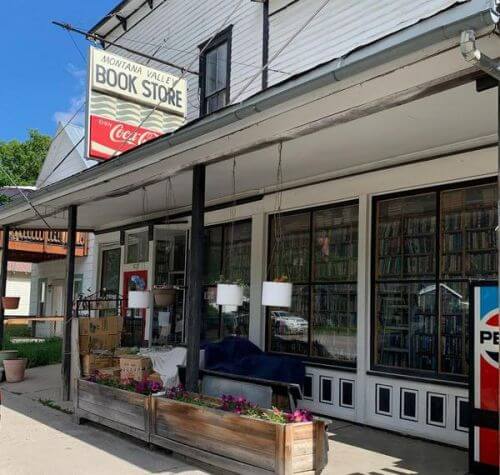 Just an old timey bookstore in called Montana Valley Book Store that a readers sister visited.  I love the old pepsi machine.  Just seeing that picture makes me feel like I am in the 80s.  It boasts over 100,000 books and is located in Alberton, MT.  Thanks JM!
Reader Mailbag
Order of Books » Newsletter » July 2022 Newsletter