November 2020 Newsletter
Welcome to November! For those who were able to celebrate it, I hope you had a safe and happy Halloween.
Things were a bit different for me this year. I live in a city with practically no cases so Halloween still took place albeit with precautions.
Unlike last year where I dressed up as a giant bottle of Fireball Whiskey and handed out fireball jello shots to the adults – this year I dressed up as Hazel from Umbrella Academy, used tongs to hold the candy and chucked it from 6 feet away into peoples bags. Hey if it works it works.
Big thank you to everyone who contributed to the October mid-monthly newsletter question suggesting an audiobook for me to try. I've compiled the list and it will be in the November mid-month newsletter.
The majority of the responses suggested going with the narrator Scott Brick so I had decided to do that – then reader Charyle wrote a very convincing e-mail (which is reprinted below in the Audiobook Arena) telling me to read The Mullah's Storm. This is the first book in the Parsons & Gold series by Thomas W. Young.
Charyle was right on the money as I absolutely loved it. It worked out perfectly for running and I would completely lose myself in the book. I've started listening to it beyond just running as well – when the kitchen needs a big clean, or I'm going for a walk or I just have 10 minutes to kill and my Kindle isn't handy.
Already finished it and started the 2nd book in that series. I'm a completionist by nature so I will likely listen to that entire series before going with anything else.
Big thanks to everyone!
I've also read the first two books in the Amos Decker series now and really enjoying it. Excellent books and it's good to read David Baldacci again as he used to be one of my favourites.
I took a break from that series to read The Sentinel, the latest Jack Reacher novel. Prior to its release, I couldn't help but see quite a few negative reviews written by people whose sole goal appeared to be to write a negative review and hate on it. I decided to prioritize it so I could make my mind up for myself.
Some of the negativity I read was so silly. I saw one reviewer complaining that "Reacher now has a smartphone". Someone forces him to take a burner phone just to receive a couple of texts. It's not like he half the book is Reacher playing Candy Crush and uploading pictures of his dinner to Instagram!
I'll admit I went into it rather skeptical; I've read a few books by Andrew Child/Grant and haven't been impressed. I've also no idea just how much influence he has on the book but I have to say I was pleasantly surprised.
There's one major notable change to it which is that Reacher has a smart mouth – something he really didn't have as much in previous books. I could see people hating that – but I sort of dig it. After 24 full-length novels, I think it's nice to see the evolution of the character in this 25th novel. There were certainly a few books in the series where I felt it was stale.
So overall I'm happy with the change. It's something different and I think may just breathe new life into the series as long as Andrew reins it in a little bit. Also based on the last book, Lee Child seem to has an obsession with Russians that I hope they veer away from.
October was quite the month. Got into audiobooks. New Reacher novel. And I bought a hot tub! Well we bought it back on July on our anniversary but it didn't arrive until just 2 weeks ago.
It was a purchase we have flirted with for many years and I finally pulled the trigger on it after spending a week at a cottage in July where we had a hot tub. In this day and age where computer, phone and tablet screens rule all – I noticed it was a great way to spend time with the family just talking without those distractions.
Plus let's be honest – there's nothing better than finishing a hard day of work in a hot tub with a cold beer and reading the latest Reacher novel. I just wish Kindles were voice activated – it gets quite chilly turning pages with my hands in zero degree weather!
That's it for me. Enjoy the rest of the newsletter. I'll be back mid-November!
Each month we give away 5 $25 Amazon gift certificates to random subscribers.
To win all you have to do is be a subscriber. Nothing more! When we go to hit "Publish" we take a list of all of our subscribers, throw them into a random draw and those are the winners.
Our winners this month are:
Tom from Tempe, AZ
Sandra from North Hollywood, CA
Debbie (Location unknown; e-mail starts with poolp)
Jane from Glen Allen, VA
Porgy from Saranac Lake, NY
All of you have been e-mailed. If you don't see anything, check your junk folder or contact me.
Graeme
OrderOfBooks.com
Book Recommendations:
In this section I give 4-5 random book recommendations. They can be old books, they can be new. But either way – I recommend you read them if the type of genre they are in appeals to you. Feel free to e-mail suggestions to site@orderofbooks.com as many of the suggestions each month are from our readers. If you wish to add a description for the book around the same size as the ones below that'd be great too! I should note we also have a huge backlog of recommendations so if you don't see one that you recommended then don't worry – it'll show up eventually!
Hangman's Daughter Series by Oliver Potzsch
This series was recommended by Melanie who said she finds the books engaging with great writing. The novels were originally written in German and translated to English and there are currently 7 novels in the series.
They fall under the Historical Mystery Fiction tag and take place in the 17th century in Germany. The first novel features – as the title suggests – the daughter of a hangman during a period of apparent witchcraft mania.
If you're a historical fiction fan, be sure to check it out.
Joe Gunther Series by Archer Mayor
One thing I know everyone loves is those book series that take place in a particular location. The Joe Pickett novels for example. The Joe Gunther series is similar and takes place in Vermont.
This series began back in 1988 and is still going strong today. The first book features Lt. Joe Gunther who works for the police force in Vermont. It's a small area where a decade can pass by without a murder with ease.
Yet things have changed dramatically with a mysterious man in a ski-mask seemingly killing off citizens of the town. Well worth checking out and a book series that gets positive reviews all the way through.
See our Archer Mayor page for more details. Thanks to Julia for this one!
Andreas Kaldis series by Jeffrey Siger
Another "location based" series. The Andreas Kaldis series is written by Jeffrey Siger and takes place in Greece.
Jeffrey writes thriller novels that explore the issues of Greek society and are great if you want to "transport" to another country mentally.
Jeff lives in Greece so you know you'll get that realistic feel to the country and the locations mentioned. One of the novels was also a nominee in the Lefty awards for "best mystery set anywhere else in the world". Thanks to Bill for mentioning this series to me.
Check out this great series.
Silver Bear Series by Derek Haas
The Silver Bear series – which originally began I believe as a trilogy – is an excellent series about an assassin called Columbus.
I haven't read beyond the original trio of books yet however I remember really liking this series when it came out 2008-2009.
Sherryl was the one that e-mailed about it stating:
"Hi ….i just finished reading Derek Haas's first 3 books as a trilogy and could not put it down. The 3 books came together (the silver bear, the hunt for the bear & dark men) The book itself is titled The Silver Bear Trilogy. It is about the life of an assassin written in the 1st person".
See our Derek Haas page for more details.
Dead on Arrival by Matt Richtel
Pulitzer Prize winning journalist Matt Richtel has written numerous novels over the years including the Nat Idle series. The book Dead on Arrival really stood out for reader Jacki though, who wrote:
.
"I just got finished reading a book I had bought last October and evidently forgotten about until now. It's called Dead on Arrival, by Matt Richtel. Wow, what a book! Sure kept me on my toes and up late at night reading. I had all kind of theories in my head as I was reading through all the twists and things happening. All I can say is this book is definitely worth checking into and reading!"
Lisa Gardner described it as "Michael Crichton meets Stephen King". It's about a plane that lands in a remote ski town in Colorado. While the plane was in the air, everyone on land has apparently died.
I should note that I haven't read this book myself, and reviews seem to be mixed with the general consensus that it starts off great but fades in the second half. I always think it's good to know that going in as it helps lower expectations. It's also possible from reading reviews that a lot of people went in over-hyped for this one and that often leads to disappointment.
For more details check out our Matt Richtel page.
November 2020 Book Of The Month
The Law of Innocence by Michael Connelly
Most of you will know that I spent the majority of this year going through the Harry Bosch universe from the beginning – so you better believe I'm counting the days until the 6th novel in the Lincoln lawyer series by Michael Connelly.
It won't surprise you to know that Connelly is now on my "blindly buy" list. I've had this one pre-ordered for a couple of months now and have no idea what it's about. All I know is it will feature Mickey Haller and it'll be great!
It looks like Mickey is sweating here as he has to defend himself against murder charges. The book opens with Mickey getting pulled over by police who discover that there is a dead body in his trunk.
Mickey can't make bail and has to prepare his defense from inside a jail cell. Of course he has Harry Bosch to help him investigate on the outside.
I'm excited for this one. November 10th can't get here soon enough.
10 More Notable Books Releasing in November
New Author Spotlight: Samantha Downing
This month we are featuring Samantha Downing.
Samantha hails from probably my favourite city in the entire USA – New Orleans.
Samantha tried for years working on books and finally was published with the novel My Lovely Wife which was nominated for an Edgar Award.
it was a very well received book and is a combination of dark comedy and psychological thriller. Amazon Studios have actually acquired the film rights to it.
Samantha wrote her second novel, Started It, the following year which received a lot of praise as well except the ending is generally described as a "let down".
Either way – My Lovely Wife is certainly worth reading! Check our Samantha Downing page to read a description of the book
Audiobook Arena
By Charlye
I promise you Graeme! Start your audio experience with this series of books and you will understand why people get hooked on them
The Mullah's Storm
Thomas W. Young
Narrated by Scott Brick
Less than 5 minutes into the book, the non stop action starts when an Air Force plane carrying a Taliban prisoner is shot down in a storm over the Hindu Kush. Narrator Scott Brick accurately captures all the dialects. Where he shines is his portrayal of the characters. Making the irascible Navigator Michael Parsons with his "this is really messed up, we're all gonna die" attitude, a truly likeable guy while keeping the level headed, positive thinking Interpreter Sophia Gold equally as likeable.. Two warriors. One male. One female. Neither are super heros. None of the action contrived. Just two people without much hope of rescue, surrounded by the enemy, struggling for survival in a mountain blizzard far away from home.
The Mullah's Storm is the perfect result of an extremely well written book being read by a highly talented Narrator.
Trust me, Graeme, I've been reading Order of Books since you first put it together. I'm familiar with some of your likes and dislikes in reading material. Start with this book in the Thomas W. Young "Parsons and Gold" series and you will be a fan of audio books.
(Our Thomas Young page)
---
Written by Connie
I had to drive a long distance by myself last year through miles without any radio or phone signal. Since I hate driving anyway, I was very anxious about the situation. At the last minute a friend recommended I get an audio book. I made a quick stop before leaving town, and quickly grabbed one at the local bookstore. I bought the audio book of "Killers Of The Flower Moon" by David Grann. It turned out to be such a fabulous true mystery story that I didn't want to stop driving. There are 8 or 9 discs so lots of material. 18 months later, I still think about this book and wonder why I never learned about these terrible murders before this book. Highly recommend it.
Written by Corinne
Audiobooks for a first timer:
-The Martian by Andy Weir. Especially if you've seen the movie and loved it. As a bonus, the narrator even sounds a little like Matt Damon.
-The Guernsey Literary and Potato Peel Pie Society by Mary Ann Shaffer and Annie Barrows. The small island of Guernsey during WWII, told through a series of letters to/from a book writer after the war.
You and I have different standard genres we enjoy and neither of these books fit into either one, but I would recommend them to anyone wanting to try audiobooks for the first time. If I read your genre I could recommend more but I read sci-fi and fantasy mostly!
Picture of the Month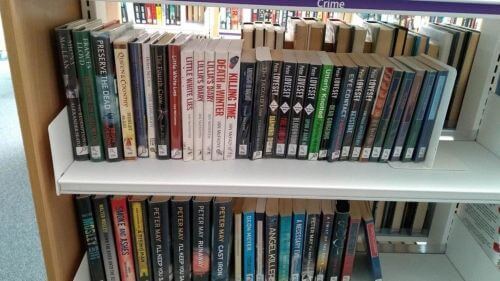 I know we have many librarians who subscribe to the newsletter – Anne-Marie sent this one in calling it a "librarians nightmare" – all of the books rearranged by the cleaners based on the size of the books!
.
Send in your own to site@orderofbooks.com or by replying!
Images, jokes, etc. We'll take it all!
Your Thoughts:
Last month I asked you if you could write one book in a series or work with an author – what series or author would it be. The responses are below.
This month I am asking: what authors would you miss the most if they stopped writing? Or what book series do you never want to end?
That one was suggested by Janet and I thought it was a fitting time to suggest it. We had the passing of M.C. Beaton along with many other authors in the last year. Lee Child is of course retiring too – although the Reacher books will live on.
It's a very interesting question. I've thought a lot about it since Janet posed it. I think for me the two book series would be Jack Reacher and Mitch Rapp My main reason for that is because I got into both book series very early in their lifeline so I've became accustomed to a new book every year featuring them. I'd be lost without those books.
In regard to authors – Blake Crouch for sure. He just has an incredible mind and is very creative. He's one of those authors that has me checking on a monthly basis just to see if he has anything announced. Stephen Leather would be another. He is one of those authors where I finish a book thoroughly entertained and satisfied.
What about you? What authors would you miss the most? Or what book series do you never want to end?
And hey – after you've finished e-mailing me? Take a minute to e-mail that author and thank them for the work that they do entertaining you. Heck you can even mention your reasoning for e-mailing – that you were posed this question in the newsletter and answered with their name. I'm sure they would really love hearing that.
E-mail us your feedback to site@OrderOfBooks.com or just reply to this e-mail, and we'll pick the best comments and feature it in next months newsletter. Five people will also randomly win a $25 gift certificate to Amazon.
Reader Mailbag:
Order of Books » Newsletter »