November 2022 Newsletter
Hi everyone and welcome to November!
Thank you to everyone who shared their stories for the reader mailbag this month regarding what got you started reading. Some incredible memories were shared, and it was a joy to read them all.
A quick note, unfortunately, there will be no mid-month newsletter in November! Hopefully, I can get back to those in December. Something just keeps popping up. I mentioned a couple of months ago that I had stomach pains and it ended up being my gallbladder. Well, I have the surgery for that finally scheduled for November 16th. I'll have to take it easy for a little bit after that I expect, so won't be releasing a mid-month newsletter as that always results in a lot of e-mails to respond to.
We rented a cottage for a weekend last month.  It's funny the way reading is sometimes.  I mentioned that when we spent the week at the cottage in August, I discovered the author Sarah Alderson and read three of her books while there. Well going back to the same cottage for the weekend, it felt fitting to read more Sarah Alderson!
I read The Stalker, a thriller about a newlywed couple on a remote island in Scotland. They're meant to have the whole island to themselves but….it appears someone else is on the island with them.
I enjoyed the book except for the big twist. I won't say what it is – and I don't think I'm spoiling anything by saying that there was a twist. Some of these books actually print that on the front cover these days!
The twist made me feel cheated somewhat as it felt like the author completely misrepresented things. It's as if for 70% of the book, you were told again and again that the apple is an apple. Then the twist happens and it's "surprise! The apple is actually a banana!" The follow-up chapters redeemed it somewhat but I felt like the author led me astray deliberately. I did enjoy it despite that and felt the author did a great job of capturing that creepy island vibe.
I also read Friends Like These by Sarah. This was a great thriller. Lizzie finds her old co-worker Becca on Facebook, who everyone at work hated and who left work after an accident, and no one ever heard of her again. She's had a few drinks, and attempts to write a nasty message to her friend mocking Becca, but sends it to Becca instead. Becca appears to be a tad crazy, and things spiral out of control from there.
I really liked this one. It had another big twist to it similar to The Stalker – but this one made sense. Here's what makes a big twist great; when you are misled through the book, the twist occurs, but you realize it was obvious all along if you were paying attention. Then you can look back through the book and think "A-ha!". That's what this book had, which the other was unfortunately lacking.
Also, a heads up that both novels had some violence involving cats being hurt as I know that will put some people off.
I read the new Mitch Rapp book, Oath of Loyalty.  Another incredible book in that series. Kyle has really captured the magic of Vince in getting you emotionally invested in the book, and frustrated at the politicians who are all against Rapp.
I then went through a period of not reading at all. I was up in Toronto for a week to meet up with the programmer of the new website (which we believe will be launched before December). Then while I was up there, one of my cats ended up having issues with its bladder.
That's now been an ongoing issue for the last two weeks, resulting in surgery, vet bills reminiscent of the American health care system, and frequent trips between vets as he had to be under vet supervision for 10 days, but neither the vet nor the vet hospital were open 24 hours. So we'd have to pick him up from one in the morning, take him to the other, and then vice versa at night.
He's back home now and hopefully on the mend but requires constant supervision. I can read in many situations but I find that combination of emotion and stress makes it a bit hard to lose myself in a book.
I've just got back into reading, with the newest Jack Reacher novel, No Plan B.  It's one of those books that start with multiple storylines that will eventually overlap.  The storylines are generally vague and mysterious to begin with, and you learn more as you read.
It's always an interesting writing style as while it can be frustrating at times, I find it keeps you hooked and you want to keep reading just to unravel them.
I finished listening to Look Closer by David Ellis, which I'll mention in the recommendations section.  I'm listening to the short story horror collection Walking Alone by Bentley Little right now, and loving it!  If you're a fan of short story horror, I highly recommend it.  I'm almost finished with it and it's motivating me to listen to more short story collections as I forgot how fun they can be.  So many of them leave a lasting impression that a full-length novel can't quite match.
That one was available via Audible Plus as well, which is nice as I didn't have to spend an audible credit on it.  Bentley has another short story collection called The Collection.  Annoyingly, it is split into two volumes on Audible meaning two credits), plus it is missing a story due to recording purposes.  So I just bought the ebook instead.
I'm almost finished Walking Alone and there are a few other Bentley books available via Audible Plus so I might listen to one of them.
I finished Season 5 of the Bosch TV show.  Haven't had much time for TV lately, but hopefully, get back to that soon.  Speaking of – I can't remember if a reader recommended this to me or not, but t-shirts were being made to support the Book Industry Charitable Foundation, and the t-shirt was a Bosch t-shirt! So of course I had to buy it: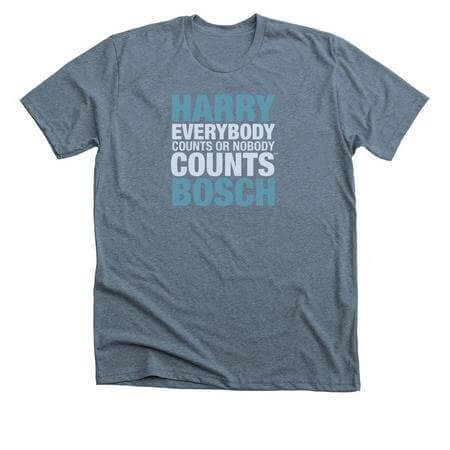 I really need to start purchasing more book related clothing and merchandise. I think I'll do some idea shopping this week for my wish list for Santa.
I mentioned last month that I was a bit conflicted in regard to the DCI Logan series by J.D. Kirk.  The problem with this Scottish crime fiction series was that I listened to the first book in audible and really felt the narrator added a lot to the enjoyment factor.  However, the majority of the series was available "free" to me on Kindle Unlimited.  So it was a bit hard to justify purchasing the books at about $16 a pop via audio when they were available at no cost other than my monthly subscription fee.
I ended up having a bit of an epiphany regarding that.  First, I changed my audible plan to premium plus.  This means each credit costs me about $14 instead of $17.
Most audiobooks I listen to are 10-13 hours long so I'm paying just over $1 for an hour of entertainment.  Compare that to going to the movies.  Or a concert. Or a sports event.
It's all relative.  it just depends on what you are relating it to.  Compared to $0 on Kindle Unlimited?  Very hard to justify buying them.  Compared to $100 an hour for a concert?  It's the steal of all steals!
Each month we give away 5 $25 Amazon gift certificates to random subscribers. 
To win all you have to do is be a subscriber. Nothing more! When we go to hit "Publish" we take a list of all of our subscribers, throw them into a random draw and those are the winners.
Our winners this month are:
Aaron Y. from Jackson, MI
Bob W. from Spring, TX
Martha from Columbia, TN
Gail R. from Las Vegas, NV
Doris W. from Norman, OK
All of you have been e-mailed. If you don't see anything, check your junk folder or contact me.
Quotes of the Month
"Reading gives us somewhere to go when we have to stay where we are"
– Mason Cooley (Thanks Ray!)
"So shines a good deed in a weary world."
– Willy Wonka/Roald Dahl — from the Gene Wilder version of the movie
"The soft bigotry of no expectations"
– Mary Anastasia O'Grady, WSJ
"Second star to the right and straight on 'til morning."
– Peter Pan/James Barrie
(Last 3 from Diane. Thanks Diane!)
Book Recommendations
In this section, I give 3-5 random book recommendations. They can be old books, they can be new. But either way – I recommend you read them if the type of genre they are in appeals to you. Feel free to e-mail suggestions to site@orderofbooks.com as many of the suggestions each month are from our readers. If you wish to add a description for the book around the same size as the ones below that'd be great too!  I should note we also have a huge backlog of recommendations so if you don't see one that you recommended then don't worry – it'll show up eventually!
Look Closer by David Ellis
I feel like the highest compliment you can give an author who you have read for the first time, is immediately going out and purchasing the rest of their books.
That's exactly what I did after listening to Look Closer by David Ellis. This is an excellent standalone thriller about a murder on Halloween, and then the events that precede it. This book had so many twists and turns and was such an enjoyable book. If you're a thriller fan, this is highly recommended.
Big thanks to Doug who has recommended Ellis to me in the past. He e-mailed "I wanted to give you a quick note to let you know about a new book that I just LOVED.  I just finished reading "Look Closer" by David Ellis, and it was a great thriller, reminding me so much of early Harlan Coben and Linwood Barclay books.  The twists, turns and misdirection contributed to a fabulous plot.  It was the first five star book I have read all year (but I am a hard grader)."
I love that sort of passion and I went out and purchased the book that day. Not disappointed!
Slough House Series by Mick Herron
I recommended this series back in March 2021, but am always happy to revisit recommendations. Ed sent in a long recommendation for this which was much appreciated. I'll just paste the entire e-mail below:
"Hello Graeme, I thought I would write and tell you how much I enjoyed reading all eight of the Slough House books by Mick Herron. I must say that 40 years ago, when I first started listening to audiobooks while driving 62 miles to work, most books were by English publishers and, therefore, had a crisp British lilt to their voices."
"I can't get enough of that engaging sound, whether it is from Inspector Rebus by Ian Rankling, Cormoran Strike by JK Rowling, Ken Follett, or many other great UK writers. But I digress; the Slough House books are some of the best British dialogue I have read in years. I hope I can do them justice because the banter between the MI5 misprision agents reassigned to Slough House and its supervisor Jackson Lamb is some of the best writing ever."
"That may sound strong, but that is how I rate it. Lamb is a contentious old spy who himself has been sent to Slough House to rid MI5 of his "cold war" spy ways.
He has a "Secretary," C. Standish, an old hand in the spy game herself who takes no guff from Lamb."
"Their interactions are so dry and full of sarcasm I had to read them over a couple of times to bask in the humor. The misprision agent's characters are so well developed and assigned such individual personalities that you can't help but like them and root for them when confronted with danger. The books/stories are fully developed and intriguing, with deep in-house MI5 chicanery."
"The contemporary setting makes the actual spycraft more pertinent and interesting. I can't say enough about these wonderful books' and the incredibly high quality of writing and storytelling."
Anderson & Costello Series by Caro Ramsay
This is a Scottish Crime fiction series written by Caro Ramsay. The first novel, Absolution, was a CWA New Blood Dagger shortlisted novel. Jerry wrote in to recommend it, stating that he binged it and "I would order them two at a time, and reorder when one was finished. I do not regret a single moment. "
Absolution is the first book in the Anderson and Costello series. It's twenty years since police detective Alan McAlpine has set foot in Patrickhill Station – and more than twenty years since he fell forever in love with the mute, faceless woman he called Anna as she lay dying in Glasgow's Western Infirmary.
Daily he'd watched over her, and they had begun to communicate with each other, she by moving her wounded fingers. Her fingers could not tell the sad, unseasoned police cadet her name, however, or name for him the father of her newborn baby girl or identify the assailants who had flung the acid in her once incomparably beautiful face.
Or tell him how she'd smuggled a cache of uncut diamonds into Scotland. Now McAlpine is back in Patrickhill, where he's been summoned to head up the investigation of a disturbing murder case. Two women – their arms outstretched, their legs together and feet crossed at the ankle – have already died at the hands of a man the press has tagged the Crucifixion Killer. With crimes in the present continually detouring both McAlpine and the elusive killer he pursues into an unredeemed past, the mystery in this steely, piercing psychological thriller is as gripping as its twists are surprising. And absolution proves to be extreme.
Lucas Page Series by Robert Pobi
This is currently a three book series. The second novel won the 2020 Best Foreign Crime Novel award at the Cognac Crime Film Festival.
Priscilla wrote in to recommend this series, stating: "I switch between audio books and ebooks and would like to recommend Robert Pobi's 3 book series with Dr. Lucas Page starting with City of Windows, then Under Pressure, and finishing with Do No Harm. Can't decide which is best – the prose style, the plot or the characters.
The three novels were audio format for me but would recommend them in print (ebook) form for this reason: his cultural and metaphorical references are so interesting and brilliant, I wished I could have researched them. "
November 2022 Book Of The Month
Desert Star by Michael Connelly is our November 2022 Book of the Month.
The latest Michael Connelly novel, Desert Star, is released on November 8th, 2022.
It's another book featuring both Renee Ballard and Harry Bosch. This one will see them go after a criminal who Bosch refers to as his "white whale" – a criminal that murdered an entire family.
I just finished binging this series earlier this year, and I miss it greatly. Really looking forward to entering the wonderful world of Harry Bosch again. I've been slowly chipping away at the TV show (just finished Season 5) as I am hesitant for it to end!
10 More Notable Books Releasing November 1-30
November Charities
While I appreciate all offers of donations to show your appreciation for the site and newsletter, I'd much rather you do that by supporting some great causes.  Each month I pick a few select charities broken down by our most popular countries or topics that you can support instead. Thanks!
Marie Curie UK
St. Jude Children's Research Hospital
Project Linus
Toys for Tots
I rotate this list each month. Feel free to suggest a favourite charity – hit reply.
Your Thoughts!
Last month I asked what got you or your family into reading. The replies are later in the newsletter.
This month's question is:
What was the last book you read, and how was it?
A nice and simple one. I'll print it in the December newsletter, and maybe people can get some ideas for holiday gifts to give or receive!
I, of course, write about everything I have read in the opening. I would say that if you have someone who is a thriller fan in your life, be sure to get them Look Closer by David Ellis. I really enjoyed that one.
I also started reading The '86 Fix by Keith A. Pearson but then life got in the way. From the few chapters I read, it seemed decent. Time travel style book. Will go back to that after I finish Reacher.
E-mail us your feedback to site@OrderOfBooks.com  or just reply to this e-mail, and we'll pick the best comments and feature it in next months newsletter.  Five people will also randomly win a $25 gift certificate to Amazon.
Reader Mailbag!
Order of Books » Newsletter » November 2022 Newsletter