April 2022 Newsletter
Hi everyone and welcome to April!
A quick note that I am actually away this weekend, so I won't be able to respond to e-mails until likely next week.
My mum and 4-year-old nephew will also be visiting from Scotland, so e-mail communication will be sporadic at best for the first half of the month. First time I've seen them since December 2019 so very excited about that.
I was reading Dead Eye, the 4th novel in the Gray Man series by Mark Greaney, as I am in the middle of re-reading that series. That book is excellent, and I ended up continuing on to read the 5th novel, Back Blast.
The first five books in the series are really all tied together in their own little quintet, so it just felt right to wrap those up before taking a break.
Reading those reminded me of why it is my favourite spy thriller series. Not just the action or anything like that; but there is a lot of humour, a lot of twists and turns and it really makes you react emotionally to certain characters.
I'm now reading The Blackhouse by Peter May, the first novel in The Lewis Trilogy. This one has been on my "to read" list forever and I know many of you will be stunned that I haven't read it yet. Loving it so far.
I listened to Pretty Girls by Karin Slaughter. This was a bit of an undertaking at 20 hours but the narrator spoke quite slow, so I was able to move the speed up to 1.2x and cut the length down a bit.
I thoroughly enjoyed this one. I really got immersed in it. I actually logged my longest run of the year so far – a 16k – based primarily on listening to it. I was only planning to run a 12k as I am working myself up to weekly half-marathons slowly as the weather gets better.
The book was at a big scene though and I just couldn't stop listening! So I just kept running and running until the scene was over. That was pretty cool.
One issue with it though was that it actually ended around the 17:30 mark, and then there was a preview for another book by Karin after. That really irked me as I was in the middle of a run at the time and I had to mess around with it. Ending that book, closed the library app, then opened up Audible and downloaded the next book I wanted to read. All while running. Quite frustrating.
I've started listening to The Night Shift by Alex Finlay. I listened to their first novel, Every Last Fear, last year and really enjoyed it. This one is a thriller covering two murders in a small town that took place 15 years apart.
Speaking of – I've never listened to a book THEN watched the movie or TV show. I always read the books instead. However, I am going to break that cherry.
Dale e-mailed me to let me know that the "best audio book he has ever listened to" is being released as a movie in July. That is Where The Crawdads Sing by Delia Owens.
He sold me on the audiobook, mentioning the southern soft twang, etc and I know exactly what he means. If I had read Razorblade Tears by S.A. Cosby as opposed to listening to it, I wouldn't have enjoyed it as much as I did. As it is I am ALWAYS recommending it to people who listen to audiobooks.
Each month we give away 5 $25 Amazon gift certificates to random subscribers.
To win all you have to do is be a subscriber. Nothing more! When we go to hit "Publish" we take a list of all of our subscribers, throw them into a random draw and those are the winners.
Our winners this month are:
Gene from Sevierville, TN
Sandra D. from Toronto, ON
Rosalie G. from Cincinnati, OH
Lynn S. from Land O'Lakes, FL
Vikki B. from Croydon, Australia
All of you have been e-mailed. If you don't see anything, check your junk folder or contact me.
Graeme
OrderOfBooks.com
Quote of the Month
"Reading is going somewhere without ever taking a train or ship, an unveiling of new incredible worlds. It's living a life you weren't born into and a chance to see something colored by someone else's perspective. It's learning without having to face consequences of failures, and how best to succeed."
– From The Last Bookshop in London by Madeline Martin.
Submitted by Patti and Jan. Submit your own quotes; just hit reply.
Book Recommendations
In this section, I give 5 random book recommendations. They can be old books, they can be new. But either way – I recommend you read them if the type of genre they are in appeals to you. Feel free to e-mail suggestions to site@orderofbooks.com as many of the suggestions each month are from our readers. If you wish to add a description for the book around the same size as the ones below that'd be great too! I should note we also have a huge backlog of recommendations so if you don't see one that you recommended then don't worry – it'll show up eventually!
Consortium Rebellion Series by Jessie Mihalik
This trilogy was recommended by Kris, who wrote:
"Absolutely cracking good sci-fi with a great dose of thriller and family dysfunction as well! Highly, highly recommended."
The first novel in the series is Polaris Rising. It takes place in the future, where a notorious outlaw soldier and a space princess team up to help her escape after being imprisoned.
Brittany Mystery Series by Jean-Luc Bannalec
Jean-Luc Bannalec is a German author who wrotes this mystery series featuring Commissaire Georges Dupin.
There are currently 6 books in the series, with the 7th book releasing later this month. A great time to binge it! Cita recommended it, stating: "A very interesting detective, Georges Dupin, beautiful nature writing about the sea and coastline in Brittany, and some delicious meals. Not much missing in this series."
Death in Brittany is the first book in the series and the first published case of Commissaire Georges Dupin. He is a cantankerous man who enjoys a fine cup of coffee, but one day he is taking from his coffee to the scene of a curious murder. The victim is a 91-year old hotelier named Pierre and the small town is in shock. It is the height of tourist season in Pont-Aven and the murder is not good for business. Dupin has a job to do though and he'll look to solve the case by delving into the life of the victim. There he will uncover a web of secrecy that wouldn't seem possible for a small village like this.
This psychological drama novel is the only book written by Canadian Author Ashley Audrain thus far. The Push was a Good Morning America Book Club pick and has been very well received.
It has also been recommended by Kristin Hannah, Lisa Jewell, and our reader Mark K, who wrote:
"I think fans of Peter Swanson would like it. It tells the story of a woman who starts a family but has difficulty bonding with her new daughter. The issue seems to be her but is it really?, as we learn more about the habits of this child. The family history is explored and the relationship with her husband from their first meeting then on to marriage with all of its ups, downs and secrets ."
"The arrival of a son improves the relationship but is the daughter happy about this….or not. I thought at first The Push dealt with childbirth but it turns out it is something much more sinister. The story builds after an incident leading to an ending that really leaves you thinking. A well written page turner."
Pat Conroy was an author that sadly passed away in 2016. He had written books that were adapted into Academy Award-nominated films like The Prince of Tides and The Great Santini.
While fiction, his novels are generally based on real-life experiences. Don wrote in last year to say that South of Broad is an excellent audio book. MaryKay also wrote in to recommend all of his books, such as Beach Music.
She said that her favourite is South of Broad and "His descriptions of both Charleston and relationships are so powerful I hold them in my heart."
The Blue Edge of Midnight by Jonathon King
This was the debut novel by King and it's a great story by the thriller writer.
The first book in the Max Freeman mystery series, it won an Edgar Award and is very well written.
Freeman is a tormented ex-cop who left behind the Philadelphia PD and went to the Florida Everglades, for a life in exile. A grisly murder occurs however and Freeman, who becomes the main suspect, attempts to find the real murderer.
April 2022 Book Of The Month (1st-15th)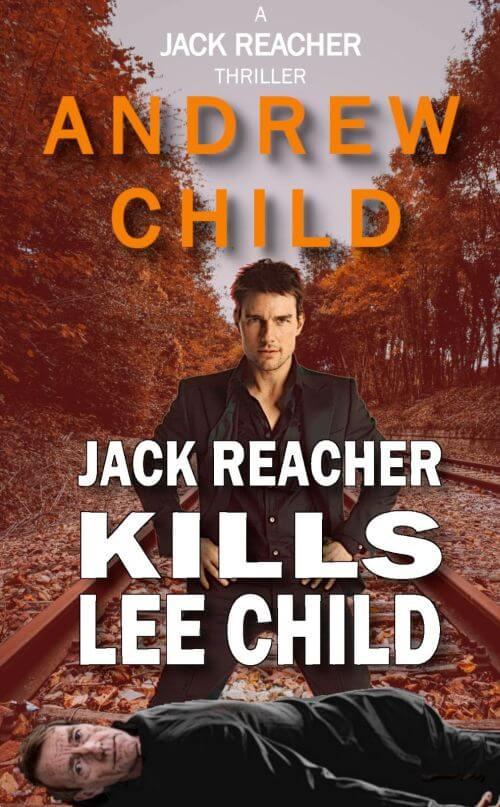 Lee Child handed over the reins of the Jack Reacher series to his brother Andrew Child, and Andrew is taking the series in an interesting new direction with this new novella.
Releasing today, April 1st, Jack Reacher realizes that he has an internal narrator inside his head which is causing him headaches and making him feel like a fool. This internal narrator often makes the usually chatty Jack Reacher say nothing.
That narrator is the author Lee Child, and to stop his headaches, Reacher has to hunt down Lee Child and eliminate him, by hitchhiking on a plane to England. He, of course, has romantic relations with the female flight attendant on the way over.
As is standard for all Jack Reacher novels, Gilbert Gottfried narrates the Audible version of this novella.
In related news, Andrew Child's next novella has been announced. "Jack Reacher kills the owner of OrderOfBooks.com for attempting to pull an April Fool's prank".
10 More Notable Books Releasing Apr 1-15
April Charities
While I appreciate all offers of donations to show your appreciation for the site and newsletter, I'd much rather you do that by supporting some great causes. Each month I pick a few select charities broken down by our most popular countries or topics that you can support instead. Thanks!
Animal Rescue: Harmony Fund
Australia: Bundjalung Community Flood Relief
Books: Pajama Program
Foster Care: Day 1 Bags
I rotate this list each month. Feel free to suggest a favourite charity – hit reply.
Audiobook Arena
We have a lot of audiobook fans and invite book listeners to write their own column every month, or just write in a few audiobook thoughts. Want to discuss audiobooks or a favourite narrator? Hit reply and write and we'll feature your column in a future newsletter!
By Becky
I'm an audiobook listener only. I just finished "The Judges List" by John Grisham. I listened to the first 3 in the series and enjoyed them. I loved the story but was disappointed in the quality of the audiobook. There were many places where I could tell it had been edited. I appreciate the edit, but felt it was not done seamlessly. Strange for such a best selling author.
After Judge's List I'm having trouble finding my next book. I've started several. I usually give it an hour and then move on. The story has to grab me and the narrator has to fit the characters.
I started Scott Turow Kindle County series awhile back and decided to listen to book 2. It just hasn't grabbed me and hour plus in. I will probably try and hour more and then punt. If I'm not anxious to know what happens next then I'm done.
Thank you for the recommendations. Pieces could be next!! Thankful it's on Hoopla! And it's a new month!!
——————–
By Nancy
Best of the best audio books – Any audio books written by C. J. Box, David Rosenfelt, Harlan Coban, Lisa Scottoline and Linda Castillo. These make any commute tolerable and worth anticipating.
——————-
By Connie
I don't listen to audio books, but I have read that Adrian McKinty's Sean Duffy series read by Gerald Doyle is terrific. As a fan of the Sean Duffy books, I might see if I can find an audio copy and take a listen. Anxiously awaiting the last 3 books in the series. Book 7 and 8 are completed and 9 is almost ready for editing. I guess they will be released one at a time after the 9th is complete.
Picture of the Month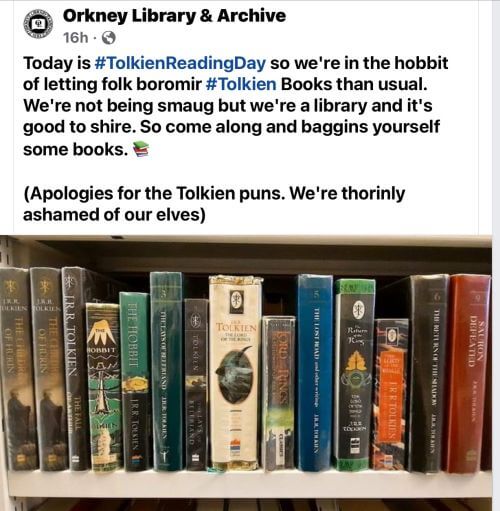 (Thanks Norma!)
Reader Mailbag
Order of Books » Newsletter »