OrderOfBooks April 2023 Newsletter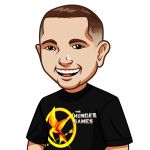 Hi everyone and welcome to April! There are no April Fool's jokes in this year's edition. Although I have added a new section called "A.I. The Author" where just for fun, I ask it to create plots intertwining book universes.
It was another weak showing for me on the reading front. This is a combination of the bad weather in Canada forcing me to run inside on the treadmill (where I watch TV as opposed to listening to books), and all of the ongoing work involved with the new site, Book Notification.
Things are going great with the site so far. The beta launch on January 1st saw us with 11,000 authors and we're already over the 17,000 mark. We've added key new features such as the "My Library" section, a much cleaner way to view multi-author series, and much more.
Right now it's still a lot of grunt work and heavy lifting in regard to adding authors to the site, but I'm beginning to see the end of the tunnel on that and we'll be able to focus more on new features soon which is exciting.
If you haven't signed up there yet, head on over to BookNotification.com. You can get notified of books by your favourite authors, track your reading lists, ratings, TBR, and much more.
I actually only read two full books in March and listened to a couple of others. First I read The 7 1/2 Deaths of Evelyn Hardcastle by Stuart Turton. I had been warned that this one was a bit "wordy" and that proved to be the case. Glad I read it as opposed to listening to it. It was also fairly complicated and I felt I would have gotten lost if I listened to it.
Overall, I generally enjoyed it. It was a great concept and executed quite well. I don't think it's quite deserving of all the critical acclaim it received, but I still thought it was decent.
The next book I next read A Good Girl's Guide to Murder by Holly Jackson. I mentioned in the last newsletter that my 15-year-old daughter, inspired by BookTok, has now got into reading. She's read a few books, and amusingly doesn't want me to read them. It's "her thing". I get it.
She read this book last month and then told me that I could read it as well. I was excited about that. It's a murder mystery, and I had fun going through the book and updating her periodically, letting her know who I thought the murderer was, etc.
However, I do need to rant here. It spoils a part of the book in relation to animal cruelty. If you're planning on reading the book – well I don't reveal who the killer is or anything – but I do spoil a part of the book. I'll bookend this section in bold.
—Rant & Spoilers for A Good Girl's Guide To Murder Begin—
This is a book targeted at young adults. For many teenagers, this is the first "adult" book they are ever going to read or one of the first. It's an introduction to the wonderful world of books, which will hopefully last a lifetime.
And the author, Holly Jackson, makes the trashy and stupid decision to kill a dog in the book. First – this was completely unnecessary to the plot. A character's dog is kidnapped, and she must destroy her laptop and USB drives to get the dog back. She does so. There. Now she can get the dog back. Instead, the dog drowns instead.
Give me a freaking break. Life is hard enough for teenagers. Now they're doing something which they feel pride in – reading a book – and you have to put them through such negative emotion? There are many adults out there who will refuse to read a book if a dog dies. Heck, there's an entire website dedicated to it.
I'm absolutely furious that the author made this decision as I guarantee there are numerous teenagers out there who are completely turned off reading due to this. I spent some time reading reviews after finishing the book and saw so many people upset by this incident.
It's fine to inflict emotion on readers and make them feel for the characters. But that is fine art. This? This was a trashy, nonsensical decision. Holly, you're a hack for including that in this book and I hope you make better decisions in the future.
—Rant & Spoilers for A Good Girl's Guide To Murder End—
There we go. Glad to get that off my chest. If you have any teenagers in your life who are getting into reading, steer them away from that novel.
I listened to Thicker Than Water by J.D. Kirk. This is the second novel in the DCI Jack Logan series by the Scottish author and takes place in Scotland.
First, I highly recommend listening to this series over reading it. The books are excellent, but the narrator Angus King does a phenomenal job and is one of those narrators who up the quality of the book.
I really enjoyed this one. The first book in the series I had listened to before and it was good, but you can tell Kirk really found his groove. I completely understand all fans of Inspector Gamache, and how they like to revisit Three Pines and the same cast of characters.
It's similar in this one. Just a lot more gritty, but with some great humour within it. If you're a fan of UK crime, be sure to check this series out. It was so good that although I have a couple of new audiobooks just purchased, I have moved on to the third one in this series instead.
I think that's about it for me. Like I said not much reading. Although to be honest, the Hardcastle book took me a while to go through. I think this month I'm going to focus on more "quick" reading books.
I did watch the movie Knock at the Cabin, based on the novel The Cabin At The End of the World by Paul Tremblay. A rare situation where I'd declare the movie better than the book. Thanks to a much better ending, and an incredible acting performance by Dave Bautista. The depth he shows is unreal, and he played that character to perfection.
And for those curious, TV-wise I've been watching Line of Duty, which is a UK cop show. Phenomenal. Highly recommended.
Each month we give away 5 $25 Amazon gift certificates to random subscribers. 
To win all you have to do is be a subscriber. Nothing more! When we go to hit "Publish" we take a list of all of our subscribers, throw them into a random draw and those are the winners.
Our winners this month are:
Jessica B. from Brooklyn, NY
Karen A. from Hudson, WI
Sue J. from Phoenix, AZ (email has 51 in it)
Sue from San Antonio, TX (email has arlm in it)
Sandra B. from Brooklyn, NY (email has bea in it)
(I sometimes make a note about the e-mail address if it's a common name/city and I don't want someone to think they won if they didn't)
All of you have been e-mailed. If you don't see anything, check your junk folder or contact me.
Quotes of the Month
"Beware the man of one book"

– Thomas Aquinas
"No iron can stab the heart with such force as a period put just at the right place."

– Isaac Babel
"Books worth reading once are worth reading twice; and what is most important of all, the masterpieces of literature are worth reading 1000 times."

– John Morley
Submit your own quotes; just hit reply. Book-related is great but happy to share non-book related too! Thanks to Betty Ross, Judith, and Peggy for this month.
Book Recommendations
In this section, I give 3-5 random book recommendations. They can be old books, or they can be new. But either way – I recommend you read them if the type of genre they are in appeals to you. Feel free to e-mail suggestions to site@orderofbooks.com as many of the suggestions each month are from our readers. If you wish to add a description for the book around the same size as the ones below that'd be great too! I should note we also have a huge backlog of recommendations so if you don't see one that you recommended then don't worry – it'll show up eventually!
The Lost Colony by Irina Shapiro
Phoenix wrote in with this recommendation and I love the enthusiasm! As soon as I read this e-mail, I looked the book up and downloaded it via Kindle Unlimited. I haven't read it yet but here's the exact e-mail Phoenix wrote:
"I couldn't wait to share this with you. It is extremely rare for me to find a book that I absolutely cannot put down. Well, I found one. OMG!!! Seriously, the only time I wasn't reading was when my Kindle ran out of battery and I had to put it on the charger.

The title is "The Lost Colony," by Irina Shapiro. Here's the premise: A group of hardy folks (10 men, 5 women) are to take part in a six-month reality show called "Jamestown." The group will live and work on an island, recreating the conditions faced by American colonists in the 17th century. They are given training in how to survive, hunting, fishing, growing crops, firing a musket, etc. There's a hefty prize – a cool million for the winter, $500k for second place, $250k for third place, and the other contestants will get $50k.

They are taken to the island in a seventeenth-century replica of a sailing ship. There are cameras all over the island, and a film crew will be on hand to film their every move, squabble, and hardship. There will be medical personnel on board the ship in case of emergencies. So, really, what could possibly go wrong?

They are brought ashore, there's a hearty feast before the contest begins the following morning. The women take one cabin, and the men split into two. The film crew goes back to the ship, and the contestants head for bed.

They get up the following morning to discover the ship is gone. No film crew. No medical personnel, and some of the supplies they were given have also disappeared.

They are alone."
She added that it is a MUST read and from the sounds of it, I have to agree. You can find The Lost Colony under the standalone novels section.
Great to have a non-fiction recommendation! This one is by Katy, who wrote:
"My favorite book I've read this year is Your Table Is Ready – Tales of a New York City Maître D' , by Michael Cecchi-Azzolina. Fascinating memoir by author who had a 35 year career working in the FOH (Front of House) in'fine dining' restaurants in New York City. Amazing anecdotes or working as a server, runner, captain, manager; training staff, what goes into starting a new restaurant , getting along with good as well as nasty customers as well as chefs, tipping, restaurnat critics, etc.! I didn't want it to end!"
This is a standalone historical fiction novel, recommended by Doris.
It takes place in Lincolnshire, in 1537. England is in religious turmoil, and with the death of her sister, 15-year-old Anne Askew has to take her place in a prearranged marriage.
Her new husband is abusive and she is determined to free herself from him and his family. However, this isn't the best era for a strong, independent woman.
This psychological thriller is written by Lucinda Berry, and recommended by Brenda, who wrote "Extremely disturbing. Grabs you quick and won't let go. So. Creepy.".
Despite being a big psychological thriller fan, I haven't read anything by Lucinda yet but have added her to my list. This story is of a couple who adopt a six-year-old as their own. However, she is not, as the book title says, the perfect child. Far from it. She is the perfect child to her adopted father, but pure evil to the mother.
April 2023 Book Of The Month
Dark Angel by John Sandford: Great news for John Sandford fans, as the second book in the Letty Davenport series comes out this month.
I knew quite a few Sandford fans who weren't sure about Letty as the main protagonist but ended up loving The Investigator.
In Dark Angel, which releases on April 11th, Letty has been tasked by the NSA and Department of Homeland Security to infiltrate a hacker group.
10 More Notable Books Releasing in April
And don't forget you can get updated on all the upcoming books by your favourite authors with your own personalized calendar at BookNotification.com.
April Charities
While I appreciate all offers of donations to show your appreciation for the site and newsletter, I'd much rather you do that by supporting some great causes.  Each month I pick a few select charities broken down by our most popular countries or topics that you can support instead.   Thanks!
Curious Learning
Food Sharing Project
Stollery Children's Hospital Fundraiser
Trans Lifeline
I rotate this list each month.  Feel free to suggest a favourite charity – hit reply.
A.I., The Author
In this section, I ask AI to create a book, intertwining popular book universes.
Dear AI, please write me the next novel in the "Inspector Gamache" series by Louise Penny. The story of this one revolves around the murder of Inspector Gamache. Jack Reacher must be the one to solve the case, and the murderer must be Harry Potter. Also, please throw in a "twist you'll never see coming". And just for kicks, involve Stephen King in some manner.
Title: "The Sorcerer's Vengeance"
In the sleepy village of Three Pines, Chief Inspector Armand Gamache is brutally murdered while investigating a mysterious string of incidents that have the locals on edge. Jack Reacher, the enigmatic drifter, happens to be passing through town when the murder occurs. Intrigued by the case and sensing that there's more to the story than meets the eye, Reacher takes it upon himself to solve the mystery and bring justice to the slain detective.
As Reacher delves deeper into the investigation, he uncovers a dark secret that connects the village to the world of magic. Harry Potter, now a troubled and vengeful adult, is revealed to be the murderer. Potter, who has been using his magical prowess to manipulate events in the village, is seeking retribution for a terrible wrong committed against him years ago, which he believes is linked to the seemingly idyllic community of Three Pines.
Reacher, undaunted by the magical elements of the case, relentlessly pursues the truth. Along the way, he encounters a mysterious character named Stephen King, who claims to be a writer researching his latest novel. King offers Reacher vital clues about Potter's whereabouts and motives. Reacher can't shake the feeling that there's something peculiar about King, but he decides to trust him for the time being.
In a thrilling climax, Reacher confronts Potter, who has grown more powerful and dangerous than ever. The two engage in a fierce battle that tests Reacher's physical and mental capabilities to their limits.
Just when it seems like Reacher is about to be defeated, the unexpected twist is revealed: Stephen King is, in fact, a powerful wizard who has been secretly aiding Reacher throughout the investigation. King had been keeping a close eye on Potter, anticipating his descent into darkness, and had chosen to intervene through Reacher, knowing he possessed the unique skills required to confront the magical menace.
With King's help, Reacher manages to disarm and subdue Potter. In a moment of clarity, Potter finally understands the consequences of his actions and the depth of his own pain. Reacher and King work together to bring Potter to justice, ensuring that he faces a trial within the magical community for his crimes.
In the aftermath of the dramatic showdown, Reacher learns that King's true identity is that of a guardian wizard, tasked with maintaining the balance between the magical and non-magical worlds. Grateful for Reacher's assistance in the case, King offers to share some of his knowledge of the magical realm with him.
The story ends with Reacher leaving Three Pines, having forged an unlikely bond with King and gained a deeper understanding of the interconnectedness between the world he knew and the hidden magical realm. As he departs, Reacher knows that his adventures have only just begun, and he is more prepared than ever to face the unknown.
"The Sorcerer's Vengeance" is a thrilling addition to the Inspector Gamache series that masterfully weaves together elements of mystery, action, and fantasy. Louise Penny's signature storytelling is enhanced by the surprising crossover of iconic characters from different literary worlds, making it a must-read for fans of both mystery and fantasy genres.
(Sounds like a must-read to me).
Picture of the Month: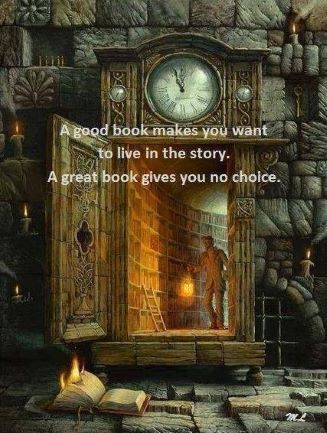 So very true. Submitted by Norma.
Send your own to site@orderofbooks.com or by replying!
Images, jokes, etc.  We'll take it all!
Your Thoughts
Last month I asked if you had read any recent adaptations of books, and what your thoughts were The replies are later in the newsletter.
This month I am asking:
"What were the first 'adult' books that you ever read?"
I was thinking about this due to my daughter now venturing into "adult" territory. While books by the likes of Holly Jackson may be classified as young adult, they're of a much more adult nature.
For me, it was John Grisham. I think I've told this story before but it was when I was visiting Canada when I was 13 years old. My parents had split up a few years prior and I remained in Scotland with my mum, while my dad moved to Canada.
At the time, I was much more interested in reading football magazines or books by children's author Enid Blyton. My dad had just finished reading The Client by Grisham and strongly encouraged me to read it.
I picked it up on a whim around bedtime, and the next thing you know it's 6 am and I'm just finishing it. Then we went to experience the movie together, which was a memory I'll always cherish.
That led to me reading every single book Grisham had ever written at that time – usually with similar sessions until 6 am.
What about you? What were the first "adult" books that you read?
E-mail us your feedback to site@OrderOfBooks.com  or just reply to this e-mail, and we'll pick the best comments and feature it in next month's newsletter.  Five people will also randomly win a $25 gift certificate to Amazon.
Reader Mailbag:
Order of Books » Newsletter »
2 Responses to "OrderOfBooks April 2023 Newsletter"