February 2021 Newsletter
Welcome to the February newsletter.
A quick hello to all new subscribers from The Morning Brew. It's a daily e-mail newsletter that keeps everyone informed of that day's news etc. and they gave us a link in their January 20th newsletter. Thought I'd respond in kind. It can be a good way to keep updated on the headlines.
I started watching Safe, which is a TV show written by author Harlan Coben. It's not based on any of his novels. I'm only a few episodes in but enjoying it so far. It stars Michael C. Hall, who was TV's Dexter. Well worth watching I'd say.
I'm a big fan of those self-contained mini-series as you know everything will get resolved etc. No need to worry about series cliffhangers or cancelations. Each episode also takes place over the course of one day and I'm always a fan of that structure.
Speaking of – Harlan Coben announced his new book which will be released in March. The title of it is Win. From the sounds of it, Windsor Lockwood III, one of the best side characters in any book, will now be the lead protagonist.
I'm curious how that one will go. I really hated the last couple of Coben books and swore off him unless it was a Myron Bolitar novel. Win is one of my favourite side characters and I've decided to pick this one up and go in with an open mind. I'm curious to see if he can carry a full novel. He's such a fun character that I really hope that is the case.
The Breaker, the sixth book in the Peter Ash series by Nick Petrie was released last month. This was a series I started recommending a few books in. If you're a fan of Jack Reacher, it's probably the best series I can recommend. I've even heard from people who don't enjoy Reacher that are enjoying the Peter Ash novels.
For some reason, I just couldn't get into it. I loved the first 4 books in that series although thought the 5th book was a miss. This latest one? I'm not saying it is bad or anything like that – I just felt very disconnected from the storyline.
I was reading the words but not really taking it in or immersed in the story or characters at all. The majority of reviews online are positive so it seems like the problem is just me. I've found that happens on occasion – I just get completely disconnected from a book and have to switch to something else. Who else read The Breaker and what were your thoughts on it?
I decided to read my 3rd Bentley Little novel instead, The Bank. I'm doing something fun with Janise from Best Books where we both read a Bentley book at the same time, and then discuss it. She is doing a Best Bentley Little Books article which she updates after reading each new novel.
It's quite fun texting back and forth our reactions to the book. Most of the texts are basically "Oh my god I can't believe he wrote that" and "Can't wait to have that image in my head as I go to sleep now".
Bentley is not for everyone!
The Bank – what a book. A lot of similarities to The Store in regard to a corporation taking over a small town. This one wasn't as depraved as the others I have read. I really enjoy him for a combination of things. His writing in general; the world he creates; his ability to bring a character in, make you care about them then kill them off all in one short chapter – while furthering the storyline along.
He may be dark and depraved at times but he is a heck of a talented writer.
I've made it known in the newsletter that Replay by Ken Grimwood is one of my favourite novels of all time. I had quite a few readers suggest to me recently that I read Repeat by A.J. Kohler as it was a similar style book.
It was on my shortlist to read but I hadn't got to it yet then A.J. himself actually e-mailed me! He e-mailed asking if we could list him on the website. I was planning on adding him this month anyway so I bumped him to the front of the queue – A.J. Kohler Books.
I had a good chat with him and of course, had to bump Repeat to the top of my reading list. One thing I liked right off the bat was how different it was to Replay despite the initial concept being the same. More about it in the recommendations section.
I haven't had the chance to listen to any audiobooks lately. I only listen to them when I run and trying to run in winter in Canada can be rather dangerous. Even on the tamer days, there are always little ice patches you don't notice until the last minute. So I need to focus more on that and alas – audiobooks aren't the best for that as I can't zone out and listen.
I've listened to 3 of the Parsons & Gold series and decided as much as I love Scott Brick, it was time for a change. Reader Charlye was the one that recommended that series to me so I took their next recommendation, and have purchased the first Cordell Logan novel to read/listen to next time I am able to listen freely.
They also wrote a great description of it which you can find in the Audiobook Arena, later in the newsletter.
Each month we give away 5 $25 Amazon gift certificates to random subscribers.
To win all you have to do is be a subscriber. Nothing more! When we go to hit "Publish" we take a list of all of our subscribers, throw them into a random draw and those are the winners.
Our winners this month are:
Freda from Caringbah, NSW, Australia
Lois from Durban, South Africa
Pauline from Northfield, OH
Judith from Phoenix, AZ
Diana from Pacific Palisades, CA
All of you have been e-mailed. If you don't see anything, check your junk folder or contact me.
Graeme
OrderOfBooks.com
Book Recommendations:
In this section I give 4-5 random book recommendations. They can be old books, they can be new. But either way – I recommend you read them if the type of genre they are in appeals to you. Feel free to e-mail suggestions to site@orderofbooks.com as many of the suggestions each month are from our readers. If you wish to add a description for the book around the same size as the ones below that'd be great too! I should note we also have a huge backlog of recommendations so if you don't see one that you recommended then don't worry – it'll show up eventually!
Repeat is a Love Story for the Ages. Paul and Angelina dated in college then life got in the way. Many years later, they reconnect over e-mail and realize their love for each other. Alas both have moved in different directions in life – with Paul married and still in love with his current wife.
Paul's wife passes after a long illness, however tragedy strikes as on the day his wife passes, Angelina happens to pass too. Mentally destroyed, Paul attempts to continue on with his life and fulfill his wife's wish of taking her ashes to Hawaii.
On the plane, Paul falls asleep only to wake up and realize he is back in college again. He connects with Angelina immediately and finds out she was given a choice after her death; to move on or go back and relive her life again, memories intact. She chose to go back and relive her life with Paul and get to have the relationship they always dreamed of.
I'm only about halfway through it but enjoying it so far. As I mentioned; numerous readers such as Lonnie and Joan recommended this one so I'm happy to recommend it here.
Check out our A.J. Kohler page for more details.
Whistle Stop, AL Series by Fannie Flagg
I believe a few years ago I recommended the Elmwood Springs series by Fannie. Fannie has now revisited her novel, Fried Green Tomatoes at the Whistle Stop Cafe, initially written in 1987, and wrote a sequel to it. If you read that classic, you will have to read the heartwarming tale The Wonder Boy of Whistle Stop.
Many thanks to Linnea for mentioning this one (I was completely unaware Fannie wrote a sequel). Linnea wrote "I loved this book. Everything about it was gentle, kind and loving, and with Fannie doing the narration, it was just magical. I laughed and I cried, and I know I will be reading more of her books. I highly recommend it to anyone looking for a really beautiful, uplifting read"
Just the type of book many of us need right now. Our Fannie Flagg page.
They Never Learn by Layne Fargo
Layne Fargo is an author of tense, psychological thrillers. Her first novel, Tense, was well received but she took it to a new level with They Never Learn which was a big hit and recommended by a few different readers such as Laurie and Jane.
Scarlet is an English professor who via meticulous planning murders men on campus who have committed heinous crimes. I saw someone call it a "revenge thriller for the #metoo era" and I think that sums it up well. A very bold novel to write and I love seeing a writer take chances with storylines such as this. Check it out. However this one is certainly not for everyone due to the subject matter.
Bill is an award winning author of young adult LGBT novels and was recommended by Bev. All of his books are worth reading but The Bridge was one book that stuck out to me. Just what an excellent writer he was; the reality of what he was writing about and his ability to tackle such a serious subject in such a compassionate manner.
It's the story of Aaron and Tillie, two teenagers who don't know each other and happen to go to the same bridge at the same time to commit suicide. There are four potential outcomes: Both jump, neither jump, Aaron jumps and Tillie doesn't, or vice versa.
Bill dives into all four potential outcomes and the aftermath of each. Suicide can of course be a tough subject to talk about or read about; but it's something we shouldn't hide from and be able to discuss openly and this book does a great job of that. Check out all of Bills work.
Hailing from Ireland, Adrian is a phenomenal author. Both the Detective Sean Duffy and Michael Forysthe series are must reads.
The Chain is a standalone novel that is a great introduction to his writing though. It was released last year and recommended by Shannon who wrote: "I am not sure if you recommended The Chain, by Adrian McKinty but I just finished it and it was such a ride. I have read his novels before and actually forgot about him until I saw this standalone. I love his writing and the injection of humour he adds keeps you smiling as you read along. The first book series I read by him was Michael Forsythe series and I loved all those books."
I wasn't the one to recommend it Sharon but I am doing so now! It was a Barry Award winner, a Macavity award winner and the ITWA Best Novel of the Year.
An excellent crime thriller and Adrian is the type of author you'll get hooked on and read everything they wrote. Check out The Chain.
February 2021 Book Of The Month:
Relentless by Mark Greaney (Gray Man #10)
Any chance I get, I will be sure to recommend the Gray Man series by Mark Greaney. With a new book coming out in February, you better believe I am going to take this opportunity to recommend this series yet again!
One of, if not the best spy thriller series out there. Relentless is the 10th outing and the quality is still top notch.
In this one, intelligence operatives around the world are disappearing. One randomly re-appears and the Gray Man is sent to retrieve him. He barely escapes with his life – and a vital piece of information as to the disappearances.
If you're a fan of spy thrillers, Jason Bourne, lone badasses etc and you've never read this series then I give it my highest recommendation. For everyone else – February 16th can't come soon enough!
10 More Notable Books Releasing in February
New Author Spotlight: Brittney Morris
This month we are featuring Brittney Morris.
Brittney burst onto the scene in 2019 with her novel Slay. she has a new novel releasing in April and I thought now would be a great time to recommend her.
Slay was a Publishers Weekly Best Book of 2019. It features Kiera Johnson. A 17 year old Black woman who is the secret creator of a multiplayer online role-playing card game for Black gamers. Her family doesn't know. Her friends don't know. No-one knows. And she'd like to keep it that way.
One day, a dispute happens in the SLAY world which leads to a murder in real life. The game is labeled as a hub for thugs and criminals while a troll infiltrates the game to threaten to sue Kiera. Instead of giving up, Kiera decides to fight for her creation while doing her best to protect her identity in the process
One thing I really loved about Ready Player One was that so much of it took place in the virtual world and that is the case with Slay. I really enjoy getting immersed in that sort of world. For more details check out our Brittney Morris page.
Audiobook Arena:
By Andy (In response to my question about best audiobooks for first time listeners – cheers Andy!)
Wow Graeme, you don't ask for much. What do we recommend for a bibliophile who might want to dabble in the art of audiophile? Hard to say because it depends on the usual items for classic print (author, genre, tolerance for sex/religion/politics/profanity, etc.) compounded by the considerations of a whole new media! So now you have to add in abridged or unabridged? Read, narrated, or cinematic performance? We've chosen some new titles and authors purely because we love the narrator!
Well, She Who Must Be Obeyed (yes, I plagiarize) and I put our collective heads together and here's the list we came up with. Please note, all but the Stephen Ambrose are all series. We do listen to stand alone novels but we prefer series. After all, if we're investing ourselves for hours or days at a time we like to go all in! And if we're going to recommend someone get involved in audiobooks that's how we'd suggest they do it to.
You may notice most of the authors titles have been out there for a while. If you recall my submissions for your "Audiobook" section over the last few months we mostly purchase discounted titles which means they've probably been out for a while. I'm certain your readership will have more than enough current authors and titles if you prefer going that route!
Mysteries:
Lilian Jackson Braun – The Cat Who (read by George Guidall)
Alexander McCall Smith – Number 1 Ladies' Detective Agency (read by Lisette Lecat)
Dorothy Gilman – Mrs. Pollifax (read by Barbara Rosenblat)
Action/Adventure:
Clive Cussler – pretty much any of his series (many/most read by Scott Brick)
Tom Clancy – another where they were all good (many/most ready by Scott Brick)
SciFi/Fantasy:
Brandon Sanderson – Mistborn (read by Michael Kramer)
Charlaine Harris – Sookie Stackhouse (read by Johanna Parker)
Jasper Fforde – Thursday Next (read by Emily Gray)
Jim Butcher – Dresden Files (read by James Marsters) NOTE: This is the first time we've ever listened to a series and purchased the new releases literally as soon as they were available. That should be an indicator of how much we enjoyed it!
Classic:
Agatha Christie – Miss Marple (read by Stephanie Cole or Joan Hickson)
Agatha Christie – Hercule Poirot (read by David Suchet)
Elizabeth Peters – Amelia Peabody (read by Barbara Rosenblat)
Youth:
JK Rowling – Harry Potter (read by Jim Dale)
Angie Sage – Septimus Heap (read by Gerard Doyle)
Non-Fiction:
Stephen Ambrose – Band of Brothers, Citizen Soldiers, etc. (pretty much all of his)
There are several others – like the Dark Tower series by Stephen King – that while really good, I wouldn't subject a first-time bibliophile to if I'm trying to "convert them" into being an audiophile. Some – like the Dark Tower – really need to be enjoyed in the full unabridged, but you have to understand that where the author chose to go into minutiae on the page can drag more when narrated. I'm not saying avoid Dark Tower – I really enjoyed it – but I also listened to it on a cross-country drive where it was my bosom companion for a few thousand miles.
Happy listening!
By Charlye
David Freed
FLAT SPIN
(Cordell Logan series #1)
Narrator:. Ray Porter
Okay, admittedly, the plot is familiar. Ex special forces guy loses wife, leaves the game, takes his plane and as a flight instructor, seeks a more peaceful life in sunny California, only to find where he goes, so goes trouble. What makes David Freed's Cordell Logan series stand above the rest, is the characters he is surrounded with. His 80 year old landlady, his steamy ex-wife, L.A "Good Cop/Bad Cop" Detectives, foreign flight students, thugs, the ultra rich and spoiled, the glamorous, the homeless nut cases and even a psychotic cat. Logan is an irreverent, sarcastic, cynical, tough, good Ol' boy with an attitude and nobody on this planet can portray a good Ol' boy with attitude better than Ray Porter. Porter captures Logan and each of the wacky characters around him to perfection, giving each of them the life that David Freed wrote into them. The result is laugh out loud funny at times, sometimes sad, sometimes thought provoking, but always entertaining and a darn good mystery with unseen twists and turns and an ending you probably won't see coming. You can't listen to Ray Porter narrate this first book in the Cordell Logan series from David Freed and not crave more.
We have a lot of audiobook fans and invite book listeners to write their own column every month. Want to discuss audiobooks or a favourite narrator? Hit reply and write and we'll feature your column in a future newsletter!
Picture of the Month: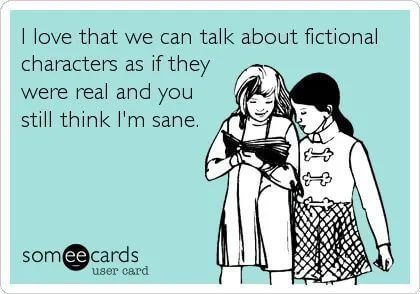 Submitted by Laura K. It's funny but I never thought about it like that!
Send in your own to site@orderofbooks.com or by replying!
Images, jokes, etc. We'll take it all!
Your Thoughts:
(Picture credit: Logic Magazine)
Last month I asked what random ways you have discovered a new author. The responses are at the bottom of the newsletter.
This month I am asking: what is the most unusual or interesting environment created by an author that really surprised and engaged you.
Or just in general – what sort of environments/worlds do you enjoy reading about the most?
This one was suggested by Peter. He also wrote his answer to help give you ideas which was:
"My answer would be a book I mentioned a month or so ago by Raymond Khoury – Empire of Lies – aka The Ottoman Secret. The whole concept of the world having been altered by someone finding a way to travel back in time and impact battles that decided how the planet was organized and how it grew into something completely different. It was something so much different from the usual fiction or mystery genre's that it was difficult to get started but kept me enthralled throughout."
First one that pops into my head is The Warehouse by Rob Hart. Who knew a novel that takes place in what is essentially an Amazon warehouse could be so enthralling?
While it's not really unusual – I found I really enjoy books that take place in small towns or communities. Many Bentley Little novels feature small towns and that was where it really stuck out to me that I enjoy those sort of environments. Last year I read Never Ask Me by Jeff Abbott. I wasn't the biggest fan of the book but it took place within a neighborhood community and I found that kept me reading.
Sci-fi is a topic that is hit or miss with me, but two books over the years that pop to mind are Desolation Road by Ian McDonald, and The Martian Chronicles by the legend Ray Bradbury. That was my first introduction to Bradbury and I really didn't think I'd like the book. Boy was I wrong. I read through it once per year.
What about you?
E-mail us your feedback to site@OrderOfBooks.com or just reply to this e-mail, and we'll pick the best comments and feature it in next months newsletter. Five people will also randomly win a $25 gift certificate to Amazon.
Reader Mailbag:
Order of Books » Newsletter » February 2021 Newsletter