January 2022 Newsletter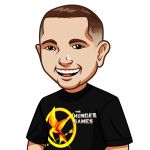 Hi everyone and welcome to January. Happy New Year! I hope everyone has the best year possible
Reading is funny; sometimes you have big plans as to what you are going to read next, then before you know it you've gone in a completely different direction.
I mentioned in the mid-month newsletter that I was planning on reading a lot of standalone psychological thrillers over the holiday season. I did get a couple in – but it was amusing seeing how that all changed..
I finished Savage Gerry by John Jantunen. I really enjoyed this book, and I told John that it reminded me of Dirty White Boys by Stephen Hunter. He had never read that book but I assured him it was a big compliment; Dirty White Boys is one of my top 10 books of all time.
I ended up buying him a copy of it as he had expressed interest in reading it. Later that day he e-mailed me saying that he was hooked, and already burned through 80 pages. I started thinking about how much I enjoyed the book and decided to re-read it for probably the 7th or 8th time; refresh myself for when he wants to discuss it.
Well, next thing you know it reinvigorated my love for Stephen Hunter in general. As soon as I was finished it, I read The Day Before Midnight, which is a standalone by Hunter. If there's any book that should be made into a movie, it's that one.
I've decided I'm not finished with Hunter though; I've started re-reading Point of Impact. The Bob Lee Swagger original trilogy is my favourite series of books of all time. I'm also going to read the Earl Swagger trilogy after that.
If you've never read them but are a fan of the likes of Harvath, Rapp, Reacher, Gray Man, etc – you owe it to yourself to read the first three books in the Bob Lee Swagger series. Unfortunately, when he returned to the series almost a decade later, I never felt he was able to recapture the magic. So I'd say call it quits after Time to Hunt.
I read The Night Swim by Megan Goldin. Megan was a big hit in 2019 with her novel The Escape Room. I thought that one was a good book that fizzled out at the end. The Night Swim, however – absolutely loved it. Her best work by far. I'll add that one to the recommendations section.
I read One of Us is Lying by Shalini Boland. I've read a few of her psychological thrillers now and they are very hit and miss. This was the story of three friends, all of whom are having something horrible or stressful happen to them. Then there's a bit of a backstory involving one of them being abused by a teacher many years ago.
My problem with this book is it just kept trying to pile mystery upon mystery, without giving anything back to the reader. Then everything was resolved and revealed in the space of a chapter or two near the very end of the book. And it was quite disappointing as well.
That was similar to her novel The Child Next Door, although I really did enjoy that one. Shalini is one of those authors that I'll read but not blindly buy; I'll look through a lot of the authentic reviews and decide whether to read it or not based on those.
My mum recommended the author Alex Lake to me. One of their novels was available via the library, so I listened to The Last Lie. Plot wise, this was similar to Gone Girl. Not as good – but I mean no-one could pull that off the way Gillian did.
The first half was excellent. The second half – after the twist – was very disappointing, and then it was a climax that had me shaking my head as I was walking.
I'll give Alex another try as like I said – the first half of the book was great. But not something I can sit here and recommend. Sorry mum!
I'm sure I've linked this before, but Joyce wrote in recommending this site, and it's always worth linking to. Archive.org has a massive digital library of free and borrowable books, and is well worth checking out.
Linda wrote in with something that I thought was very neat: "My brother and I sometimes share book recommendations or gifts. This year he introduced me to the Icelandic Christmas tradition called Jolabokaflod, defined as: Jolabokaflod is the Icelandic way of celebrating Christmas. It translates to Christmas Book Flood. A flood of books are published each Christmas season, and the most popular Christmas present is a book." You can read about the founding story behind it all if you want more information.
Each month we give away 5 $25 Amazon gift certificates to random subscribers.
To win all you have to do is be a subscriber. Nothing more! When we go to hit "Publish" we take a list of all of our subscribers, throw them into a random draw and those are the winners.
Our winners this month are:
Karen H. from Fort Atkinson, WI
Randy L. from Staten Island, NY
Gaileen P. from Sioux City, IA
Linda G. from San Diego, CA
Karin E. from Sycamore, IL
All of you have been e-mailed. If you don't see anything, check your junk folder or contact me.
Graeme
OrderOfBooks.com
Quote of the Month
"Everybody Counts or Nobody Counts".
 – Personal credo of Harry Bosch.
Submitted by Claudia.  Submit your own quotes; just hit reply.
Book Recommendations:
In this section I give 5 random book recommendations. They can be old books, they can be new. But either way – I recommend you read them if the type of genre they are in appeals to you. Feel free to e-mail suggestions to site@orderofbooks.com as many of the suggestions each month are from our readers. If you wish to add a description for the book around the same size as the ones below that'd be great too! I should note we also have a huge backlog of recommendations so if you don't see one that you recommended then don't worry – it'll show up eventually!
The Night Swim by Megan Goldin
This is a great psychological thriller by the author of The Escape Room.
Rachel Krell is a true-crime podcast host. She has released two seasons examining cold cases and bringing out fresh justice. She decides to make things fresher in season 3, by covering a live trial.
The trial takes place in a small town where their "golden boy", a swimmer who is destined for the Olympics, has been accused of rape.
While she is there, Rachel keeps receiving mysterious letters about a suicide that occurred in the town many years ago. The letter writer says that it wasn't a suicide – it was a murder, and it was covered up.
If you're a fan of psychological thrillers, this is a must-read.
Robin Lockwood Series by Phillip Margolin
Image
If you're a fan of legal thrillers and suspense mystery, then be sure to check out Phillip Margolin. He worked as a defense attorney for 25 years and uses his experience in his novels.
He has various series to choose from, as well as many great standalone novels. The Robin Lockwood series is the most recent series by him. It began in 2018 with The Third Victim.
A local attorney is arrested with accusations of kidnapping, torturing, battery and murder. A prominent defense attorney, who has Robin Lockwood as her second chair, takes this seemingly impossible case.
For more details, see our Phillip Margolin page. Recommended by Sandy.
Jaine Austen Series by Laura Levine
This is a cozy mystery series that Laura started writing back in 2002, and is still writing today. It was recommended by Janet, who wrote "Laure Levine's series of Jaine Austen books are so so funny… reminds you of Evanovitch, but even funnier sometimes."
In the first book, This Pen for Hire, Jaine is a writer-for-hire who will writes smarmy personal ads and daring declarations of love for others.
One connection she helps make ends up being broken up due to murder!
If you're looking for a cozy mystery series with good humour in it, this is for you!
Jack Gannon Series by Rick Mofina
Rick is a Canadian author of crime fiction and thriller novels. He has numerous series and writes a lot of standalone novels as well.
There are four books in the Jack Gannon series. The first novel is Vengeance Road and is recommended by Michael Connelly.
Jack is a small town journalist haunted by the disappearance of his own sister many years ago. One woman has turned up dead, and another is missing. Jack looks into this realizing this is the story that could make him.
I'm always a fan of books from a journalists perspective. Read more about it.
Long Beach Homicide Series by Tyler Dilts
This four book series was recommended by Dwayne. It's a crime thriller series.
A King of Infinite Space by Tyler Dilts is the first book in the Long Beach Homicide series.
Detective Danny Beckett is awake at night, haunted by the losses of his wife, family and his hope.
His next case is to investigate the brutal slaying of a popular high school English teacher named Elizabeth Williams, but soon he comes to realize that finding this killer is not just about solving a case but gaining his own personal redemption.
January 2021 Book Of The Month (1st-15th)
Brad Taylor – End of Days
I know many people will be looking forward to this one – the 18th installment in the Pike Logan series by Brad Taylor.
The former head of Israeli intelligence is murdered, and Mossad brings in two of their top terrorist hunters to track down the killer.
They're not able to do it alone though, so they call in Pike Logan and Jennifer Cahill. The two have been trapped in South Carolina due to COVID-19, and jump at the chance to participate in this mission.
End of Days is released on January 11th.
10 More Notable Books Releasing Jan 1-15
January Charities
While I appreciate all offers of donations to show your appreciation for the site and newsletter, I'd much rather you do that by supporting some great causes. Each month I pick a few select charities broken down by our most popular countries that you can support instead. Thanks! And please note you're not restricted to the country you reside in of course – pick any you wish to support!
USA: The Institute for Justice
UK: The Good Law Project
Canada: World Vision Canada
Australia: The School of St. Jude
I rotate this list each month. Feel free to suggest a favourite charity – hit reply.
Audiobook Arena
We have a lot of audiobook fans and invite book listeners to write their own column every month, or just write in a few audiobook thoughts. Want to discuss audiobooks or a favourite narrator? Hit reply and write and we'll feature your column in a future newsletter!
By Maggie
Just wanted to report that I love Bill Bryson's audio readings of his books. I have listened to A Walk in the Woods and At Home which were great. I am currently listening to The Body. I highly recommend these audiobooks.
By Doris
Just wanted to give a mention to Peter May's book LOCKDOWN written in 2005. I'm listening to it at the moment and I had to recommend it to you and all other Audiobook fans. Narrated by Peter Forbes, it is not just so relevant to the current world we live in but also a gripping crime story with engaging characters. This is my first Peter Forbes listening, he is brilliant and I will seek out more of his narrations.
Your Thoughts:
Last month I asked what Christmas related memories you had regarding books. The replies are later in the newsletter.
This months question:
What book series do you like to go back and re-read?
I thought about this after mentioning that I was going to re-read the Bob Lee Swagger series by Stephen Hunter.
There are quite a few book series I have gone back and re-read over the years. I've read the Jack Reacher series and Mitch Rapp series 3 times. I've also randomly picked Reacher books to read over the years to re-read. I've probably read Persuader at least 10 times now.
I re-read the Myron Bolitar series by Harlan Coben a couple of years back. I've also re-read all of my favourite series by Enid Blyton over the last few years.
I try and focus primarily on new books but there's just something comforting about a book series that you love. Knowing the enjoyment you are going to get out of it and reliving great scenes over and over again. I always feel it speaks to the quality of the books.
While not a series, there are plenty of early John Grisham books I enjoy going back to re-read as well.
How about you? Any book series you like to go back and read?
E-mail us your feedback to site@OrderOfBooks.com or just reply to this e-mail, and we'll pick the best comments and feature it in next months newsletter. Five people will also randomly win a $25 gift certificate to Amazon.
Reader Mailbag:
Order of Books » Newsletter » January 2022 Newsletter
2 Responses to "January 2022 Newsletter"