September 2021 Newsletter
Hi everyone and welcome to September.

Before we get started – I'd love your feedback on something. We have no consistency when it comes to short stories/novellas on the site.
One reason for that is simply because AUTHORS have no consistency. Some list them separately; others list them as part of the series. Then there are some authors who write a short story that is part of the series, but never mention it on their website or in other books!
Makes my job a tad difficult, to say the least.
So I'd like to see what YOU want to see so I have set up a survey with a few different options. If you could just click this link and vote, that would be much appreciated. Thank you.
Thanks to everyone who contributed to the mailbag last month. One additional thing I forgot about why I love reading – that feeling of finishing a book and deciding on what book to read next.
It's always such an exciting feeling looking through and deciding which fictional world you will immerse yourself in next.
I actually have that feeling just now. Prior to writing the newsletter, I finished The Mailman by Bentley Little. It's exciting knowing that there are thousands of universes just awaiting me when I finish the newsletter and I can't wait to figure out which one I'm going to jump into.
The Mailman was an excellent book. As always when I mention Bentley I have to warn you it's not for the faint of heart. He is seriously, SERIOUSLY messed up. You have been warned!
I read the latest novel in the Spider Shepherd series by Stephen Leather, Fast Track. Taking place in the UK, when this series began it was about an undercover cop. Over the years it's focused a bit more on actual terrorism.
I must admit that I get enough of that from other books. I do still enjoy the series, but it's starting to wear on me a bit. One thing I appreciated about Leather was while he interjected his political views into the novels, which I usually hate, he would have another character play devil's advocate and present both sides of the argument. I thought that was pretty neat.
As time goes on though we're hearing less and less of those arguments. That's a bit disappointing and honestly, after so many books, I'm tired of hearing the same political statements over and over again.
I'm listening to Every Last Fear by Alex Finlay at the moment. Excellent standalone thriller and I am really immersed in it. The first and only novel written by Alex so far and I am adding Alex to my "blindly buy" list – assuming the ending is good enough!
Each month we give away 5 $25 Amazon gift certificates to random subscribers.
To win all you have to do is be a subscriber. Nothing more! When we go to hit "Publish" we take a list of all of our subscribers, throw them into a random draw and those are the winners.
Our winners this month are:
Laurie A. from Colorado Springs, CO
Kevin from Parsons, WV
Pat from Newland, NC
Nicky from Barrie, ON
Donna from Vancouver, WA
All of you have been e-mailed. If you don't see anything, check your junk folder or contact me.
Graeme
OrderOfBooks.com
Quote of the Month:
"Outside of a dog, a book is a man's best friend. Inside of a dog it's too dark to read. "
– Groucho Marx.
Submitted by Pat and Madeleine. Submit your own quotes; just hit reply.
Book Recommendations
In this section I give 5 random book recommendations.  They can be old books, they can be new.  But either way – I recommend you read them if the type of genre they are in appeals to you.   Feel free to e-mail suggestions to site@orderofbooks.com as many of the suggestions each month are from our readers.  If you wish to add a description for the book around the same size as the ones below that'd be great too!  I should note we also have a huge backlog of recommendations so if you don't see one that you recommended then don't worry – it'll show up eventually!
Garden of Beasts by Jeffery Deaver
A standalone novel by Jeffery Deaver, recommended by Patti. Patty wrote in:
"Oh my goodness, it was simply magnificent! Allowed me to see an entirely different side of Deaver. It is very suspenseful, and I was literally chewing nails as I got near the end. It takes place in 1936, Germany. I will say no more because I don't want to spoil it, but you simply must read it!"
I know that feeling of wanting to say more but not spoil it. It's about Paul Schumann, a turned mobster hitman who is to go undercover at the Olympics in Berlin. His mission is to hunt down and kill someone. If he does that, he will get pardoned.
Dismas Hardy Series by John Lescroart
This was one of those "Have I seriously never recommended this series" entries where I had to go back and check the archives a couple of times.
Turns out I haven't! Stephanie wrote in recommending this great series. It's a great time to get stuck into it as the 19th book is being released in November.
The first novel in the series is titled Dead Irish. Dismas has left behind his career police and law career and is working as a bartender hoping for a nice simple life after a personal tragedy. Unfortunately, his friends' brother-in-law is found dead and Dismas decided to look into it. Slowly he starts to care again.
A much loved series. See our Dismas Hardy page for the full list.
D.I. Lottie Parker Series by Patricia Gibney
This one has been recommended by quite a few people.  Joanne was the most recent one to suggest it, and said "An Irish detective who is spot on. She's a widow with three children and balances being a single mom and a detective. Really enjoyable."
The series begins with The Missing Ones.
The Missing Ones starts when a woman's body is found in a cathedral and then a couple of hours later a young man is found hanging from a tree. The two bodies seem unconnected, but both have the same tattoo inscribed on their legs.
The pair is connected somehow and it's up to Detective Lottie Parker to lead the investigation. The trail will lead her to St. Angela's, a former children's home, that has a connection to her own family history. This case just got personal as Lottie will link these victims to a decades-old unsolved murder.
Now, another two boys have gone missing and her timeline gets accelerated if she hopes to save them.
Only the second standalone Susanna has written. The other book was Jonathan Strange & Mr. Norrell. This one was on all the bestseller lists, and won the Audie Award Audiobook of the Year.
If you're looking for a "can't put down" book – this could be it.
It's hard to really put this unique book into words. Piranesi is a young man who lives in a house that is a vast labyrinth. He leads a nice simple life except for twice per week when he has to meet with a man known only as "The Other".
It's hard to say much else – it's just one of those books worth checking out. For more details, see our Susanna Clarke page.
The first book in the Wool series which made it onto our "Top Short Series" and "Your Favourite Series" lists. It's a post apocalyptic sci-fi thriller.
Wool takes place in a ruined and toxic future. There is a community which live in an underground giant silo. They all live by strict rules until one day the Sheriff breaks the rules by going outside.
This causes a drastic series of events.
September 2021 Book Of The Month (1st-15th)
JD Robb is back on September 7th, with the latest novel in the In Death series.
A dead body of a homeless woman is discovered. The woman was someone who would give the police little bits of knowledge from the street.
The notebook she uses to store this knowledge is nowhere to be found.
That's not enough for Eve though – she's also on top of a decades-old case when a body is discovered due to construction work. The scene of the crime is property owned by her husband.
I mean at this point you probably didn't need all that, did you? If you're an In Death fan, you're blindly pre-ordering!
10 More Notable Books Releasing Sep 1-15
September Charities
While I appreciate all offers of donations to show your appreciation for the site and newsletter, I'd much rather you do that by supporting some great causes. Each month I pick a few select charities broken down by our most popular countries that you can support instead. Thanks! And please note you're not restricted to the country you reside in of course – pick any you wish to support!
USA: Ferst Readers (Childhood Literacy)
UK: The Fostering Network
Canada: Autism Speaks Canada
Australia: Dementia Australia
I rotate this list each month. Feel free to suggest a favourite charity – hit reply.
Classic of the Month: Rex Stout
This month we are featuring Rex Stout. Rex lived from 1886 to 1975 and started writing his infamous detective fiction series, Nero Wolfe, in the 1930s.
The narrative and dialogue are top notch and it's one of those series that you will just read time and time again.
Actually that's exactly what Marie wrote in. This was her suggestion and I just loved her e-mail and obvious passion for this series so just wanted to share that with you:
"I would like to recommend that you try something from the fairly distant past. I am an avid Rex Stout fan and (fairly) regularly re-read his entire series of books.
As they begin in the 1930's they are dated in many ways. Yet, the way that they follow the history and characters through time is amazing. My dad introduced me to these books. We were all born in Indiana (as was Rex Stout) and my dad loved words – as does Nero Wolfe.
At any rate, even if you don't want to use these books as part of your blog….I think you'd enjoy them. I am embarking on my fourth or fifth time of reading them in chronological order. I now have my dads set of books. In his later years, as he read them he dated them. I began doing this five years ago. So now I see the last dates he read them and am adding mine to the list. What a wonderful thing to be a part of.
Nothing greater than a love of words and books!"
Hopefully, you check this great series out.
Audiobook Arena:
We have a lot of audiobook fans and invite book listeners to write their own column every month, or just write in a few audiobook thoughts.  Want to discuss audiobooks or a favourite narrator?  Hit reply and write and we'll feature your column in a future newsletter!
By Jenny
I just wanted to share something I found amusing, hoping you would too. I am sure you have read the Jack Reacher series but assume you didn't listen to them on audio. The books are narrated by Dick Hill. Near the end of Worth Dying For, Reacher gets his nose broken. In the following book, A Wanted Man, Dick Hill voices Reacher with a nasal nose broken voice for the entire book! It's not even an important part of the story, but he does have a broken nose so that is the way Dick Hill reads it.
———————-
By Kenicia
Narrators make or break audio books. Two that I really enjoy are Jayne Entwistle and John Lee.
A friend suggested I've Got Your Number by Sophie Kinsella. She told me the narrator, Jayne Entwistle, was excellent. My friend was right. I have listened to several books I would never have considered if not for Jayne Entwistle. She is also the narrator of the Flavia de Luce books, which are a fun mystery series.
I discovered John Lee as a narrator when I listened to The Count of Monte Cristo. The unabridged audio book contains thirty-seven CDs, so the narrator has to be great to hold a listener. Ever since, I have been delighted any time I find an audio book which has John Lee as the narrator. Other books he has narrated are The Woman in White and several titles by Philip Kerr and Daniel Silva.
I have had some narrators that are very difficult to listen to–I have even rejected other narrations by them. However, these two narrators bring a wonderful new dimension to the stories they tell.
Picture of the Month: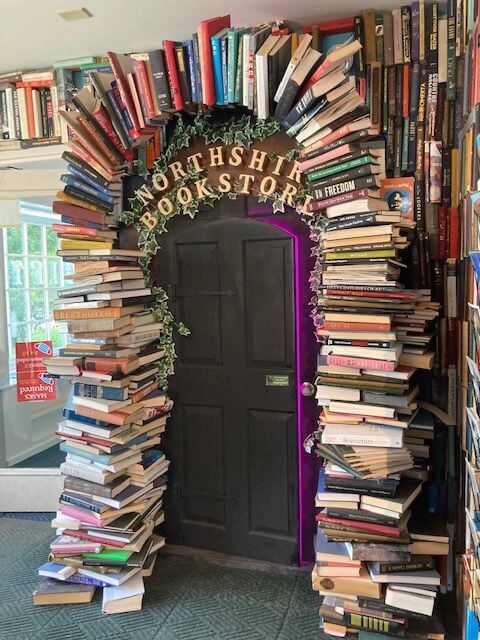 Submitted by Christine whose sister shared it with her. It's from a bookstore in Manchester VT.
Send in your own to site@orderofbooks.com or by replying!
Images, jokes, etc. We'll take it all!
Your Thoughts:
Last month I asked what you enjoy about reading. The replies are later in the newsletter.
This month's question:
What two book universes would you like to see cross over?
That's something that rarely happens. We did see it a few years ago in FaceOff, a short story anthology.
That was a fun one. We had Jack Reacher and Nick Heller meeting in a bar. John Rebus and Roy Grace together. Then RL Stine's Slappy the Ventriloquist Dummy and Aloysius Pendergast!
While not a true crossover I'd love to see a horror fiction author like Bentley Little take over the Three Pines community for just one book. That would be one seriously messed up Gamache novel!
I'd love to see the Jack Reacher universe crossover with Jurassic Park. I'd love to see how Reacher handles the marauding dinosaurs!
I'd also like to just see detectives have to get used to a whole other country and how it works there. Throw Harry Bosch into the Scottish Highlands and have to take over a case for Hamish Macbeth!
What about you? What book universes would you like to see cross over?
E-mail us your feedback to site@OrderOfBooks.com or just reply to this e-mail, and we'll pick the best comments and feature it in next months newsletter. Five people will also randomly win a $25 gift certificate to Amazon.
Reader Mailbag:
Order of Books » Newsletter » September 2021 Newsletter
2 Responses to "September 2021 Newsletter"