OrderOfBooks May 2023 Newsletter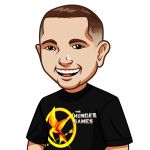 Hi everyone and welcome to May!
The work continues on Book Notification. A lot of the core grunt work has now been completed, as well as any bugs that popped up. I was also able to catch up on the new author request backlog which was over 1,000 e-mails. All this means that we're going to rip that "Beta" stamp off in the month of June.
Really looking forward to that, as once that phase is complete I get to focus on some really cool new features for the site, such as the recommendation engine.
One feature we just added was the ability to choose a default online bookstore, and I'm starting to load up non-Amazon options on there. Eventually, I plan to roll that option out to OOB as well. Only Bookshop.org is on there currently.
So, quick question – if you buy your books online from somewhere other than Amazon, could you e-mail me with a link to the website(s) as well as what country you are in? Then I can hopefully get them listed as well.
I read I Will Find You by Harlan Coben this month. I'll be honest – when my dad introduced me to Coben's books many years ago, I fell in love with him. I remember printing off his book list and taking it to the thrift store after thrift store until I collected them all. Always had so much fun doing that when discovering a new author.
However I've found his more recent books… lacking, to put it politely. I was so disappointed in The Boy From The Woods that for the first time ever, I didn't buy or read a Coben book when he released the sequel to that, The Match.
Honestly, when I read his books lately, it just feels like he has lost his grip on reality a bit. It really rang home with the interactions of the two FBI agents in this book.
When you have two FBI agents interviewing a prison warden about an escaped prisoner, and the male FBI agent starts talking about how erect his nipples are? Maybe it was an attempt at humour, but any interactions between the agents had me cringing.
I didn't enjoy this one and found myself skimming it just to get to the end. Unfortunately, unless Coben returns to the Myron Bolitar series, I am not planning on reading any more books by him.
I read The Inmate by Freida McFadden. This is a psychological thriller about a woman who moves back to her hometown and gets a job as a nurse at a prison. She left her hometown many years ago after almost being killed by a man while at a party at a remote location.
That man? Is now in the prison she works at. And is also the father to her child.
This book was great. Well, most of it was. If you asked me how I would rate it at the 70% mark? I'd give it 10/10 in terms of psychological thrillers. I'm a big fan of Freida. She is great at manipulating the reader in terms of who to root for, as well as keeping big mysteries until near the end of the book, but feeding you just enough information to not feel frustrated. Great talent.
Unfortunately, the final act of this book was terrible. Beyond terrible. And it just got worse as it kept going. Each "twist" had me shaking my head as it was just beyond ludicrous. I actually stopped reading it to log onto Book Notification and mark it a 1/10 at about the 90% mark. That's how bad it was getting.
And sadly, it continued. If I could give it a negative rating out of 10, I could. It's been a couple of weeks since I read it, and I'm still shaking my head at that epilogue. Can't believe I wasted a couple of hours of much-needed beauty sleep staying up to finish that one!
Bentley Little released a new book, DMV. I love the books Bentley comes up with, as you know that means in the past year someone at the DMV ticked him off, so he wrote a horror story based on them being pure evil. This was the usual great Bentley work, and if you're a fan of him I'd highly recommend it.
I next read Her Perfect Family by Teresa Driscoll, the third book to feature PI Matthew Hill. This one was from a couple of years ago and is a thriller about a shooting at a graduation ceremony.
I've read most of her works and really enjoyed them, and this one was no different. One thing I liked about it was that within the first few chapters, you are presented with multiple "mysteries" that only the characters know, and the reader is in the dark. But we quickly start to learn what each mystery or secret actually is.
It always bothers me when I am kept in the dark the whole book, so it was good that she did that. Teresa has a new book out, Tell Me Lies, and I'll be reading that shortly. Recommended if you like mysteries and thrillers.
I wrapped up the month by reading In The Red by Christopher Swiedler. This is in the young adult genre, and takes place on a colony on Mars. It features a teenage boy who suffers panic attacks when he is in his suit and isn't allowed to go out on the surface of Mars. He and his friend decide to sneak out one night – at the same time as a solar flare occurs that causes carnage on the planet.
This was recommended to me by a few OOB newsletter readers. Shout out to Katy who recommended it a couple of times. It was an enjoyable story. Short and to the point. A nice little read, and a change of pace from the usual.
I finished listening to the third novel in the DCI Logan series by J.D. Kirk, The Killing Code. Another solid entry in this series. Really enjoying them. It's cool as I've received numerous e-mails from people who have started reading or listening to them as well, who are loving them. Those are my favourite e-mails to receive.
It's tempting to keep listening to that series, but I bought a few newly released audiobooks that I want to listen to, so have started The Kind Worth Saving by Peter Swanson. He's an author that I started listening to on audio, and have decided to keep doing it that way with all his books.
That's about it reading-wise for me. Didn't have the chance to watch any book adaptations this month. Still working my way through Line of Duty. I was watching that on Amazon Prime but had to get a Britbox subscription for the final season. That's a recipe for disaster for an ex-Pat such as myself, as I spent about an hour just browsing and wanting to watch so many shows that I grew up with.
I saw The Ballad of Songbirds and Snakes, the fourth novel in the Hunger Games series, has been adapted into a movie releasing November this year. I was never a fan of that book, but I'll give the movie a go.
One of our charities of the month is the Strathcarron Hospice in Scotland. My sister's father-in-law sadly passed at the age of 50 due to multiple Glioblastoma brain tumours that just came out of nowhere. He spent the last period of his life in that hospice and they were incredible. They are doing a fundraising 10k in October, so I've signed up for that.
Rather than link directly to the charity, I've linked to my fundraising page. Just wanted to clarify that if you click the link. If you can spare anything for a great cause, it would be appreciated!
Each month we give away 5 $25 Amazon gift certificates to random subscribers. 
To win all you have to do is be a subscriber. Nothing more! When we go to hit "Publish" we take a list of all of our subscribers, throw them into a random draw and those are the winners.
Our winners this month are:
John B. from Enterprise, AL
Robin K. from Greeley, CO
Art v K. from Edmonton, AB
Anonymous from Gardnerville, NV
Suzyq from Estero, FL
All of you have been e-mailed. If you don't see anything, check your junk folder or contact me.
Quotes of the Month:
"A house without books is like a room without windows."

– Henry Ward Beecher
"There was something in Lima that was wrapped up in yards of violet satin from which protruded a great dropsical head and two fat pearly hands; and that was its archbishop. Between the rolls of flesh that surrounded them looked out two black eyes speaking discomfort, kindliness and wit. A curious and eager soul was imprisoned in all this lard, but by dint of never refusing himself a pheasant or a goose or his daily procession of Roman wines, he was his own bitter jailer. He loved his cathedral; he loved his duties; he was very devout. Some days he regarded his bulk ruefully; but the distress of remorse was less poignant than the distress of fasting and he was presently found deliberating over the secret messages that a certain roast sends to the certain salad that will follow it. And to punish himself he led an exemplary life in every other respect."

– Thornton Wilder, The Bridge of San Luis Rey
Submit your own quotes; just hit reply. Book-related is great but happy to share non-book related too! Thanks to Sandi and Nancy for this month's submissions.
Book Recommendations:
In this section, I give 3-5 random book recommendations. They can be old books, they can be new. But either way – I recommend you read them if the type of genre they are in appeals to you. Feel free to e-mail suggestions to site@orderofbooks.com as many of the suggestions each month are from our readers. If you wish to add a description for the book around the same size as the ones below that'd be great too!  I should note we also have a huge backlog of recommendations so if you don't see one that you recommended then don't worry – it'll show up eventually!
Vince wrote in to recommend this three-book series. He wrote:
"Just finished reading "Master of Furies" Book Three of the Firemane Saga by Raymond E. Feist. Being a huge fan of Feist, I expected a lot from this series and this book, and I was not disappointed in the least. Excellent read that I highly recommend."
The King of Ashes, the first book in Raymond E. Feist's Firemane Saga, introduces a world on the brink of war as powerful kingdoms vie for control. In the midst of chaos, two young heroes, Hatu and Hava, discover their extraordinary abilities and hidden pasts. As they navigate political intrigue and a looming prophecy, they must make choices that will determine the fate of their world and ultimately decide the fate of the legendary Firemane, whose power could reshape everything.
If you are a fan of the DCI Logan series by J.D. Kirk, you should give this series a try. Maureen wrote in to recommend it.
Grimm Up North is the first DCI Harry Grimm novel by David J. Gatward. In Bristol, England, DCI Harry Grimm bears physical and emotional scars from a traumatic encounter with an IED. However, his relentless pursuit of his murderous father threatens to hinder an ongoing investigation, prompting a transfer to the countryside of North Yorkshire, much to his dismay.
With a burning desire to escape mundane tasks like ticketing and rescuing lost lambs, Grimm deliberately sets out to distance himself from the locals. But his perspective changes when a teenager goes missing.
Drawing from his knowledge of the gruesome world of human trafficking, Grimm suspects the worst for the victim. When he and his team uncover a shocking revelation, his gut feeling warns him of a special breed of criminals who could be living among them.
Can the tough and determined investigator catch his prey before the town suffers a devastating loss?
My good friend Edward wrote in to recommend this. He always makes my life easier by writing great descriptions so I don't have to struggle to write my own. Much appreciated Ed! Here is what he wrote:
"Tom Rosenstiel writes a series of realistic stories of political intrigue featuring investigators and political fixers Peter Rena and Randi Brooks. The stories are as contemporary as you can write. The two are from different backgrounds and political affiliations, but they bring to their investigations the best each has to offer when hired by the rich, powerful, and connected. The typical stories take place in Washington D.C. and appear torn out of the Washington Post or the New York Times they are so right now."
"A good deal of intrigue, mystery, dark politics, and sinister motives confront them. These two fixers must navigate this sordid culture to discover the facts and present their client with the unvarnished truth."
"The stories are more than just entertaining. The author reveals his years as a journalist and his knowledge of politics, the justice system, and the behind-the-scenes of Congress. I always come away with some new insight into the workings of our government/country."
Jeanne wrote in to recommend this series. It's currently a six-book series that she stumbled upon, and she said she "now has a favorite author", and that it's a "five-star series".
The Lion's Den is the first book in the Lion's Den series that takes place in the 1930s in Hitler's Berlin. This book begins in November of 1932 as Seamus Ritter, a widower with four kids, returns home from America. His homecoming is not as welcome as he was expecting as his daughter Maureen is not happy with him. He accepts an invitation to work in Berlin and takes his family with him to Germany. Maureen is not happy, but she's dedicated to taking care of her siblings. The Germany they find is much different than Seamus remembers. There he meets a woman named Lisa who is beautiful, but struggling with her past. When tragedy strikes, Seamus and Lisa will need to work together in order to save their own lives and make their way in this nation that is changing for the worse.
May 2023 Book Of The Month
Ward D by Freida McFadden: Freida is back! An incredible psychological thriller author and she is releasing her latest book, Ward D, in May.
Medical student Amy Brenner finds herself confined to a locked psychiatric ward for the night.
Filled with apprehension, Amy faces her evening shift in Ward D, the hospital's inpatient mental health facility. There are deeply personal reasons for her reluctance to complete this mandatory overnight rotation – reasons she must keep hidden at all costs.
As time ticks away, Amy becomes increasingly certain that something sinister is unfolding within the ward. When patients and staff begin disappearing without a trace, the dire reality becomes apparent: everyone in the unit is in imminent peril.
Amy's most dreaded nightmare was to spend a night on Ward D. Now, she may never find her way out.
10 More Notable Books Releasing in May
And don't forget you can get updated on all the upcoming books by your favourite authors with your own personalized calendar at BookNotification.com.
May Charities:
While I appreciate all offers of donations to show your appreciation for the site and newsletter, I'd much rather you do that by supporting some great causes.  Each month I pick a few select charities broken down by our most popular countries or topics that you can support instead.   Thanks!
I rotate this list each month.  Feel free to suggest a favourite charity – hit reply.
A.I., The Author
In this section, I ask AI to create a book, intertwining popular book universes.
Dear AI, I just finished DMV by Bentley Little. I was eating a cheese sandwich at the time that I had purchased at a store, and the cheese-to-bread ratio was disappointing. If this happened to Bentley, he would write an angry novel about it. Please do that.
Title: "The Cheese Sandwich" by Bentley Little
In the quiet, unassuming town of Crescentville, life seems as ordinary as the slice of bread in your morning toast. But when Mark Hamilton, a down-on-his-luck journalist, stumbles upon a peculiar cheese sandwich, the town's sleepy facade begins to crumble.
The Cheese Sandwich, Bentley Little's newest chilling masterpiece, takes you on a spine-tingling journey through the darkest corners of human obsession and the eerie secrets that lurk beneath small-town life. As Mark grows increasingly fixated on the sandwich, he unwittingly unleashes an ancient power that threatens to consume Crescentville and its inhabitants.
As the town spirals into madness, Mark must confront the enigmatic Mr. Cheesewright, who holds the key to the sandwich's mysterious origins and sinister purpose. As the body count rises and the sandwich's dark influence spreads, Mark must gather the courage to face the unspeakable and save the town from a fate worse than death.
In his signature style, Bentley Little weaves a tale of suspense, horror, and twisted human nature that will leave you questioning the very fabric of your reality. The Cheese Sandwich is a bone-chilling reminder that some secrets are best left buried and that the most terrifying monsters are the ones that hide in plain sight.
Dear AI, this sounds great. Please write out the details of the discovery of the sandwich.
Mark Hamilton had been fired from his job as a journalist, and his morning routine of buying a coffee and a newspaper from the local convenience store became a bitter reminder of his failure. As he exited the store, he noticed something out of the ordinary. Lying on a park bench was a simple cheese sandwich, wrapped in wax paper and tied with a red ribbon.
Despite the unsettling feeling it gave him, Mark's curiosity got the better of him. He picked up the sandwich and inspected it closely, feeling an inexplicable pull towards it. As he unwrapped the sandwich, he noticed the cheese had an unnatural, golden glow. He couldn't help but take a bite.
Almost instantly, a wave of euphoria washed over Mark. The sandwich tasted like nothing he'd ever experienced before. As he stood there, devouring the sandwich, he felt a surge of energy and inspiration like never before.
Later that evening, Mark found himself researching the history of Crescentville. He was determined to uncover the origin of the cheese sandwich that had changed his life. The deeper he dug, the more he discovered the town's dark past, riddled with strange incidents and mysterious disappearances.
As Mark's obsession with the sandwich grew, so did the bizarre occurrences in Crescentville. People who had tasted the sandwich became strangely fixated on it, exhibiting odd behaviors and losing their sense of self. They began to gather in groups, sharing hushed whispers about the enigmatic Mr. Cheesewright, the man rumored to be responsible for the creation of the otherworldly sandwich.
One night, Mark decided to visit the long-abandoned cheese factory at the edge of town. The crumbling building was cloaked in shadows, and as Mark stepped inside, the air grew colder. He could feel the unsettling presence of something unseen, something sinister lurking in the darkness.
In the dimly lit factory, Mark stumbled upon a hidden room filled with arcane symbols and strange contraptions. There, he found a diary that revealed Mr. Cheesewright's malevolent plan to use the cheese sandwich to control the minds of the townspeople and bend them to his twisted will.
Realizing the magnitude of the threat, Mark knew he had to put an end to the sandwich's dark influence. But could he overcome the seductive power of the cheese sandwich, or would he succumb to its control and become yet another victim in the eerie history of Crescentville?
Picture of the Month: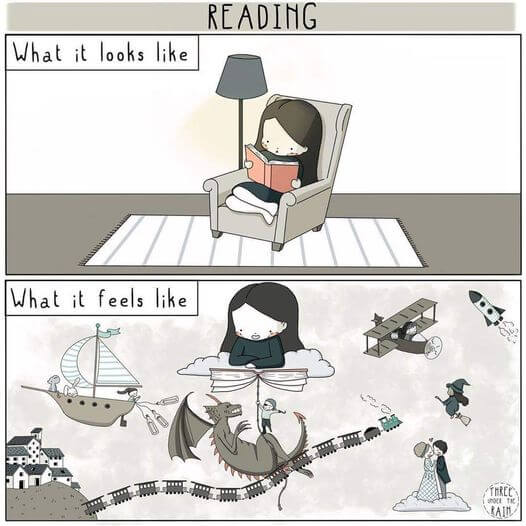 So very true. Submitted by Marcia from her local newspaper. It's a creation by Three Under the Rain which has it as an artwork print and I am immediately buying that for my daughter's birthday. Love it.
Send in your own to site@orderofbooks.com or by replying!
Images, jokes, etc.  We'll take it all!
Your Thoughts:
Last month I asked what were the first 'adult' books that you ever read. The replies are later in the newsletter.
This month I am asking:
"What settings do you like in books?"
This was triggered by an e-mail from Deana to last month's mailbag, stating that she enjoys romances set in hospitals.
I've always been a fan of remote locations, in particular, islands. This probably goes back to one of the first books I ever read, The Secret Island by Enid Blyton. Also the Famous Five series, with a lot of stories revolving around Kirrin Island.
When I think of the books I have read over the last few years, a few "island" books or remote location books always jump into my mind, such as Every Vow You Break by Peter Swanson or The Guest List by Lucy Foley.
Even the book Rock Paper Scissors by Alice Feeney, which I wasn't a big fan of, still received a better personal rating than usual due to it taking place in a remote location, and enhancing it somewhat.
Remote locations are my preferred setting for a book.
Funnily enough, while writing this my daughter sent a message for birthday gift ideas for her. All it says is:
"Books involving scary camping trips, like friends going camping together like five survive."
Weird timing.
What about you? What are your favourite settings?
E-mail us your feedback to site@OrderOfBooks.com  or just reply to this e-mail, and we'll pick the best comments and feature it in next month's newsletter.  Five people will also randomly win a $25 gift certificate to Amazon.
Reader Mailbag:
Order of Books » Newsletter »
4 Responses to "OrderOfBooks May 2023 Newsletter"