August 2021 Newsletter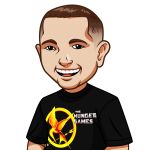 Written by Graeme
Hi everyone and welcome to August.
Really enjoyed last month's mailbag responses about your pet peeves over books. I've gone in the opposite direction this month – more on that later.
I mentioned in the mid-month newsletter I had just started The Therapist by B.A. Paris. I ended up finishing it that night.
One of her best for sure. I love those standalone thrillers that are located in an isolated place such as a gated community, or an island, or a resort. I also really admire what a great writer Paris is – her ability to keep adding mystery upon mystery as the book progresses and really keep you hooked.
She's also good at throwing red herrings your way to make you think someone is the killer – then actually confronts it a few chapters later. Makes me think she isn't trying to "trick" the reader or get one over on them. Speaking of I fell for the big twist hook, line, and sinker. Love when that happens.
It's the month of standalone thrillers by authors I like. Jeff Abbott released An Ambush of Widows. I was enjoying this book so much that I stopped at a specific moment in the book just to send him an e-mail praising it.
Jeff is one of those authors that are great at presenting you with one mystery, and then layering mystery upon mystery on top of it. Not in a confusing way; but in that "you're not going to sleep tonight" way.
I thoroughly enjoyed it and it may be one of his best yet.
Shari Lapena also released Not a Happy Family. I've not started that one yet but will soon. She has recently evolved her thrillers into more Agatha Christie style whodunnits and it is neat seeing an author change their style like that.
I read The Gone World by Tom Sweterlitsch which I really enjoyed and I'll talk more about it in the recommendation section. He has one other novel currently which is Tomorrow and Tomorrow and I immediately bought that and that's the one I am currently reading.
I finished The Good Girl by Mary Kubica, which I was listening to. Extremely disappointed. It was the story of a girl who went missing, then came back with amnesia, and the story is told from multiple perspectives both before, after, and during.
It just felt like a book where nothing really happened. I kept waiting for the story to get going and it just didn't. There was a twist so obvious it was laughable, and if anything I just found the entire final act depressing.
I won't give up on Mary though – many of you had e-mailed me recommending Local Woman Missing and I have that on hold at the library. I will give that one a try.
I've struggled to get into an audiobook since then honestly. I tried a book called One More Lie by Amy Lloyd which was a psychological thriller but after an hour of listening it hadn't hooked me.
I then decided to go with the 2nd Inspector Gamache novel by Louise Penny. Honestly, I was struggling to get into it. It just seemed extremely slow paced. Which is normally fine – but it didn't seem to be ideal for listening to while running, which is when I normally listening.
Looking at some reviews of it just now though – many are saying it was very slow to get going etc. I'll certainly continue to listen to it – just not when out on my daily run!
Currently listening to a thriller called The Nanny by Gilly Macmillan. Hopefully, this is a good one.
In the July mid-month newsletter, I wrote about the author Brad Thor and why he is partially responsible for the site being around today. He ended up chiming in on the Facebook page which I thought was really cool:

Don't you just love authors? Thanks to whoever forwarded that to Brad; it made my day. If you're a fan of spy thrillers, be sure to check out the excellent Scot Harvath series.
Each month we give away 5 $25 Amazon gift certificates to random subscribers.
To win all you have to do is be a subscriber. Nothing more! When we go to hit "Publish" we take a list of all of our subscribers, throw them into a random draw and those are the winners.
Our winners this month are:
Lea from San Marino, CA
Roberta from Altamonte Springs, FL
Don from Fairfield, IA
Gene from Sevierville, TN
Rosa F. from Indianapolis, IN
All of you have been e-mailed. If you don't see anything, check your junk folder or contact me.
Graeme
OrderOfBooks.com
Quote of the Month
"Reading is the sole means by which we slip, involuntarily, often helplessly, into another's skin, another's voice, another's soul."
Submitted by Leslie. Submit your own quotes; just hit reply.
Book Recommendations
In this section, I give 4-5 random book recommendations. They can be old books, they can be new. But either way – I recommend you read them if the type of genre they are in appeals to you. Feel free to e-mail suggestions to site@orderofbooks.com as many of the suggestions each month are from our readers. If you wish to add a description for the book around the same size as the ones below that'd be great too! I should note we also have a huge backlog of recommendations so if you don't see one that you recommended then don't worry – it'll show up eventually!
The Gone World by Tom Sweterlitsch
Billed as Inception meets True Detective, this is the story of Shannon Moss. She works for the Naval Criminal Investigative Service, a team that has the ability to travel into the future.
They normally use this to assist in solving crimes, but they also discover something called the Terminus, a big light in the sky in the future that will someday mean the end of humanity. The primary story is about Shannon trying to solve a series of murders that occurred in 1997 by traveling to the future – but this one covers a lot and just gets you hooked.
I thoroughly enjoyed this one. If you enjoy books like Dark Matter by Blake Crouch, I think you would enjoy this book.
David Brunelle Legal Thrillers by Stephen Penner
I really need to read more legal thrillers. I love all the early Grisham books, and the Lincoln Lawyer books by Michael Connelly are probably my favourite out of all of his.
I will add this one to the list to check out. Barbara wrote in to recommend this one which has 13 books and a couple of short stories in it.
The first novel is titled Presumption of Innocence. It's a very difficult case for Homicide prosecutor David Brunelle. A young girl has been murdered, and a confession by the accomplice is the only evidence of the murderer. However the accomplice is too scared to testify against the murder and there is no other evidence.
Brunelle can't let the murderer walk free.
It does seem to be one of those series that get very mixed reviews. Some love it, some not so much for various reasons. It appears to all be on Kindle Unlimited at this time – always nice to try books that way.
The Things We Keep by Sally Hepworth
This one was recommended by Leslie, who wrote:
"Some readers may not go for this, as it's a more feel-good type of novel than a thriller or sci-fi novel: The Things We Keep by Sally Hepworth. Rated 4 1/2 * out of 5* on Coolcat.org, our library's online catalog."
"it's about two dementia patients in a home who find love for each other and keep cuddling with each other, knowing each other's feelings yet forgetting each other. They have to battle the odds of being together, as the workers in the home consider their togetherness unseemly and do their best to keep them apart. This seems to be a lesson that love is more important than one's faculties, and a person shouldn't be dismissed because of losing their faculties."
For more details on this one, see our Sally Hepworth page.
Fawkes and Baxter Series by Daniel Cole
Patti recommended this series; specifically, the first book which is Ragdoll.
Detective William Fawkes is a controversial character in the police department, but he has been reinstated after his most recent suspension.
Fawkes gets a call from his former partner Emily Baxter to come investigate a nasty crime, a body made of six victims known as the "ragdoll". Fawkes tries to put together the names of all the victims, but before he can a reporter receives a list of another six names from the killer.
The final name on the list? Fawkes.
The detectives will have to work fast to solve the crime before the killer strikes again and Fawkes loses more than his job.
Demon Slayers Series by Angie Fox
Did you know we have a "random author" and "random series" button on the site? It's in the sidebar and I like just clicking that from time to time to find something completely random to recommend.
This is a series of paranormal romance/mystery novels featuring Lizzie Brown. Lizzie is a preschool teacher who has the powers to fight demons.
The Accidental Demon Slayer is the first book in Angie Fox's Demon Slayer series. You're not in for a good day when an ancient demon shows up on your toilet bowl. For Lizzie Brown, that's just the start. Soon her hyperactive terrier starts talking, and her long-lost biker witch grandmother is hurling jam jars filled with magic. Just when she thinks she's seen everything,
Lizzie finds out she's a demon slayer – and all hell is out to get her. Of course, that's not the only thing after her. Dimitri Kallinikos, a devastatingly handsome shape-shifting griffin, needs Lizzie to slay a demon of his own. But how do you talk a girl you've never met into going straight to the underworld? Lie. And if that doesn't work how dangerous could a little seduction be…?
August 2021 Book Of The Month
The Madness of Crowds by Louise Penny
I'm pretty sure if I didn't list this one as the book of the month, I'd end up buried under the three pines….
The 17th novel in the Inspector Gamache series by Louise Penny comes out on August 24th.
This is a much-loved series by our readers, and was the overall response in the mailbag for "what book world would you most like to inhabit?".
As someone who is just beginning the series, I'm wary of reading the description in case of spoilers.  I doubt any of you Gamache lovers actually rely on the description of these books though!
If you haven't read this series yet, get started today.  Or for the 99% of other readers – pre-order now. 
10 More Notable Books Releasing in August
August Charities
While I appreciate all offers of donations to show your appreciation for the site and newsletter, I'd much rather you do that by supporting some great causes. Each month I pick a few select charities broken down by our most popular countries that you can support instead. Thanks! And please note you're not restricted to the country you reside in of course – pick any you wish to support!
USA: Midwest Pages to Prisoners
UK: The Book Trade Charity
Canada: Alzheimer Society of Canada
Australia: Australian Wildlife Rescue
I rotate this list each month. Feel free to suggest a favourite charity – hit reply.
Classic of the Month:
This month we are featuring the author Samuel Langhorne Clemens.
Or as we readers know him better as: Mark Twain.
Mark lived from 1835 to 1910 and is most famous for this Tom Sawyer & Huck Finn series of novels.
There are many other great novels by Mark however and are well worth reading.
Emery wrote in to specifically suggest A Connecticut Yankee in King Arthur's Court which was published in 1889, available on Kindle Unlimited as of this writing, and is a very entertaining read.
This is a good book if you are looking for some humour/satire.
Check out our entire Mark Twain listing.
Audiobook Arena
Last year I asked the question "What is the best audiobook for a first time listener/reader to try?". Below are some of the responses. You can see the full listing in the December 2020 Newsletter.
By Vicki
Scott Brick or Barbara Rosenblatt reading almost anything
Jim Dale reading Harry Potter series
Renee Auberjenois (unfortunately now deceased) reading Agent Pendergast series by Douglas Preston and Lincoln Child
Johanna Parker reading Sookie Stackhouse series by Charlaine Harris
Jayne Entwistle reading Flavia de Luce series by Alan Bradley
Will Wheaton reading Ready Player One by Ernest Cline
There are many more, but these are all a good place to start
By Holly
The James Herriot All Creators series read by Timothy Christopher is my favorite, followed by Elizabeth George's What Came Before He Shot Her.
By Sandra
I am not a history buff by any means, but I really enjoyed the audiobook, "The Killer Angels" by Michael Sahara. I have actually listened to it twice. It is about the battle of Gettysburg. Very engaging.
By Stu
Audible is my go to medium.
My favorite author is Jo Nesbo..a Norwegian crime thriller writer. The series that I have followed is ..Harry Hole. I recommend to start from his first or second book. He also writes send alone books including The Headhunter which was made into a movie found on Netflix.
My favorite podcast is Dan Carlin. Hardcore History. Try the series Supernova in the East. There are IV episodes.
These are my very best recommendations.
By Natalie
My suggestions for a first time audiobook listener depend upon the genre you prefer. In general, I would suggest Sycamore Row by John Grisham read by Michael Beck or any other Grisham book read by Michael Beck. I would choose my genre then look for recommended narrators in that area.
Besides Michael Beck, Scott Brick is a superior narrator and very sought after, according to a piece in the Wall Street Journal several months back. Other personal favorite narrators of mine are Kyf Brewer, Bianca Amato, Armand Schultz, Davina Porter, and Kathleen McInerney. Tom Hanks does a great job narrating The Dutch House as well. I have not liked it when authors narrate their own books. They may write well, but narration is another matter entirely. Good luck and I hope you enjoy your delve into audiobooks!
We have a lot of audiobook fans and invite book listeners to write their own column every month. Want to discuss audiobooks or a favourite narrator? Hit reply and write and we'll feature your column in a future newsletter!
Your Thoughts:
Last month I asked for your pet peeves when it came to reading. Lots of great responses.
The replies are later in the newsletter.
This month let's flip it around:
What do you really enjoy about reading? What makes you stop reading a book, just to sit back and think "I love reading"?
Emotional attachment is one for me. I love gaining an emotional attachment to a book character who didn't exist until I started this book, then 100 pages later I find I care deeply about this character. Or I enjoyed a character so much I am legitimately sad when I reach the end of the book. Project Hail Mary readers can relate to that no doubt.
I also like a good twist. One where it takes me by surprise but it was either obvious when you look back, or it was staring you right in the face the entire time.
Or when a character ignores the authority to "do the right thing". The first Mitch Rapp book for example – a woman is being assaulted and the authority are trying to get through to Rapp to tell him to ignore the situation and focus on the bigger picture. Rapp ignores the calls though as he has to do the right thing. Vince Flynn was a master at that actually – he did a great job of getting the emotional reactions going and getting you frustrated at the people trying to stop Rapp from doing his job.
Very similar to Jack Bauer and 24 in that regard.
Reading a new book, loving it, and then realizing it's part of a series with many more books is also a nice one!
Finally – I love a strong character you can rely on and I believe that is why Jack Reacher is such a popular series. You know that no matter what bad stuff is going on – Reacher will prevail and save the day. That's why I enjoyed Ambush of Widows so much – it had a character like that.
E-mail us your feedback to site@OrderOfBooks.com or just post in the comments below, and we'll pick the best comments and feature it in next months newsletter. Five people will also randomly win a $25 gift certificate to Amazon.
Reader Mailbag:
You can read this months reader mailbag on pet peeves here.
Order of Books » Newsletter » August 2021 Newsletter