December 2020 Mid-Month Newsletter
Hi all and welcome to the middle of December. I was going to send this out yesterday however with the Google outage I decided to hold off a day. There was a few e-mails I sent to gmail addresses that were bouncing so didn't want that to be the case for the newsletter!

First off – I read what may be my 2nd favourite book of the year! (Nothing will beat Replay).
It was The Warehouse by Rob Hart. It's set in a not so futuristic world where one large corporation practically rules all, and all the small businesses have went out of business. Rather than just work there you actually stay there and live there and eat at their restaurants.
The world building in this book is phenomenal. My friend Vince was the one that recommended it to me even though he hadn't read it himself yet. I messaged him 20% in to tell him he needs to read this book as I know he'll love it. I also mentioned that at that point nothing had really happened yet! It was just terrific world building that I was so invested in. Thoroughly enjoyed that one. It was a pleasant surprise as I really knew nothing about it going in. My friend just knows the type of books that I really dig.
Hope everyone is getting prepared for the holiday season. My wife and I decided to torture our kids by putting our presents for each other under the tree early this year. It was greatly amusing seeing my 13 year old daughter in particular going through every present and checking the names only to see that none were for her.
The long term plan of getting her really excited for Christmas worked though and we have started putting one present a day under the tree for each kid. It's fun seeing them wake up and come down to go through all of the presents just to find their newest one – then spend 10 minutes trying to guess what it is.
Also – cats are just the worst, aren't they? If you have a cat you know what they are like when a box arrives in the mail; you've barely opened it before the cat is jumping into it and claiming it as their new home.
We have three cats and when we open a box from Amazon they will all fight over it. For the next 48 hours there will be one cat permanently residing in said box. As soon as that cat gets out, another cat will make its way in. Often two of them will cram in there together.
Well with us wrapping up all our gifts I thought I would set up a "box paradise" for all the cats. Spread across every inch of the living room floor is boxes. Over 20 boxes all side by side as a huge play area for the cats. We were so excited to let them in the living room and watch them run wild. Picturing them jumping from box to box and having one big game.
yeah – they couldn't care less. Let all three in and they took one look at the boxes and ignored them. Laying on the floor or couch beside them, giving the boxes looks of contempt. I set all that up yesterday. Still zero interest by the cats. I even set up my webcam overnight on motion detection thinking maybe they'd do it when we weren't around. Nope!
One of our readers – John – emailed a suggestion. He said:
"There are many people in care centers, nursing home and retirement homes who can't get our or have visitors because of this virus going around. What you can do is donate your old books to them. The centers may not let you in but call first and see if you can arrange to drop off a bag or box of used books."
Well worth checking and a great idea if able to do that. Back in April I spoke with many of you who were struggling with that; you relied on local libraries and with the closures were unable to get books. Our local nursing and retirement homes weren't allowing books back then but are a bit more relaxed now and will take them. A great idea!
Speaking of – let me just copy and paste what I wrote in the December email:
——-
On that note – let me just get this out of the way. This can be a difficult time period for some by normal standards; in 2020 it's going to be an even tougher time for a lot of people due to not seeing families etc.
If you're feeling lonely or feel the need to vent, rant or heck just even chat about books, TV shows or any other topic – feel free to hit reply. I know I'm just a dude that sends out a book newsletter twice a month – but sometimes it helps to talk to people semi-anonymously and I'm here for everyone.
I won't judge. I'll treat everything as confidential. I reply to every single e-mail I receive. So don't hesitate or be shy about hitting reply.
———-
My Kindle Unlimited list is always maxed out and I was motivated this month to start reading books on it as I have a large list of KU books I am yet to read so I read a couple off that this month.
I read The Day I Disappeared by Brandi Reeds. A standalone thriller about a 4 year old girl who is kidnapped and missing for 3 months then is returned generally unharmed. It was decent.
Then I read an odd one. 3am by Nick Pirog. The concept of this is the type of thing I love. It's about a man called Henry Bins who has this crazy disorder; he is only awake for 1 hour per day. From 3am to 4am. The rest of the time he is comatose.
Now just this concept alone I love. I love it because it's the type of thing I can discuss with friends. What if you only had one hour per day? What would you do in that time? Henry spends 10 minutes of his time watching Game of Thrones for example. I love that sort of thing! I was with a friend on Friday night and we spent over an hour just discussing how we would live if we suffered from the same disorder.
The book had a plot device; Henry witnesses a murder and has to try and solve it while dealing with that disorder. The concept was enough for me so I felt this was unnecessary but hey I'm sure it's a good hook for a lot of people.
The issue was within the first chapter. Henry is going to sleep at 3:58am when he hears a scream across the street. He looks out his window and a man is leaving. Just before Henry falls off into his coma he makes eye contact with the man, and alleged murderer. His last thoughts before passing out are that he will never forget the mans face….
…..it's the face of the President of the United States!
So despite the awesome concept – this book just seemed a tad silly for me. Full conversations with a cat that just seemed odd as well. It's the first book in a five book series. I finished that book but won't read the others. Despite my opinion, it gets a lot of good reviews on Amazon and the books are all short. I'd still advise reading the first
book if only to give you a really interesting discussion topic with people. Cool concept and I'll give the author props for that. Just not my cup of tea.
I read another Ruth Ware book – The Death of Mrs. Westaway. It was okay. The primary characters other than the protagonist weren't developed very well and I felt that caused an issue with it. Out of the three Ruth books I have read this is one that I have enjoyed the least.
After all that I was in the mood for one of those "lone badass" style books. I have been slowly reading the Dewey Andreas series by Ben Coes so started the third one in that, The Last Refuge. That's what I'm reading at the moment.
That's it for me. On with the rest of the newsletter. Enjoy the holiday season as best as you can. If you're feeling low feel free to reach out and just remember; there are literally millions of books offering up the perfect escapism!
Each month we give away 5 prizes to 5 random subscribers of $25 each in the form of Amazon gift certificates. To win all you have to do is be a subscriber. Nothing more! When we go to hit "Publish" we take a list of all of our subscribers, throw them into a random draw and those are the winners.
Our winners this month are:
Barb from Plattsburgh, NY
Nancy from Cincinnati, OH (e-mail starts with jpg)
Patrick from Hanover Park, IL
Gisela from Miami, Florida
Virginia from Plymouth, WI
All of you have been e-mailed. If you don't see anything, check your junk folder or contact me.
Graeme
Book Recommendations:
In this section I give 3 random book recommendations when it's the mid-month newsletter, and 4-5 recommendations for the monthly newsletter. They can be old books, they can be new. But either way – I recommend you read them if the type of genre they are in appeals to you. Feel free to e-mail suggestions to site@orderofbooks.com as many of the suggestions each month are from our readers. If you wish to add a description for the book around the same size as the ones below that'd be great too!
Book Recommendations:
Power of the Dog Series by Don Winslow
I could swear I have recommended Winslow before however checking the archives it appears I haven't. Casey was the one that reached out to me about this series in particular. Casey said:
"I first read The Power of The Dog, the first in a trilogy about the drug trade and the war on it in Mexico and Central America. Easily one of the best books I've ever read. Some guys simply have the gift of being better authors than most. Don Winslow has that gift and then some.
I have subsequently read every single book he's written, not once being disappointed. Although, I will admit that The Power of the Dog and The Cartel are my two favorites. His Neal Carey series is not to be missed."
Casey is correct. Savages is another one well worth reading. Visit our Don Winslow page for more details.
The Last Flight by Julie Clark
In the December mailbag, I asked our readers what the best books they have read this year are. That's still ongoing and see later in the newsletter for the reader mailbag.
I did want to mention this one separately as it is one that is high on my "to read" list and quite a few people mentioned it.
It's about two women who meet in an airport. Claire appears to have the perfect life. Yet behind closed doors that isn't the case. She is looking to escape this life and at the airport, she swaps tickets with the woman she meets who is in a similar situation.
One of the planes goes down and now the media all assume Claire is dead and she is able to take on the other womans identity. Unfortunately the other woman has a torrid past too.
I'm trying not to read too much about it beyond that but it sounds excellent. I'll be reading it soon I expect.
Maeve Kerrigan series by Jane Casey
Jane Casey is an Irish author and this is a crime thriller series that takes place in England. It began with The Burning in 2010.
Linda recommended this series. There are currently 9 books in the series and 1 novella. The first novel in the series is The Burning. It's about a brutal murderer nicknamed The Burning Man who sets the bodies on fire. Maeve is a woman among men; a detective constable with ambitions. There are 4 dead bodies but when a 5th shows up and Maeve investigates it; it appears to be a copycat killer.
A very popular series that gets lots of great reviews. Check it out.
Chronicles of the One by Nora Roberts
Nora Roberts is one of those very talented authors with an incredible amount of books. Sometimes it is hard to know where to start with her.
Some of her standalone novels like Hideaway and Shelter in Place are great if you are looking for a book outside of a series. Her writing ages like a fine wine.
If you're looking for an incredible series check out the Chronicles of the One series. Three books in this series. Chris e-mailed about this one after being pleasantly surprised by Nora.
"I was skeptical to read a Nora Roberts book, thinking it was all romance which I hate. Boy, was i wrong after I read the first book of a trilogy. These books the Chronicles of the One series, and boy is it some great reading in my opinion. Anyone who gets a chance to read these 3 books should read them."
Nora tackled a genre outside her norm and blew everyone away. A great series to escape into over the holidays.
Top "First" Audiobooks
In the October newsletter I mentioned I was going to give audiobooks a try on my run, and asked for suggestions on what audio book to try first to get me into them.
I should note a large majority of e-mails basically said "anything by Scott Brick and Will Patton".
I ended up going with the Parson & Gold series by Tom Young and narrated by Scott Brick. Many thanks to everyone for their recommendations though and they are below.
Top 10 Charts
This is a list of the top 10 most popular series and authors compiled over our entire book network of websites. I missed the mid-month newsletter in November so will list those as well.
As we are seeing a lot of the same authors over and over I think I will mix it up next year. List authors and series who have risen in traffic the most over the past month compared to the previous month and are trending, as opposed to being most popular.
It was a fun experiment throughout the year but I'd like to see more variety next year!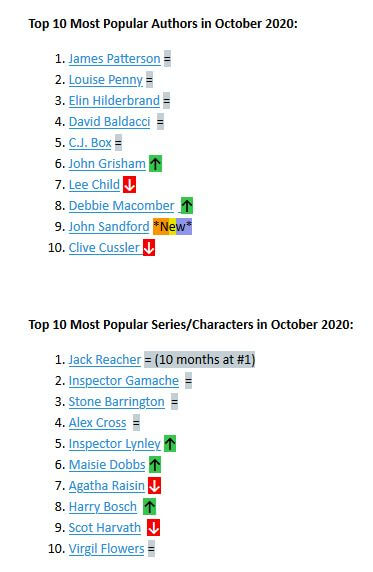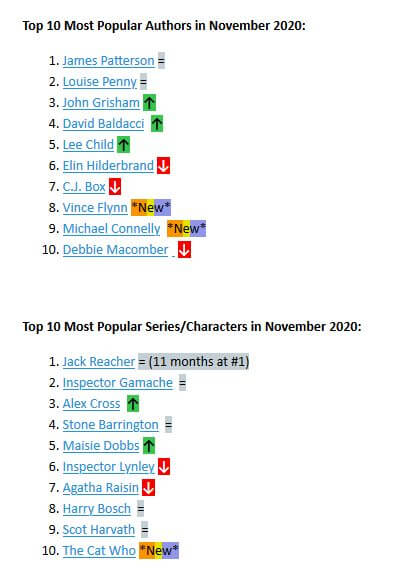 New Author Spotlight:
This month we are featuring Melissa Albert.
Melissa is a fantasy writer who broke onto the scene in 2018 with the novel The Hazel Wood. It's the first novel in the Hazel Wood series which currently has two books in it.
The Hazel Wood follows Alice, a seventeen-year-old girl, and her mother. They have spent most of Alice's life on the road, running away from the bad luck that seems to find them everywhere.
Alice's grandmother is a known author of a book of pitch-dark fairy tales who has just passed away at her estate known as the Hazel Wood. Alice soon realizes that they have been running from bad luck for a long time, but she doesn't know yet how bad their luck can get.
Her mother is kidnapped by someone claiming to be from the Hinterland, the supernatural world where her grandmother's book stories were set. Her mother left behind a message that told her to stay away from the Hazel Wood, but Alice isn't going to listen. She allies herself with a classmate, Ellery Finch, who is a Hinterland superfan and knows everything there is to know about her grandmother's stories in order to get her mother back.
If you're a fan of fantasy novels, be sure to check out Melissa Albert.
Order of Books » Newsletter » December 2020 Mid-Month Newsletter