May 2020 Mid-Month Newsletter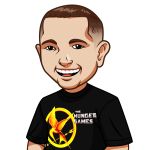 Welcome to the third "mid-month" newsletter!
Right off the bat I want to give a shoutout to Bill B. in Maui. Bill sent me a recommendation for a book last Thursday. I read the plot and it sounded right up my alley.
There was no Kindle version so I ordered the paperback. It arrived Monday afternoon, and it immediately consumed my life and I couldn't put it down until I finished it Tuesday afternoon.
I enjoyed this book so much that I immediately went and purchased a few copies for friends, and also bought a couple of extra books for myself. When Bill e-mailed me, he wrote "Just finished passing around a book that has been read by many, many folks at the hotel condo I live in." and that he had to purchase a second copy as "the first one got worn-out from so much sharing/handling".
That book is Replay by Ken Grimwood.
I've mentioned it before in the newsletter but I'm not big into sci-fi or fantasy. It's hard to describe but I generally need the main character to be experiencing it just as I would. That's why a couple of my favourite books are books such as Dark Matter and Recursion by Blake Crouch. I generally refer to them as "sci-fi lite".
Basically – I'm not into extraordinary situations with extraordinary people, but I can get on board with normal people being put into extraordinary situations.
It's about Jeff, a married man in his 40s in 1988. The book opens with him in his office where he has a heart attack and dies.
However then he "awakens" and he is back in 1963, as an 18 year old in his college dorm. He gets to replay his life. All the way up to 1988 where on that fateful day – he dies again.
I don't want to say too much else about it but this was a book I absolutely loved. If you were a fan of Dark Matter, and I know many of you were, then give this one a try.
Okay what else for the first two weeks of May? Reading wise I stuck with the Bosch Universe by Michael Connelly. I read three books in that – two Bosch books (Echo Park, The Overlook) and then one Haller book (the Brass Verdict). I'm continuing to read that and am on the 2nd Jack McEvoy book, The Scarecrow.
Loved all of them. The Brass Verdict was a bit weird as it's from Haller's perspective and he meets and interacts with Bosch a lot in this book. Felt kind of "off" reading about Bosch from that perspective initially but I soon got over it. Both Echo Park and The Overlook were fantastic and two of my favourite Bosch books so far.
Pandemic wise – things are starting to open up here in Ontario, Canada. In my local neighbourhood, our local coffee shop that opened 2 years ago just re-opened this past week doing takeout only. There's just something about that which is so nice.
I am someone who thrives on routine, and my routine every morning was always wake up at 5am, have my tea and all bran, and focus on one aspect of work. Come 7am, I'd walk to the coffee shop as it opened and get a coffee and come back and focus on another aspect of work, drinking that coffee.
I adapted no problem to that – I'd simply make coffee here instead. However these past couple of days just getting back into that routine? Sometimes it's the little things and that's the case here. Just feels so good.
They also shared an Instagram story where it was a collage of different pictures from people in the neighbourhood who had gone to the coffee shop on opening day, then shared a picture. It's just so nice seeing how meaningful them re-opening is to everyone in the neighbourhood.
Libraries are going to be opening here soon for pick-up and drop-off and hopefully that's the case for many of you!
That's it from me. To be honest I'm motivated to wrap up the newsletter as quick as possible right now. I mentioned above that I have started reading The Scarecrow by Michael Connelly and I've been glancing at it while working on the newsletter. I also took breaks for breakfast and lunch and read it then. I've got to admit I am hooked and looking forward to shutting down the computer for the day, pouring myself a fresh beer and losing myself in the world of a woman who has been murdered and discovered in the trunk of a car.
(Confession time: I wrote the above yesterday at about 2pm. I then got lost in the book and couldn't put it down until 8pm so the newsletter is a day late and the only excuse I have is "I was busy reading".)
Each month we give away 2 prizes to 2 random subscribers of $25 each in the form of Amazon gift certificates. To win all you have to do is be a subscriber. Nothing more! When we go to hit "Publish" we take a list of all of our subscribers, throw them into a random draw and those are the winners.
Due to current circumstances, I've temporarily upped that to 10 winners until the day I can walk downtown and just pop into a pub for a quick pint again. At that point all my money will be going towards draught beer and wings instead!
Our winners this month are:
Joseph from Akron, OH
Laurie, from Minneapolis, MN
Smokey from Waconia, MN
Dee from Fremont, CA
Kris G. from OH
Bill M. from Rockland, MA
Pete from Franklin, MA
Margaret from Los Angeles, CA
Deborah from Jonesboro, AR
Gary from Saginaw, MI
All of you have been e-mailed. If you don't see anything, check your junk folder or contact me.
Graeme
OrderOfBooks.com
Book Recommendations:
In this section I give 2 random book recommendations when it's the mid-month newsletter, and 4-5 recommendations for the monthly newsletter. They can be old books, they can be new. But either way – I recommend you read them if the type of genre they are in appeals to you. Feel free to e-mail suggestions to site@orderofbooks.com as many of the suggestions each month are from our readers. If you wish to add a description for the book around the same size as the ones below that'd be great too!
Elevator Pitch by Linwood Barclay
Linwood is one of my favourite authors although I've fallen a bit behind on his books. I went to read the final book in the Promise Falls series when I realized I couldn't remember what happened in the prior books so need to go back and read those.
I'm motivated to do so after hearing this recommendation for Elevator Pitch, released in 2019. Ruth V. wrote "I recently finished reading an edge of the seat psychological thriller entitled Elevator Pitch by Linwood Barclay. It takes place in the cut throat world of business where you do not know who your friends are. Or are there friends. The story begins with an elevator and ends an exciting twist. I cant say more, but this book is a must read."
To be honest I'd recommend every standalone novel from Linwood. Incredible author.
One Second After by William R. Forstchen
This is one of those books that was recommended by a few readers. Joann called it "an eye opener" and Sam called it "a scary possibility".
It's the first novel in the John Matherson series that has three books. It's the story of a small town in North Carolina, who is dealing with the aftermath of a high altitude nuclear EMP.
I haven't read it yet myself however I do enjoy books that instill that sort of realistic terror, so I'm looking forward checking it out. I should also note I have had a lot of people recommend the sci-fi series that William also wrote, which is the Lost Regiment series.
Top Scandinavian Noir/Detective Authors
I asked our Facebook followers to recommend their top Scandinavian Detective / Noir novels. This list of authors and series is copied ad verbatim. It's presented alphabetically by first name of the author. Authors who aren't linked aren't on our site yet but will be given the highest priority to add.
Top Spelling Errors: Jack Reacher Edition
One of the most popular book characters of all time. Two movies based on that character. Surely people know how to spell Jack Reacher correctly right?
Well not everyone. Here's some of the spelling attempts people had to find the Jack Reacher page on our site:
Jack Reached
Jack Rachel
Jack Reecher
Jack Rapp
Jack Reachet
Jack Reachers
Jack Reaher
Jack Reacher
Jack Reeeacher
Jack Reacherrr
Jack Reachet
Jack Rejacher
Jack Reicher
Jake Reacher
Back Reacher
Jac Reacher
Jeck Reacher
Jjackk Reacher
John Reacher
Lee Reacher
Jack Teacher
And my personal favourite: Jack Rapp. The brother of Mitch Rapp I guess.
New Author Spotlight: Lara Prescott
This month we are featuring Lara Prescott.
Lara only has the one novel so far. It is called The Secrets We Kept and was released in 2019.
This book was an instant NYT Bestseller. The first chapter of this novel won the Crazyhorse Fiction Prize.
It's inspired by the true story of the CIA plot to use Doctor Zhivago to infiltrate Soviet Russia. Lara was actually named after Lara Antipova as well which makes it all the more fun.
It is being made into a movie and was being targeted for release this year although who knows these days.
For more details on Lara and her book, click here.
Top 10 Most Popular Authors in April
Notes: Tom Clancy leaves the Top 10 after 3 months. Clive Cussler returns to the top 10 for the first time since January 2020. The new Gabriel Allon book is out in July 2020. People must be getting antsy and checking his list early!
Top 10 Most Popular Series in April
Notes: Where the heck did James Bond come from? He randomly appeared at #9 in February before disappearing only to come back with a vengeance this month. Surprised to see Agatha Raisin move up in the rankings as I thought that series would drop off. The After series was another that made the list barely in January, dropped off then made another big appearance.
A lot of new ones. Series that dropped off the list were Scot Harvath, Stone Barrington, Joe Pickett, Walt Longmire and Mitch Rapp.
Order of Books » Newsletter » May 2020 Mid-Month Newsletter