June 2020 Mid-Month Newsletter
Welcome to the "mid-month" newsletter!
I haven't read too much since you last heard from me at the beginning of the month. Unfortunately I have to blame that on The Ballad of Songbirds and Snakes, the new book in the Hunger Games series.
I try not to be too negative about books I read here simply because I don't want to put readers off books. Everyone has different tastes plus who needs more negativity in their lives? I always find it weird when I tell a friend I am going to go see a new movie and they respond with "Really? I hear it's awful!" No point to saying something like that.
As for the Hunger Games book? I wouldn't call it bad per se. More just dull. It takes place at the 10th Hunger Games and the main storyline is that the Hunger Games aren't exciting to watch, and no-one is watching them. Guess what? If the people aren't watching the Hunger Games due to boredom, then reading about them isn't going to be any more exciting!
Just one of those books that really had no purpose. There was no real story to tell in my opinion.
After that I went right back to the Michael Connelly books. I read The Drop in about a day which was amusing considering the Hunger Games book took about 7 days. Really enjoyed that one.
I did appreciate the irony however – I mentioned in a recent newsletter that one reason to read is escapism. It's great escaping from the real world into a fictional world with everything going on. Well of course The Drop opened with a flashback scene to the LA Riots, had comments about staying six feet apart, and then discussions on whether similar riots would happen in the future. Not exactly the best book to escape into!
I next read The Black Box which was a bit of a disappointing one. Without giving away any spoilers – a character shows up near the end in what is a big surprise, and their reasons for showing up are unknown. Harry even addresses the fact that he doesn't know why they appeared. Yet it's never explained!!! Maybe it will be in a future book but it was a loose end that really bugged me.
For the first time in three months, I had a night alone. On Saturday my wife and daughter were off to a friend's house, and my son was off to another friend's house.
An empty house. First time in three months.
And I spent it reading The Gods of Guilt by Michael Connelly. That wasn't the plan at all. However that's what ended up happening. I started it Saturday afternoon and didn't stop reading until I finished it later that night.
I'm off to the cottage for a week on June 26th. I'm looking forward to that. I have a standing tradition when at the cottage where I read a standalone thriller a day by a new author. This wasn't intentional however I started it a few years ago when I read standalone thrillers by Shari Lapena and B.A. Paris.
I still have fond memories of enjoying their books so much that I couldn't wait until I was home to read the other one they had written. I hiked to a place that had wifi with my Kindle, connected and bought the books and then rushed back to the cottage to start reading them.
I'm not sure which ones I will read yet however considering the Standalone Thrillers by New Authors category on my Kindle has about 300 books in it – I should be good!
It's finally happened here in Ontario – I can leave my house, go downtown and grab a pint of draft beer. I actually haven't yet – everything just re-opened on Friday. I think I'll give the pubs a few days to get everything sorted and let some people get it out of their system.
However I have decided to keep going with 5 random gift certificates for subscribers. I initially said that it would go back to 2 when I have my next draft beer but I'm going to stick with 5 for the foreseeable future. I know how much fun it is to randomly win something. Heck back in 2003 I randomly won a Ford Freestar! That was a fun one.
Barber shops opened here on Friday as well and there was lineups over 2-3 hours long!!! I couldn't believe it. Who really needs their hair cut that badly? I'll be avoiding them for awhile. I saw a lot of people taking offense at everyone lining up right beside each other, with no face masks in sight.
You know what offended me most? There wasn't a book in sight! A 2-3 hour lineup? That's some prime reading time right there!
I've actually been shaving my hair into a mohawk (going back to my punk roots ha). It was one of those things I was doing just for a lark; at the beginning of the pandemic, all my friends who normally work in offices were doing crazy things with their hair and beards etc. I work from home all the time anyway however decided to join the fun.
As it is I've ended up really liking it. I haven't had a mohawk since the early 2000s and I think I'm going to stick with it!
Below is a picture of it. This was taken back in late April. Fun note – the pictures were taken while on a run exactly a week apart. Welcome to Canada where one week it is blizzard conditions and I'm running in long pants and a hoodie, and the next week it's shorts and t-shirt weather.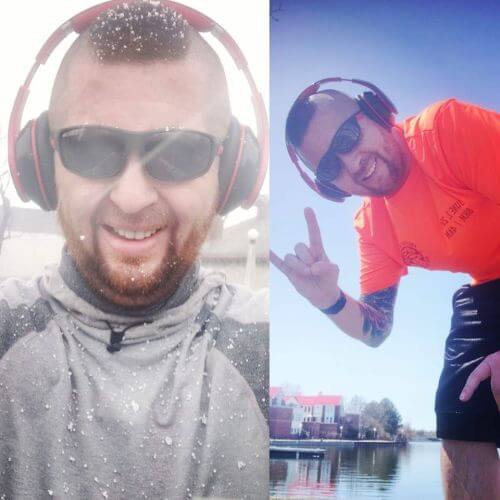 Have you done anything crazy with your hair during the pandemic? Send pics!
Each month we give away 5 prizes to 5 random subscribers of $25 each in the form of Amazon gift certificates. To win all you have to do is be a subscriber. Nothing more! When we go to hit "Publish" we take a list of all of our subscribers, throw them into a random draw and those are the winners.
Our winners this month are:
Sylvie N from Rensselaer, IN
Cindy R. from Edmonton, AB
Suzanne from Goodspring, TN
Brenda W. from Trussville, AL
Stephanie from Albany, NY
All of you have been e-mailed. If you don't see anything, check your junk folder or contact me.
Graeme
OrderOfBooks.com
Book Recommendations:
In this section I give 3 random book recommendations when it's the mid-month newsletter, and 4-5 recommendations for the monthly newsletter. They can be old books, they can be new. But either way – I recommend you read them if the type of genre they are in appeals to you. Feel free to e-mail suggestions to site@orderofbooks.com as many of the suggestions each month are from our readers. If you wish to add a description for the book around the same size as the ones below that'd be great too!
A Wedding in December by Anita Shreve
Anita Shreve is a very talented author whose work covers various genres. From psychological thrillers to non-fiction to romantic fiction.
A Wedding in December falls under the Women's Fiction category and was recommended by Laurie. Laurie said she usually only reads thrillers and not "old" books however loved this one. It's about the reunion of seven people who attended school together and astonishing revelations as they recall a night from the past that indelibly marked each of their lives.
Fever by Deon Meyer
This one was recommended by Howard K. who wrote:
"As a book seller I try to read books from other areas of the world and new authors. One book I have just read is "Fever" by Deon Meyer. This book takes place in South Africa as all of Mr. Meyers novels do (he has several series and stand alone novels). "Fever" was written in 2016 and is so similar to what could be happening today it is spooky. I am reading all of Deon Meyer's books as he is a great writer and you can see life in South Africa in a new light."
Fever is about Nico Storm and his father who are driving a truck through a desoloate land. They are among the few remaining in South Afirca who have survived a devastating virus that wiped out 90% of the world population.
Deon has written multiple book series and standalone novels.
Emory's Gift by W. Bruce Cameron
I believe I have recommended the Dog's Purpose series by Cameron in here before. This one was recommended to me by Amy C. who said it is a good book for teachers of junior high kids.
With lots of learning at home right now and the Summer break I thought it would be a good time to recommend it. Here's what Amy has to say:
"for boys: Emory's Gift by W. Bruce Cameron. Protagonist is a 13 year old boy. I have taught this book in high school and is one of the few books teenage boys really like. Girls like it too, but girls like books more, in general, than do my boys. Boy befriends a grizzly bear in Idaho in late 1970's after suffering a real loss. His mother has died from cancer. He is trying to communicate with his father, who is distant and grieving. Give this a try"
Top Series Featuring a Female Protagonist
I asked our Facebook followers to recommend their top Scandinavian Detective / Noir novels. This list of authors and series is copied ad verbatim. It's presented alphabetically by first name of the author. Authors who aren't linked aren't on our site yet but will be given the highest priority to add.
We received so many suggestions that we had to break it up into 2 newsletters! This is the first listing.
Top 10 Charts
This is a list of the top 10 most popular series and authors compiled over our entire book network of websites.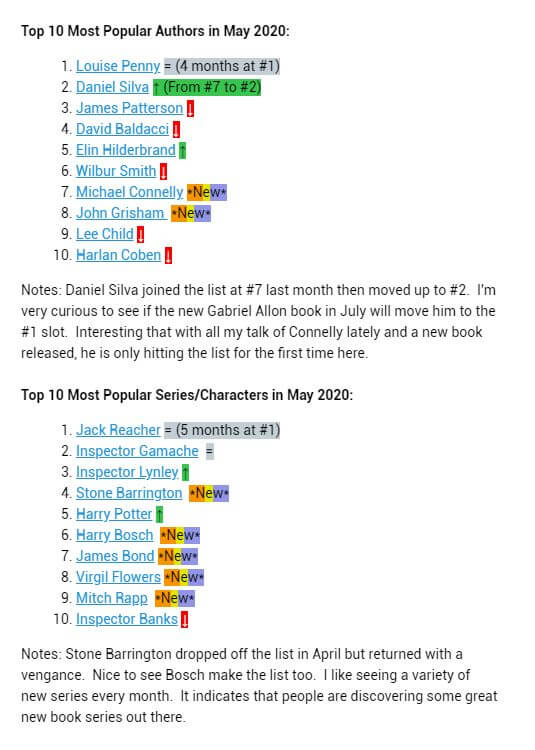 Top Spelling Errors: Louise Penny / Gamache Edition
Louise Penny is the most popular author on the site for 4 months running with her Inspector Gamache series.  
She would have even more traffic if people could just spell her name correctly.  Let's look at the spelling errors for Penny / Gamache that we receive on our site.
Louise Penney
Louiise Pennee
Lolise Penny
Louise Pennyh
Llouise Penny
Louise Panny
Louise Pemmy
Louise Penn
Louise Pennie
Louiuse Pennuy
Louise Penne
Louise Penyn
Louise Pwnny
Inspector Ganache
Arnold Garmache
Louise Pennuy
Armand Garnish
Armand Gammon
Armand Gammiche
Arlando Gamache
Arman Gamaish
Inspector Garnage
Inspector Garmasche
Inspector Gameche
And my personal favourite: Louise Puny.  Although the person who searched for "Louise Penny Inspector Gadget" made my freaking day.
New Author Spotlight
This month we are featuring Dervla McTiernan.
Dervla is an Irish author who writes the Cormac Reilly book series.  This series began in 2018 with The Ruin and won the Amazon Best Book Award for July 2018.
It's also been optioned for a television adaptation.  There is currently 2 books in the series.  There is a third book which I believe is only available in Australia right now.  Not sure what the status is.
Either way check out The Ruin.  Twenty years ago, Cormac Reilly discovered the body of Hilaria Blake twenty years ago and he's never forgot the two children she left behind. One of those kids was Jack who has just been found in the freezing black waters of the river Corrib in Ireland, an apparent suicide. Cormac is sent back to Galway and is told to reopen the case of Hilaria Blake, but the other detectives are connecting Jack's death to his mother's and pointing the finger at his sister Maude. Cormac isn't so sure.
Your Thoughts:
This months question is due to libraries being closed, and many of our readers having to look at other methods for reading.
How do you read? Physical or digital? Ereader or tablet? What apps and resources do you use?
Margaret G. was the reader that recommended this question. As an example she said she uses Overdrive to read ebooks. However her library didn't have a digital copy of a book she wanted, so she tried out Hoopla and cloudlibrary.
She ran into issues with both With Hoopla, she said program kept running if she didn't logout and she woke up to a dead battery on her tablet, plus page turning was glitchy. With cloudlibrary it told her the book was available but then said she had to wait six days.
So how do you read books? I've personally not explored the whole library digital borrowing system yet. I really should as I would save a ton of money ha. I read exclusively on my Kindle, and I purchase my books direct from Amazon. I also use Kindle Unlimited as a few of my favourite authors always release their books on that.
I don't use my phone or tablet at all. The screen just makes it too hard to read compared to the Kindle. I buy everything now as well as opposed to getting books from the library. Again – I need to look into that.
How about you?
E-mail us your feedback to site@OrderOfBooks.com or just reply to this e-mail, and we'll pick the best comments and feature it in next month's newsletter. Five people will also randomly win a $25 gift certificate to Amazon.
Order of Books » Newsletter » June 2020 Mid-Month Newsletter