OrderOfBooks.com February 2022 Mid-Month Newsletter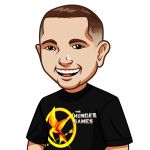 Hi everyone and welcome to halfway through February!
Like many of you, I'm sure, I binge-watched the new Jack Reacher series that was added to Prime Video earlier this month.
Overall, I really liked it. Alan Ritchson was a great Reacher, the rest of the cast was excellent (love Neagley!), and the adaptation was great.
My only real complaint was that he was less Reacher, and more Jason Bourne. Especially in the last couple of episodes. A bit too many guns and knives for my liking as well. Maybe that's something they will finesse as time goes on.
I did go back and re-read Killing Floor after watching it and realized he did use more weapons than I had remembered, so that wasn't too bad. The pool scene was really the only real negative I had on the show.
I also feel that TV shows have an advantage in really making you hate a character that much more. Reading the novel, there wasn't any character that I REALLY hated. But the TV show? Had me hating that Kliner kid so easily.
I really did enjoy the show and there were a lot of little winks thrown in to book readers. Looking forward to the next season.
I finally finished the audiobook Survive the Night by Riley Sager. As I said in the most recent newsletter – I was really having a problem with this book due to some of the extremely stupid decisions the female protagonist was making.
His writing style was good enough that I will likely give him another try – but I just had so many problems with this book. I won't go on about them but the biggest one is just how this male author writes a female protagonist. Ugh.
I'm just glad I didn't directly pay for this book; I borrowed it via the library instead. I would be demanding my money back on this one! I've heard his other books are much better received which is good at least.
I've started listening to the 2nd book in the James Reece series, which is True Believer by Jack Carr. Many of you loved the first novel in that series, The Terminal List. I, unfortunately, didn't, but I have heard so much praise for this series that I am going to give it another go.
My reading is still lacking so far this month. I think I will bury myself in a few psychological thrillers next – I usually fly through those. It's weird but I am usually a fast reader and actually feel like my reading speed has dropped lately.
I've just started reading Hostage by Clare MacKintosh. I've read her previous three standalones and really enjoyed them. I actually completely forgot I bought this one last year upon release. Happened to stumble upon it this morning on my Kindle.
I'm enjoying it so far – to the extent that I was going to publish this newsletter around noon today and well it's about 5pm that I am writing this!
Quick note – a big thank you to everyone who applied for the data entry job. I've hired 5 people so far and I have a list of everyone who applied. I'll be monitoring how things are going but will likely need more in the future. So don't worry if you didn't get accepted for the job yet – there'll be more work down the road.
And that's about it from me – let's get on with the newsletter.
Each month we give away 5 prizes to 5 random subscribers of $25 each in the form of Amazon gift certificates. To win all you have to do is be a subscriber. Nothing more! When we go to hit "Publish" we take a list of all of our subscribers, throw them into a random draw and those are the winners.
Our winners this month are:
Judita from Aurora, CO
Marcia from St. Petersburg, FL (Email begins with msm)
Sharon G. from Grand Junction, CO
Lila from Houston, TX (Email begins with sas)
Sandar N. from Herbster, WI
Our system also indicated that Judita was one of our very first subscribers, way back in July 15th, 2015. Really cool to see subscribers from way back then still sticking around, and winning the contests.
I'm also absolutely stunned that I've been writing the newsletter for that long! If you asked me I'd say 2-3 years tops. Time sure flies when you are having fun!
All of you have been e-mailed. If you don't see anything, check your junk folder or contact me.
Graeme
OrderOfBooks.com
Quote of the Mid-Month
''A truly good book should be read in youth, again in maturity and once more in old age.''
– Attributed to Robertson Davies.
Thanks to Alvin for that quote. Feel free to submit your own quotes to site@orderofbooks.com or just hit reply. It can be just general quotes about books, author quotes within a novel or even character quotes.
Book / Series Recommendations
In this section I give book or series recommendations. They can be old books, they can be new. But either way – I recommend you read them if the type of genre they are in appeals to you. Feel free to e-mail suggestions to site@orderofbooks.com as many of the suggestions each month are from our readers. If you wish to add a description for the book around the same size as the ones below that'd be great too!
Scott Roarke Series by Gary Grossman
Gary (not the author) wrote in to recommend this political thriller series. He said: "An American Secret Service type operative, very good. I've read all 4. I put them in the Mitch Rapp, Jack Reacher, Scot Harvath and so on level of enjoyment for me."
Mentioning those characters always gets me interested! The first book in the series is Executive Actions and all four books get high ratings. An assassin kills a Presidential candidates wife and the sitting president asks Secret Service agent Scott Roarke to look into it. He discovers a much more serious plot that threatens the entire US presidency.
I've always felt nothing comes close to the way Vince Flynn would handle the political side of things, without weighing the plot down. Curious to see if this one is able to match it like Gary suggests.
Body Farm Series by Jefferson Bass
Cynthia wrote in to recommend the Body Farm series by Jefferson Bass and I was surprised to see it hadn't been recommended here before.
These are suspense novels and it is currently a 10 book series, co-authored by Jon Jefferson and Dr. Bill Bass. I'm a big fan of co-authors. I think every co-author book I have read, I have enjoyed.
The first novel in the series is Carved in Bone. A body has been discovered after 30 years which was hidden in a cave in the mountains. Due to the chemistry within the case, it has been transformed into a near perfect mummy. One that has a huge secret, discovered by anthropologist Bill Brockton.
Liam Taggart & Catherine Lockhart Series by Ronald H. Balson
Laurie wrote in to recommend this series and I've received quite a few recommendations for this in the past – so here it is!
This is currently a 6 book historical fiction series. In the first novel, Once We Were Brothers, Elliot Rosenzweig, a respected civic leader and wealthy philanthropist, is attending a fundraiser when he is suddenly accosted and accused of being a former Nazi SS officer named Otto Piatek, the Butcher of Zamosc.
Although the charges are denounced as preposterous, his accuser is convinced he is right and engages attorney Catherine Lockhart to bring Rosenzweig to justice. Solomon persuades attorney Catherine Lockhart to take his case, revealing that the true Piatek was abandoned as a child and raised by Solomon's own family only to betray them during the Nazi occupation. But has Solomon accused the right man?
February Charites:
While I appreciate all offers of donations to show your appreciation for the site and newsletter, I'd much rather you do that by supporting some great causes. Each month I pick a few select charities broken down by our most popular countries that you can support instead. Thanks! And please note you're not restricted to the country you reside in of course – pick any you wish to support!
USA: Shriners Hospitals for Children
UK: Cancer Research UK
Canada: Habitat for Humanity Kingston
International: Heifer International
I listed my local Habitat for Humanity as they recently suffered a theft with many tools being stolen. Feel free to support your own Habitat though!
I rotate this list each month. Feel free to suggest a favourite charity – hit reply.
What Book Series Do You Want Adapted Into A TV Show?
With the new Jack Reacher show, I asked readers on our Facebook page what book series they want adapted into a TV show Below is the list:
UI 101 by M.K. Claeys
The Fae Chronicles series by Amelia Hutchins
Grant Fletcher series by John Ryder
February 2022 Book Of The Month (16th-28th)
The Paris Apartment by Lucy Foley
This is one I am particularly looking forward to.
I am a big fan of psychological thrillers, and I discovered Lucy Foley last year. She has only recently started writing in this genre with her last two books, but is well worth reading.
Both her prior books have been set in a remote location which really adds to the book I feel. I love that "closed in" aspect to them.
This will be her third thriller. I'll be honest I haven't even really read the description. Based on her last two novels, this is one I have already ordered blindly.
The Paris Apartment comes out on February 22nd. If you haven't yet, be sure to read The Hunting Party or The Guest List.
10 More Notable Books Releasing Feb 15-28
Random Top 10 of the Month
10 Series With New Books Coming Out in March.
The below 10 series have a new book coming out in March. Maybe you want to pick one and binge it prior to the new one?
Your Thoughts:
This months question:
Do reviews & ratings impact whether you purchase a book or not?
Through the course of a month, I learn of many new books I'd like to read or stumble upon book lists on webpages with books that may interest me.
I bookmark them all, and at the end of the month sit down with a cup of tea, browse through them all at my leisure and decide what ones to purchase.
I noticed this month that I rely heavily on ratings at Amazon. If it has a good rating and the book description sounds interesting, I'll purchase it. But if it has a bad rating, I'll either blindly skip it, or if it sounded interesting at least read the reviews to see what the complaints are.
The only time I will ignore ratings is if someone writes to me with a recommendation, and I can just feel the passion through my monitor. I love that, and I'll usually instantly hop on and purchase the novel.
What about you? Do you rely on ratings or reviews at all? Or is the book description and book cover enough to get you to purchase regardless?
E-mail us your feedback to site@OrderOfBooks.com or just reply in the comments, and we'll pick the best comments and feature it in next months newsletter. Five people will also randomly win a $25 gift certificate to Amazon.
Order of Books » Newsletter » OrderOfBooks.com February 2022 Mid-Month Newsletter