July 2020 Mid-Month Newsletter
Welcome to the "mid-month" newsletter!
I mentioned a couple of newsletters ago that we are doing a big database overhaul on the website. One aspect of that is better geo-targeting.
For example if you click the links beside the book titles, it should take you to the Amazon for your region if applicable. In the USA it will take you to Amazon.com. In Canada it will take you to Amazon.ca. In the UK it takes you to Amazon.co.uk etc etc.
This is based on your location and I have just flicked the switch this morning so that any authors under the new database (about 20% of the website currently) are utilizing this better geo-targeting. I had one reader – Dwayne – who was seeing links to Amazon Spain even though he lives in Kentucky for example. With the new system, that is no longer the case.
If you see any issues with the Amazon links for authors whose first name begins with A, B or C – if they are leading you to the incorrect country – please send me an e-mail to let me know what author/series you are seeing this on, what country you are in, and what Amazon you are being linked to. I may need to follow up with you on that. Thanks! site@orderofbooks.com
Something funny occurred at the cottage this year – my kids discovered satellite TV!
The cottage we are renting had satellite TV. I cut the cord at home about 10 years ago for a variety of reasons so my kids were 7 and 3 at the time and never really got to experience satellite TV. Growing up they have become accustomed to streaming services etc. The idea of browsing and just throwing on whatever is on is totally foreign to them.
However that happened at the cottage – we'd be inside cleaning up or taking a break from the heat and would just throw on a random sitcom to kill the time. Now my kids have come back from the cottage all enthusiastic about watching all these "new shows" they discovered.
That's hampered my reading somewhat as I'm now watching more TV shows than ever with the kids – primarily Friends, Seinfeld and The Big Bang Theory. I'm fine with that though as they're easy shows to throw on just for a couple of episodes etc and it's fun seeing the kids enjoy these shows.
It was funny getting to explain to them exactly what satellite TV is, and how you can't just binge a TV show etc. Especially with the way TV shows drop on a streaming service these days – the concept of "NBC Thursdays" was completely foreign to them.
Quick review of what I have read recently:
The Hunting Party by Lucy Foley: I enjoyed The Guest List so much that I had to read this one immediately. Very good. A lot of common traits between the two books but that's not a bad thing. Lucy does a tremendous job at building an isolated world and she's on my "must buy" list going forward.
The Woman in Cabin 10 by Ruth Ware: Funny story about this one – when it first started making the rounds, I read a MASSIVE spoiler for this book. Think Sixth Sense level of spoiler. So I didn't read it hoping I would forget about the spoiler. I never forgot and I decided years later to just get it over with. Well that spoiler? Yeah it was completely incorrect. So I put this book off all those years for nothing. Overall I thought it was a solid enough book although it lost a bit of luster in the final act.
We All Fall Down by Eric Walters: This is a book my 16 year old son read in school and wanted me to read. Hell yeah I am going to read something that my son recommends. It's about a teenager who goes to work with his dad for "take your kid to work day". Unfortunately that day happens to be September 11th, 2001 and his dad works at the World Trade Center.
I thought the author did a great job of this one. He was able to communicate the horrifying feeling they must have felt while also keeping away from getting dark or depressing (as much as you can) and keeping it balanced towards the YA readership. It was cool seeing the impact it had on my son as well.
K.A.R.M.A. by Grant McKenzie: I read and recommended a couple of books by Grant (Switch, No Cry for Help) a few months ago. Those were the first two standalone novels he wrote. This was the third one and to say I hated it would be an understatement. I got to about 10% of the book and gave up. It's about a group of abused children who seek revenge on their abusers in gory fashion basically. Honestly it felt like a teenager wrote it. Sorry Grant – love your other works but this one was a big Hard No from me.
I've started Two Kinds of Truth by Michael Connelly next as I aim to wrap up the Bosch Universe by the end of July. Four books in total should be able to do that.
Each month we give away 5 prizes to 5 random subscribers of $25 each in the form of Amazon gift certificates. To win all you have to do is be a subscriber. Nothing more! When we go to hit "Publish" we take a list of all of our subscribers, throw them into a random draw and those are the winners.
Our winners this month are:
Nate from McKinleyville, CA
Pat from Jefferson, WI
Verna from Halifax, NS
Guy from Seattle WA
Ernie from Mission Viejo, CA
All of you have been e-mailed. If you don't see anything, check your junk folder or contact me.
Graeme
OrderOfBooks.com
Book Recommendations:
In this section I give 3 random book recommendations when it's the mid-month newsletter, and 4-5 recommendations for the monthly newsletter. They can be old books, they can be new. But either way – I recommend you read them if the type of genre they are in appeals to you. Feel free to e-mail suggestions to site@orderofbooks.com as many of the suggestions each month are from our readers. If you wish to add a description for the book around the same size as the ones below that'd be great too!
What Lies Between Us by John Marrs
Of all the books I have read over the past few weeks, this is one I wanted to recommend within this section instead.
John Marrs is one of my favourite standalone thriller authors and he delivered again with What Lies Between Us. It's the story of a woman who has her mother chained up in the attic. When she comes down for dinner she has to be switched to a longer chain etc.
The journey this book takes you on is incredible, and the way it makes you question your allegiance to the characters etc. John Marrs is just an incredible author, and I give this and the majority of his works a high recommendation.
In an Instant by Suzanne Redfearn
This book was recommended by Susan G. who said:
"It's the story of a couple of families who go away for a long winter weekend and are in an accident the first night. The daughter of one of the families dies in the accident, and the rest of the story is told from her perspective. Very thoughtful and clever. Check it out! You can rest assured I'll be reading some of her other offerings as well."
In An Instant was an Amazon charts bestseller with an extremely high rating.
Tin Badges by Lorenzo Carcaterra
I have received quite a few e-mails suggesting I recommend Lorenzo Carcaterra over the last few months. Laura specifically recommended this story, saying:
"It was a 'can't put it down book'! My first by him and certainly not the last."
Lorenzo actually wrote the book Sleepers which was adapted into the movie with the all-star cast. Also good news for all of the people who e-mailed me mentioning this book – as there is now a sequel being released in August!
Top Series Featuring a Female Protagonist
I asked our Facebook followers to recommend their top Scandinavian Detective / Noir novels. This list of authors and series is copied ad verbatim. It's presented alphabetically by first name of the author. Authors who aren't linked aren't on our site yet but will be given the highest priority to add.
We received so many suggestions that we had to break it up into 2 newsletters! This is Part Two. Check out the June 2020 Newsletter for Part 1.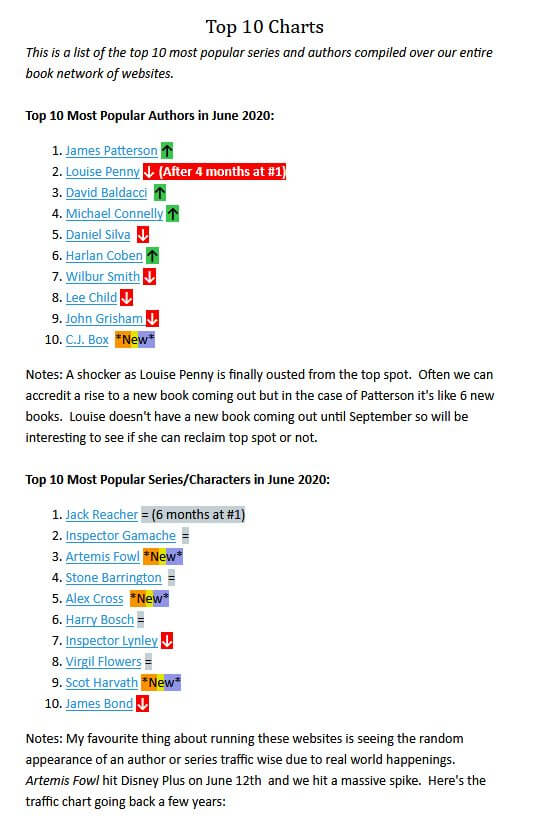 Top Spelling Errors: Michael Crichton Edition
I'm almost finished with the Bosch Universe so I figure this would be a fitting one to do Michael Connelly.
However while bringing up the search data I saw so many Michael Crichton ones that I had to do that instead. It makes sense too because many people would hear about him from word of mouth and not know how to spell that last name.
Here are some of the attempts:
Michael Crichron
Michael Crichto
Crichael Crichthon
Michael Chrichiton
Michael Chriaten
Michael Chicton
Michael Chickton
Michael Crighten
Michael Christ on
Cichael Ciiighton
Michael Crutchon
Michael Criteon
Michael Clutchon
Michael Creighton
Mihael Crichton
Michael Cribton
Michelle Crichton
Next month I'll do the Connelly typos. My favourite at a glance was "Hairy Boss".
New Author Spotlight:
This month we are featuring Rory Power.
Rory wrote her debut book Wilder Girls in 2019. Her second book was released just last week, called Burn Our Bodies Down.
Power grew up in New England and still lives in the area to this day. It is in that area that she works as a crime fiction editor, author, and also as a story consultant for television adaptations. She studied Prose Friction at the University of East Anglia where she earned her Masters degree.
Her first book, Wilder Girls, has been called a feminist Lord of the Flies. The book tells the story of Raxter School for Girls after it goes under quarantine. The "Tox" hit and things started going crazy. First, the teachers died and then it began to infect the students as well.
The surviving girls do their best to stay in place and wait for the cure they were promised. Things go awry when Byatt goes missing and Hetty will do anything to find her, including going outside the safety of the walls of Raxter. As she braves the horrors outside of the fence, Hetty learns that there's more to her life at Raxter than she could have ever imagined.
Check out our Rory Power page – click here.
Your Thoughts:
This month's question is a nice and simple one:
How do you decide what book or series to read next?
I mean if you are going through a series and like to read every one in a row then that's easy – you simply read the next one in the series. But what if you don't do that? or what if you have finished a series?
How do you decide what to read next?
I'm sure many of you have massive "to read" lists like I do. There are literally thousands of entries on it. Some of them are just the first book in a series of like 20 or 30 books too!
For me I generally read on an impulse. I don't plan it out. I start browsing my to read list until something jumps out of at me. Or if someone recommends a book that immediately piques my interest (such as Replay by Ken Grimwood last month) then I'll start that book right away.
I generally don't plan out my next book in advance. If I am reading a series and I am enjoying it I may read the next book in the series. However it's just as likely a new book comes out from one of my favourite authors and I drop everything to read that book. For certain authors I'll always do that while for others even though I enjoy them a lot, they will sit on my Kindle unread for months until I am in the mood for that type of book.
Sometimes I just get in the mood for a book. I watch some spy thriller movie or play some sort of video game within a particular genre and that motivates me to read a type of book based on that.
For me it really is all impulsiveness.
What about you?
E-mail us your feedback to site@OrderOfBooks.com or just reply in the comments, and we'll pick the best comments and feature it in next month's newsletter. Five people will also randomly win a $25 gift certificate to Amazon.
Order of Books » Newsletter »