January 2021 Mid-Month Newsletter.
Hi everyone and welcome to halfway through January!

It's been quite an interesting first couple of weeks. I rearranged my work schedule and hours to give me a bit more free time. To hang with the family. Watch TV. Play games. And of course – read!
I implemented this new schedule as I intend to take a step back from work. As I run my own business I set my own hours etc and I have a time tracker to keep track of my hours. I averaged about 60-70 hours per week for 2020. So time to relax a bit more and I was really looking forward to it.
Unfortunately, all of that free time has been spent learning java and not by choice! This is my own personal nightmare. We have things we are good at and things we are bad at. For me, learning a language – be it French or C++, Italian or Python – it basically feels like a punishment. Always has.
My son has computer science this year and with the way things are, it's an entire semester crammed into one month – oh and he has to do it remote. His teacher – I'm not sure if he is a more hands on teacher or what – but doing it remote certainly isn't working to be polite.
A quick 30 minute zoom chat per day with the entire class then they are left to their own devices with the work all set out for them. Unfortunately the instructions and examples are almost null. No explanation for anything. Only allowed one e-mail question per day. I tried to help him from what little we were given but was completely lost. So I had no choice but to learn Java and then teach him.
It's certainly been a mixed bag. On one hand I want to bang my head against the wall as I sit there screaming at my monitor "THIS IS CORRECT IT SHOULD WORK" but on the other hand it is such a good feeling when it actually works and I'm building temperature converters or outputs that print words in diamond shapes etc.
But my gosh I am counting the days until the end of January and this semester. So frustrating looking at my time tracking software and seeing about 30 hours of additional free time spent on learning, coding and teaching Java when it should be spent on reading!
It was my wife's birthday on January 9th. I usually struggle for ideas for that due to it being so soon after Christmas. Not this year! As a family, we went through the TV show Friends over the last 6 months so I decided to do a big Friends themed birthday for her.
We had all the decorations such as a central perk backdrop, balloons with all the cast's faces on them. Friends cake topper etc. Gift wise it was nice and easy as it was anything Friends related such as a travel mug, trivia games, funko pops etc.
The best part for me though was getting Mr. Heckles to record a video via Cameo wishing my wife a Happy Birthday. That was amazing. So cool being able to do that.
The highlight of all this was my 13 year old and how she couldn't contain her excitement – to the point of annoyance! It was meant to be a surprise and a secret. Within a day of letting my kids know about it she had told all her friends.
Then she set up a Facebook group for her and my wife's two best friends where she invited them over and turned it into a big surprise birthday party (without my knowledge). After she arranged that she made up elaborate stories for my wife. "Just so you know Susan can't come this weekend because she is painting her house and Teena can't come because she was exposed to covid and is in quarantine". Never mind the fact that my wife just saw Teena at the grocery store that same day…..
Then she just got blatantly obvious about it. "Mum just so you know we're not going to be doing a Friends themed birthday party for you but on Saturday we will all be wearing Friends t-shirts and you should too".
At least I never have to worry about my daughter becoming a spy!
She also made this amazing replica of the trifle that Rachel made on that Thanksgiving episode: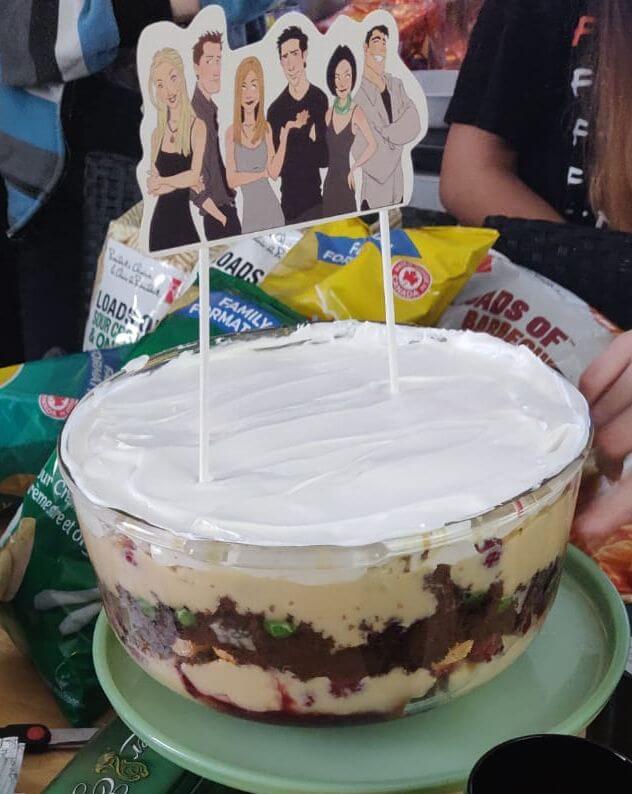 I've given up on the mechanical keyboard – at least for now. I noticed that when replying to the OOB newsletter e-mails, I was making typing mistakes in every sentence. It was getting frustrating. I may go back to it again in the future but for now I am back with my trusty ol' $10 logitech keyboard. It's a keyboard that seems to work well for me to the point that I own 3 more of them just in case it breaks.
Alright onto books!
On the recommendation of a reader, I read the novel Eyeshot by Taylor Adams. First book I have read by Taylor and I enjoyed it a lot. I'll list it in the recommendations section with more details.
I read the final (thus far) book in the Amos Decker series, Walk the Wire. I loved that a character from another series popped up – I'll be vague in case of spoilers – as I always enjoy that sort of thing in books. I've read a few books in that particular series although I stopped reading as I just felt it was getting a bit too ludicrous.
Must admit I felt the same here. While I still enjoyed the book I felt the entire final act was just wrapped up too neatly and a bit gimmicky. I also don't like that the "memory" aspect of Decker is fast becoming an afterthought. I'll continue to read any new books in that series but much like other Baldacci series I feel it's starting to fall by the wayside.
With the new one coming out soon, I decided to read the 8th book in the Gray Man series by Mark Greaney. You may remember my attempt to read that in February last year.
It's one of the best series in the spy thriller genre but Greaney switched from third person to first person for that one. Honestly it was such a drastic switch that I stopped reading at the 11% mark.
I love that series though so I went back to read it prior to the latest one coming out. Still not a big fan of the first person perspective, but the book was so good I soon got into it and finished it and loved it.
Actually it's so good that although I have about eleventy billion items on my "books to read" list, I've went back to the very beginning of the series, The Gray Man, and started reading it from the beginning. I'll probably mix it up with a few other books but if you are a fan of the spy thriller / lone badass type books and you haven't yet; read The Gray Man.
Each month we give away 5 prizes to 5 random subscribers of $25 each in the form of Amazon gift certificates. To win all you have to do is be a subscriber. Nothing more! When we go to hit "Publish" we take a list of all of our subscribers, throw them into a random draw and those are the winners.
Our winners this month are:
Don from Marco Island, FL
Lori from Watertown, SD
Barbara from Greeley, CO
Mary from Dallas, TX (Email starts with mcd)
Mike B from Kutztown, PA
All of you have been e-mailed. If you don't see anything, check your junk folder or contact me.
Graeme
OrderOfBooks.com
Book Recommendations
In this section I give 4-5 book or series recommendations. They can be old books, they can be new. But either way – I recommend you read them if the type of genre they are in appeals to you. Feel free to e-mail suggestions to site@orderofbooks.com as many of the suggestions each month are from our readers. If you wish to add a description for the book around the same size as the ones below that'd be great too!
Dr. Siri Paiboun Series by Colin Cotterill
Colin is a UK born author who writes the Dr. Siri Paiboun series. This series takes place in Laos in the mid 70s, when the communists come into power.
Dr. Siri is French, 72 years old and ready to enjoy his retirement when he is forced to be the only coroner in Laos.
It's a great mix of crime, humour, mystery, satire and more and is a very popular series.
Read more about it here. Thanks to Vicki for the recommendation.
Eyeshot by Taylor Adams
Larry recommended this one to me and I read it a couple of weeks ago. It's a suspense thriller about a married couple who are traveling through the desert. Their car gets shot at and they get stranded with a sniper who is going to kill them.
It was a very enjoyable book. Some humour on it as well and solid character writing.
Taylor is also one of those writers that do a great job of creating the world around the characters and really making you feel like you are there in the desert with them.
A solid read and I'll read more of Taylor in the future. Check it out.
The Jack Taylor Series by Ken Bruen
Ken is an Irish author of hardboiled crime fiction.
He has quite a few book series but the Jack Taylor series is his most popular by far. Eamon wrote in to mention this one, saying that it is well written and laugh out loud funny in spots.
The series begins with The Guards. Jack is stuck in Galway with nothing to look forward to other than beer after being ousted from the Irish Police Force. Then a woman enters the bar with a strange request.
The Guards was nominated for an Edgar as Best Novel so you know it's going to be good. The series was also made into a series of TV movies on Netflix! That's always a selling point for me – being able to read a book series then watch it play out on TV.
Check out our Jack Taylor page for more details.
The Dr. David Hunter series by Simon Beckett
The David Hunter series is written by English author Simon Beckett, and is crime fiction. It features David Hunter, who left London due to a family tragedy and now lives in Norfolk, working as a simple country doctor. Then a dead body shows up, and the quiet summer countryside is turning into a nightmare.
This was recommended by Jane. She's 74, and is a big fan of the likes of Michael Connelly, Ian Rankin, Peter Robinson and Peter May. If someone as well-read as that recommends a book series, I'm going to listen! Check out the Dr. David Hunter series.
Top Historical Fiction
I asked on our Facebook for readers to recommend their top historical fiction books or series. Below are the responses:
Standing at the Scratch Line by Guy Johnson
Eden series by Marilyn Harris
The Dante Club and/or The Poe Shadow by Matthew Pearl
Books by Anton Myrer
Giants in the Earth trilogy by O.E. Rolvaag
Awakening Land trilogy by Conrad Richter
Elizabeth I trilogy by Margaret Irwin
…And Ladies of the Club by Helen Hoover Santmyer
Random Top 10 of the Month
I decided to drop the most popular authors and series pages each month, as honestly it was mostly the same authors and series every month with very few differences.
Replacing that – every month I will dive into my website traffic data for the previous month and pick a random analytical insight and see what authors and series are performing best based on that. That way we should get a nice variety of random listings for us to check out and a neat way to discover new authors and series.
Let's start with a nice and simple one:
10 Most Popular Pages Visited by the United Kingdom in December:
New Author Spotlight: Tasha Suri
This month we are featuring Tasha Suri.
Tasha Suri is a fantasy novelist that was born in Harrow, North-West London. She is the author of The Books of Ambha duology that debuted in 2018 with Empire of Sand. The series is inspired by India's medieval/early modern Mughal Empire.
Tasha has a new series called the Burning Kingdoms. The first book, titled The Jasmine Throne, will be released in June.
Empire of Sand is the first book in The Books of Ambha series. The book introduces us to the Amrithi. They are outcasts, descended from desert spirits that have been persecuted throughout their time for the power that lie in their blood. Mehr is the illegitimate daughter of an exiled Amritihi and imperial, but she doesn't remember either of them. She only knows the magic and looks that she inherited from them. One day, Mehr's power is noticed by the Emperor's mystics and they have a cruel plan for her. She must use everything she has learned on her own as well as her power to resist them and keep herself safe.
For more details on Tasha or to check our her books, click here.
Each month we feature one new author as recommended by you, the readers. If you have suggestions for an author to feature in this section, please reply or e-mail site@orderofbooks.com. Only rule is that their first book can't be more than 18 months old. (Although we may make exceptions!)
Your Thoughts!
Last month I asked what were the best books or best book experiences for you in 2020. The responses are at the bottom of the newsletter.
This month I am asking: what are the most random ways you have discovered a new author?
I wrote in the beginning about searching for "The Store" by James Patterson and discovering "The Store" by Bentley Little that led me down that rabbit hole. That's one example.
I think it was Harlan Coben I first discovered while on a flight. We were waiting to disembark the plane and the couple in front of me were in an argument. He wanted to get off the plane and she had just "one more chapter" to go. Knowing how badly people want to get off a plane I knew I had to read whatever book she was reading. I glanced at the cover as I walked past them and bought it that same week.
Then there are just general books that I discover based on seeing their covers. I mean I don't "judge a book by its cover" but I used to go to the library or bookstores regularly, just browse looking at the featured / recommended books and pick one based on their cover. I can't remember any specific books from that unfortunately but I've discovered many authors that way.
E-mail us your feedback to site@OrderOfBooks.com or just reply to this post, and we'll pick the best comments and feature it in next months newsletter. Five people will also randomly win a $25 gift certificate to Amazon.
Order of Books » Newsletter » January 2021 Mid-Month Newsletter.