August 2021 Mid-Month Newsletter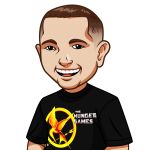 Written by Graeme
Hi everyone and welcome to halfway through August!
I had my first experience with abridged audiobooks this month, and it will be my last.  Not a great experience!
I decided to start going through the Scot Harvath series by Brad Thor on audio.  I had read the first two books before and actually read the first one twice.  I've been meaning to get the series going again and felt it would work well to listen to while running.
The first novel in the series was available from the library.  I downloaded it only to discover it was the abridged version.  I figured hey that actually works out – it's a book I've read twice already so a quick recap would be good.
And I mean I guess it was – but so much was missing!  The unabridged version was 15 hours long and the abridged was just 5 hours.  66% of the book was just ripped out!
I thought that with it being abridged there would be many descriptive details removed.  Nope – still sentences in there about the "velvet drapes".  Instead just entire scenes, many crucial to the story, were removed.
I'm glad I got the chance to experience it and at least it brought me up to speed on that series.  But never again!
I'm glad I made the decision to listen to these ones though.  I was really struggling with audiobooks following my Peter Swanson binge (highly recommended if you enjoy standalone thrillers).  I'd tried numerous books and either gave up a couple of hours in or listened to it all but didn't really like it.
The way things are going with these I may just binge all 20 of them in a row.  Already onto the third one and loving listening to them on my long runs.
On the topic of audiobooks; as a family we've started listening to Project Hail Mary by Andy Weir.  I read it when it was released and absolutely loved it.  One of my top books of the year.  My wife felt the same.
We usually dedicate an hour per night watching TV with the kids and going through a show together, but we decided to mix it up and try listening to an audiobook instead.  The kids are loving it which is great.  My son in particular said he feels he can visualize everything more which was great to hear.
This type of genre really appeals to him too which is good.  I've started going out on daily walks with him while we both listen to an audiobook.  He tried the Reacher series but couldn't get into it so I got him started on Pines by Blake Crouch this week and he's really digging that.
One of our recommendations last month was the book Ragdoll, the first novel in the Fawkes and Baxter series by Daniel Cole is actually being made into a six-episode TV show!  Filming is underway just now and it's expected to be released later this year.  Good reason to check that book out!
I read Tomorrow and Tomorrow by Tom Sweterlistch, after reading and recommending his other novel, The Gone World.  This was a bit of an odd one and not one I can really give a full recommendation to.
It's a dystopian future, 10 years after the city of Pittsburgh was reduced to nothing more than a pile of ash.  In this futuristic world, everyone has implants in their head that give them a sort of virtual reality perspective of life.
The implant is called Adware and what that means is they see ads wherever they go.  There is some cool aspects to it.  The protagonist flies to San Francisco.  Upon loading, ads pop up for the Holiday Inn in his vision and he books a room there.
Then other ads appear from other hotels trying to convince him to stay there instead for a cheaper rate.  Then messages from Holiday Inn appear letting him know that the reservation was non-refundable.
The real problem was most of the ads involved naked or scantily clad females (I presume due to the protagonist being a male), and it was just non-stop.  Every chapter went into great detail about those ads to where I was screaming "I get it" out loud.
The boundaries of the virtual reality aspect were confusing too.  People could relive memories or anything captured on a camera in the past.  They could immerse themselves in these memories or recordings at any time.  Numerous times I was completely lost; not knowing whether the character was actually in the virtual reality world, or the real world.
Basically, an ambitious novel that fell short.
I've started reading the latest standalone thriller by Shari Lapena.  More on that in the recommendations section.
Newsletter Change: In the 1st of the month newsletter, I currently list 10 notable books coming out that month.
As of September 1st, I will be changing that to the top 10 notable books coming out in the next two weeks.  Then in the mid-month newsletter, I will cover the next two weeks.
I often get e-mails stating that I didn't mention a specific book coming out.  Alas I cannot list them all.  At least this way I can list 20 per month instead of 10.  (22 if I do two "Book of the Month" entries).
And on a related note; our new website project – which should be up before the end of the year – will have a customized book calendar just for you!
Each month we give away 5 prizes to 5 random subscribers of $25 each in the form of Amazon gift certificates.   To win all you have to do is be a subscriber. Nothing more! When we go to hit "Publish" we take a list of all of our subscribers, throw them into a random draw and those are the winners.
Our winners this month are:
Susan from Philadelphia, PA (Email starts with p)
Janet from St. Louis, MO (Email starts with jvg)
Susan L. from Cincinnati, OH
Karen from UK (Email starts with klb)
Carolyn from Livermore, CA
I made a note of the e-mail addresses as I didn't have their last names on file, and there are more than one "Susan from Philly" etc.
All of you have been e-mailed.  If you don't see anything, check your junk folder or contact me.
Graeme
OrderOfBooks.com
Quote of the Mid-Month:
Quote of the Mid-Month
"Nobody reads a mystery to get to the middle. They read it to get to the end. If it's a letdown, they won't buy anymore. The first page sells that book. The last page sells your next book."
— Mickey Spillane.
Submitted by Richard. Feel free to submit your own quotes to site@orderofbooks.com or just hit reply. It can be just general quotes about books, author quotes within a novel or even character quotes.
Book / Series Recommendations
In this section I give book or series recommendations. They can be old books, they can be new. But either way – I recommend you read them if the type of genre they are in appeals to you. Feel free to e-mail suggestions to site@orderofbooks.com as many of the suggestions each month are from our readers. If you wish to add a description for the book around the same size as the ones below that'd be great too!
Not A Happy Family by Shari Lapena
Shari Lapena is one of my favourite standalone authors.  She started writing psychological thrillers in 2016, however has transitioned to locked-room mysteries and does a phenomenal job of it.
Her latest novel just came out last month, and so many of you e-mailed praising it that I had to add it to the recommendations section. 
It takes place in an expensive neighbourhood in Upstate New York.  A rich couple are found brutally murdered following a dinner with their three adult children.  All three kids are devastated – except they also are due to inherit millions.  Are they behind the murders?  Or is it someone else?
Shari does a great job of presenting the possible murderers to you, and toying with you as to who it could be.  
James Acton Thriller Series by J. Robert Kennedy
This is one of those series that I was surprised to see I haven't recommended before as I know it is quite popular with our reader base.
Regina e-mailed in to recommend it stating "I recently discovered a new author and I'm really excited about him. Of course, he's not new to the world! It's J. Robert Kennedy. When I looked him up on your Order of Books website I was thrilled to see how many books he'd already written. I've read the first 2 books in his James Acton series. I don't know if you've ever read any of these, but I describe them as crosses between Tom Clancy and Indian Jones."
Great author. Visit his page for more details or to check out this series.
New Scotland Yard/Doyle & Acton Series by Anne Cleeland
Another very popular series. In Murder in Thrall by Anne Cleeland (book 1 of the New Scotland Yard Mysteries), Irish redhead Kathleen Doyle is a rookie detective. Michael Acton is a former British lord who is now Chief Inspector. Acton is tall, handsome and is a bit of an enigma. He chooses Doyle to be his partner due to her intuition picking up on lies. Together, they go investigate the murder of a trainer at a race track, and soon afterward, more bodies are found. The two of them are quickly put into dangerous situations – perhaps most of dangerous of all is the attraction that develops between them.
Renni wrote in to suggest this one and they are completely hooked on it! Here's what they said:
"I just discovered Anne Cleeland and The Doyle and Acton series. This is one of the more unusual books (series) I've read and I have become obsessed. I didn't want the first book to end, so I moved on to the 2nd, 3rd, 4th, and 5th. I read the 5 books within 5 days, nothing else got accomplished around my house (the cats were fortunate to have been fed!!). As book number 5 ended I realized that I was getting too familiar with the characters and I knew what they were going
to say or do before I read it so I forced myself to move on to another book. There are 13 books in this particular series and I'm not sure how long I'll last before going on to book #6, etc."
So be sure to fill your cats food bowls up to the brim before checking this series out!
August Charities
While I appreciate all offers of donations to show your appreciation for the site and newsletter, I'd much rather you do that by supporting some great causes. Each month I pick a few select charities broken down by our most popular countries that you can support instead. Thanks! And please note you're not restricted to the country you reside in of course – pick any you wish to support!
USA: Midwest Pages to Prisoners
UK: The Book Trade Charity
Canada: Alzheimer Society of Canada
Australia: Australian Wildlife Rescue
I rotate this list each month. Feel free to suggest a favourite charity – hit reply.
Your Favourite Series
I asked readers on our Facebook page a nice and simple question – what their favourite book series were. Yikes! Over 500 responses. Amazing, but a lot of work for me haha. I'll be breaking it up over the next two newsletters. Here are the first set of responses:
Harlequin Romance Books
Barbara Cartland books
Children of the Lion series by Peter Danielson
Random Top 10 of the Month
10 Most Popular Pages Visited by the United Kingdom Compared to USA.
I'm able to break down my analytics and see what the most popular pages are by country. So I thought I would run the stats for this year, and then see what the 10 most popular pages are in the UK.
The number to the right is where they rank for visitors by the USA. So to clarify – Wilbur Smith is the most popular page in UK but only 120th in USA.
Your Thoughts:
Last month I asked for your pet peeves when it came to reading. Lots of great responses.
This month let's flip it around:
What do you really enjoy about reading? What makes you stop reading a book, just to sit back and think "I love reading"?
Emotional attachment is one for me. I love gaining an emotional attachment to a book character who didn't exist until I started this book, then 100 pages later I find I care deeply about this character. Or I enjoyed a character so much I am legitimately sad when I reach the end of the book. Project Hail Mary readers can relate to that no doubt.
I also like a good twist. One where it takes me by surprise but it was either obvious when you look back, or it was staring you right in the face the entire time.
Or when a character ignores the authority to "do the right thing". The first Mitch Rapp book for example – a woman is being assaulted and the authority are trying to get through to Rapp to tell him to ignore the situation and focus on the bigger picture. Rapp ignores the calls though as he has to do the right thing. Vince Flynn was a master at that actually – he did a great job of getting the emotional reactions going and getting you frustrated at the people trying to stop Rapp from doing his job.
Very similar to Jack Bauer and 24 in that regard.
Reading a new book, loving it, and then realizing it's part of a series with many more books is also a nice one!
Finally – I love a strong character you can rely on and I believe that is why Jack Reacher is such a popular series. You know that no matter what bad stuff is going on – Reacher will prevail and save the day. That's why I enjoyed Ambush of Widows so much – it had a character like that.
E-mail us your feedback to site@OrderOfBooks.com or just reply to this e-mail, and we'll pick the best comments and feature it in next months newsletter. Five people will also randomly win a $25 gift certificate to Amazon.
Order of Books » Newsletter »
One Response to "August 2021 Mid-Month Newsletter"