April 2020 Newsletter
Hi everyone and welcome to April.
I think the worst thing about the family being stuck at home is it allowed my 13 year old daughter to plan out more April Fools pranks than usual this year.
Clingfilm on the toilet bowl. Chicken bullion cube hidden in the shower. Red food dye hidden on my toothbrush. Cream cheese on my deodorant. Fake cat poop on my office chair. Keyboard was unplugged. Computer mouse had tape on it. Googly eyes over everything in the fridge and in my office. Sugar in my Brita. Frozen toy bugs in my ice cubes. All clocks in the house have been changed. My cereal was switched with frozen cereal.
All this and it's only 8am! Going to be in for a long day.
I can't believe I forgot to actually link to our Facebook page in the last e-mail. If you want to follow us on Facebook, go to https://facebook.com/OrderOfNovels/
Thanks to everyone for the feedback over the mid-March newsletter. I received a lot of great e-mails from people and it was wonderful being able to connect with so many of you. It was amusing that the biggest problem for most book lovers was that the library had closed before they were able to stock up on books!
Reminds me of the time prior to e-readers when we went away to an isolated cottage for a week. This place was seriously in the middle of nowhere. We got there and I unpacked all 30,000 bags that we have apparently brought only to discover I had left my bag of books at home!
We were pretty serious about the whole self-isolation aspect of things so I told my wife I'd be okay. I'd be able to survive without books for a week.
Yeah. Lasted exactly one night. Hit the nearest town(about an hour away) the very next morning which luckily had a used bookstore. That was the longest night of my life.
I know many of you like to stick with actual books but I hope some of you have tried out and adapted to ebooks during this time. Most of your libraries should offer the ability to "borrow" books that way and if you don't have an ereader, you can still read them on your computer, phone or tablet. I remember I thought I would never transition; now I absolutely love traveling with my Kindle, thinking about how great it is that I have essentially an entire library in my pocket.
I hope everyone enjoyed the list of book series I suggested in the newsletter to get stuck into. Of course I received many more suggestions so I have added an additional list below, and will add that onto the website.
One thing I also wanted to suggest during this period of time – take a minute to write to your favourite authors and thank them. Thank them for the books they have written, the adventures they have taken you on, and the worlds they have allowed you to escape into.
That's something we should all be doing in general. I know when I enjoy a book, I take a minute to write to an author and just thank them. Thanks for pouring months and months of your life into this story. Authors have it rough. Not only is it a lot of work, but they're also putting themselves out there. Think of all those negative reviews an author receives on a book. That sort of thing can be crushing to an author. I know I personally have always wanted to write a book, but don't think I could deal with the negative reviews.
I also find I have a 100% response ratio from authors too which is really cool. They've always taken the time to reply and let me know they appreciate the e-mails etc and I love that. One of my favourites was the author Joseph Finder. We had shared a few e-mails back when he was still getting into the writing game. Then he struck big, with one book being made into a movie starring Liam Hemsworth and Harrison Ford.
It's a silly thing but I thought "he's too 'big' to respond to e-mails now". Then I happened to send him an e-mail praising him for his next novel, and received a response within 24 hours.
So yeah take the time to write to your authors. It will make their day.
Different sort of topic for the reader mailbag this month – take a picture of your book collection. One of our readers, Ann, had sent me a picture of their collection last week. As someone who switched to all Kindle about 8 years ago it was fantastic to see and I must admit it made me miss owning actual books. Thought it might be a neat thing to collect it and display it on the website.
Usually the newsletter is only once per month, however after writing the mid-month newsletter I am considering doing that on a regular basis. Perhaps a more condensed version of the monthly newsletter covering a few different topics. I'll try one this month and see how it goes. It'll allow me to talk more about the books that I've read over the previous 15 days anyway, as opposed to attempting to condense them into one big intro.
Okay I've talked a lot here so I'll shut up in a second.  I'll wrap it up a quick Good, Bad and The Ugly to cover my reading month.
The good was Irvine Welsh.  I'm Scottish and I absolutely love everything Welsh puts out, and how he writes it in the Scottish dialect.  I've had the fourth and final book in the Trainspotting saga, Dead Men's Trousers, on my Kindle since it was released back in March 2018.
I put it off as I wanted to read the entire Trainspotting series all in one again.  They are all quite long books and the dialect does add to that so I kept putting it off.  In March that was one thing I ended up doing; diving into that world and re-reading the three books in the series in chronological order, then wrapping it up with the latest one.
That was fantastic and will probably be the highlight of my reading year.  If you can get past the dialect or are able to understand it I'd highly recommend it.  Although I still consider Filth the best book by Welsh.
The bad – the latest book in the Gray Man series.  For some reason Greaney decided to write this book in first person, as opposed to third person.  It honestly threw me off to the point that I couldn't read it.  I struggled to get to about 12% on my Kindle then just tapped out.  I know we've got some Gray Man fans out there – what were your thoughts on One Minute Out?  Did you get used to it or even prefer it?  I'll probably force myself to read it at some point but not looking forward to it.
The ugly – Harlan Cobens latest book, The Boy from the Woods.  I could go on and on about this one.  So many issues with it.  If you told me that he was too busy with his TV show The Stranger and so handed the writing duties on this to his 13 year old nephew?  Yeah I would believe it.  This is right up there in the "worst books I've ever read" category.  And after the last few Coben novels, he went from being one of my favourite authors to being removed from my blindly buy list.
Just so many issues.  The complete butchering of a once great secondary character.  So many basic mistakes in the plot (one chapter someone didn't have a car or the ability to drive, next chapter yes they did).  His bizarre and out of touch views of the world today.  The forced interjection of politics and his opinions – something he did in his last book too.  The "big mystery" not even being resolved.  That ending.  Ugh.  Harlan what has happened to you man?  Two decades of incredible writing just flushed down the toilet.
That's it from me – let's get on with the rest of the newsletter.
Each month we give away 2 prizes to 2 random subscribers of $25 each in the form of Amazon gift certificates. During our current "situation" I'm upping that to 10 gift certificates.
To win all you have to do is be a subscriber. Nothing more! When we go to hit "Publish" we take a list of all of our subscribers, throw them into a random draw and those are the winners.
I should note that EVERYONE is eligible for this no matter what country you are from. For example the last time we had 2 Australians win. We've had Canadians win the past, someone from the Netherlands and France too I believe. However Americans are more common as that is the majority of our subscriber base. Just wanted to clarify.
Our winners this month are
Naomi from Calliccon, NY
Bill from Bloomington, IL
Judy from Kalamazoo, MI
Linda from Corona, NM (How fitting lol)
Larry from Hampton, NH
Anna from Bay Shore, NY
Susan from Candler, NC
Jim from Hammond, LA
Jaye from Spring, TX
Joan from Port Richey, FL
All of you have been e-mailed. If you don't see anything, check your junk folder or contact me.
Graeme
OrderOfBooks.com
Book Recommendations:
In the mid-March newsletter, I took to our Facebook page to ask people for suggestions on book series for people to get stuck into during this unique period of our lives.
We received a lot of suggestions which you can see here. However after sending out the newsletter, I received many more suggestions to add to that list. So here is a complete list of those.
April 2020 Book Of The Month
Walk the Wire by David Baldacci.
This is the sixth book in the Memory Man series by David Baldacci.
Baldacci was primarily a standalone author although has tried a few series in his time. None seem to have resonated with readers as much as the Memory Man series featuring Amos Decker. Amos is an FBI consultant with a perfect memory and in the latest thriller, he is brought in to attempt to solve a murder in an oil town in North Dakota.
Walk the Wire is going to be released on April 21st, 2020.
More Notable Books Releasing in April
New Author Spotlight: Chris McQueer
This month we are featuring Chris McQueer.
This one is a personal choice by me and probably is quite niche. However if you enjoy reading the Scottish dialect found in the likes of Irvine Welsh novels, and don't mind some rather controversial talk and bad language then this will be right up your alley.
Chris McQueer has three books out currently. He rose to stardom in the UK with Hings and has written HWFG and Leathered. All of these are just amazing books and he has a crazy mind.
Take Leathered for example. It's a short story about a Scottish prison guard who happens to open a Twitter account, and sends out his very first tweet saying he could kick the crap out of Kim Jong-Un. A rebel in North Korea sees this and starts a propaganda campaign that ultimately ends up in Kim Jong-Un challenging this prison guard to a PPV fight for the world to see.
It's something drastically different and McQueer immediately jumped onto my "must read" list.
For more details on Chris and his books, click here.
Each month we feature one new author as recommended by you, the readers. If you have suggestions for an author to feature in this section, please reply or e-mail site@orderofbooks.com. Only rule is that their first book can't be more than 18 months old. (Although we may make exceptions!)
Audiobook Arena
Written by Chris
Scott Brick has to be my favorite narrator. His delivery is captivating to me. Thanks for your newsletter, I look forward to it every month.
Who's everyone elses favourite narrators?
Written by Mary
Since I don't have time to sit and read anymore I have turned to audio books which I download from my library to my smartphone – that way I can listen to them as I work in yard or do most anything in the house – and I have my phone with me. If a call comes in it just stops and then continues when the call stops. It is easy to find the place where the book stops and you can continue. So much easier than using my Ipod.
Written by Jane
I loved The Last Kingdom by Bernard Cornwell, read by Jamie Glover, which I borrowed from the library where I work. I'm a big fan of Cornwell's but have found difficulty reading this series. Listening to it, however, was magic! The language is beautiful and the reading masterful. I have some hearing loss and only listen in my car, so the clarity of the reader's speaking voice is important for any audio book selection. This one was excellent. I'm planning on buying the second CD in the series for myself soon and looking forward to another enjoyable listen.
We have a lot of audiobook fans and invite book listeners to write their own column every month. Want to discuss audiobooks or a favourite narrator? Hit reply and write and we'll feature your column in a future newsletter!
Picture of the Month: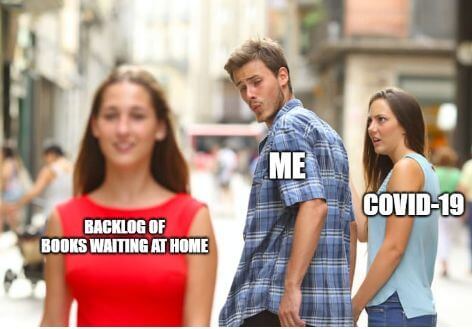 Send in your own to site@orderofbooks.com or by replying!
Images, jokes, etc. We'll take it all!
Your Thoughts:
Last month I asked you which author was best at writing secondary characters. Your feedback is later in the newsletter.
This month the mailbag topic is inspired by Ann, who sent me the above picture: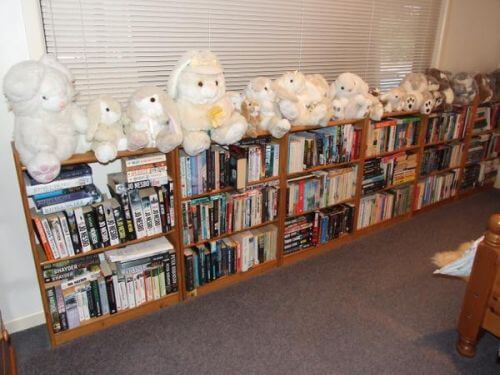 Send me a picture of your book collection.
I know there are quite a few of you who have switched to the Kindle like me so I don't have pictures to share sadly. I made the switch about 8 years ago, and while I love it – man, it makes me nostalgic seeing pictures of peoples bookcases. If you have a high resolution one even better – that's what Ann sent me and I legitimately spent about 10 minutes going through every book.
If you don't have a book collection anymore as you switched to e-reading; maybe share the story of when you did it, and what you did with your books? For me I sat them outside in boxes for everyone in the neighbourhood to take. Then I'd sit out there and chat with them about the books etc. It was very fun and it's been quite neat going through the 'hood and seeing some of those little libraries with my old books from many years ago in them.
Just one thing – if possible send the pictures to BOTH site@orderofbooks.com and 8ambeerpong@gmail.com just in case they are too big they don't come through. Or if you send it and don't get a "thanks" back from me within 2 days, follow up with me to make sure I received it? As large attachments can be iffy at times.
E-mail us your feedback to site@OrderOfBooks.com and 8ambeerpong@gmail.com or just reply to this e-mail, and we'll pick the best comments and feature it in next months newsletter. Two people will also randomly win a $25 gift certificate to Amazon.
Reader Mailbag:
Order of Books » Newsletter »